May 27th, 2007: Not a bad weekend, all in all - lots of sunshine and fairly nice temperatures, though it did get a bit windy this afternoon. It seems there was more traffic around than there was last weekend.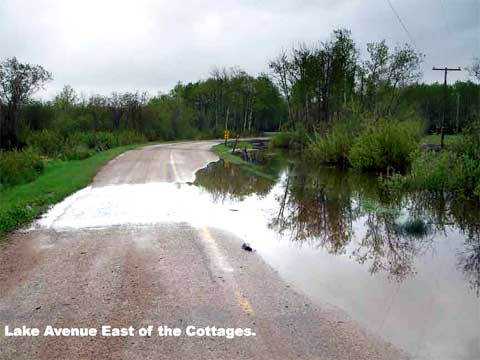 The Victoria Day weekend just went from bad to worse – it drizzled all day Monday. It kept it up on Tuesday. On Wednesday, it didn't drizzle – it rained and blew without a break for most of the day. By Thursday morning, there was 2½ inches of rain in our gauge. Some of the Park culverts couldn't handle the flow – just east of us the water was still flowing over the road Thursday morning, and that big slough was backing up into some cottage yards.

On the road past the ball diamond, I could see where it had flowed over the road and the shoulder was badly eroded on the west side. The footing for that new cottage over on Mary Kehrig's property was full of water. (move your mouse over the image above to see scene) Then I heard a news report about the problems at Fishing Lake and realised our little bit of water didn't amount to a thing!

There didn't seem to be many people around for the long weekend, but Rose told me business at the Park Store was steady all weekend, and not at all disappointing. Gary said the same thing about the Beach Café – they weren't at all disappointed.

I walked past a young doe the other day; I was about ten feet from it and it didn't move until I got my camera out. Just another deer picture, but this one was different – it was starting to shed its winter fur, and the summer red was showing through. A beautiful colour, and sometimes so red it looks as if the animal has been wounded. (bottom of page)

Yesterday, two geese conducted their gaggle of goslings from the Marina to the beach across the lawn by the Beach Cafe. There were about eight little ones, but they sure are hard to count. They were the first I had seen, but Merv said they had been in the Marina for a couple of days.

Parkland Photography Club had its annual outing today – eleven of us met at Four Seasons Greenhouse just west of Tisdale. We took pictures for an hour, then to Robin's Donuts for coffee and a pit stop. Then we went to Plants o'Plenty at Star City and took some more pictures. Many thanks to Frank Reaume of Four Seasons, and to Dorothy Mooney of Plants o'Plenty for a warm welcome and for treating us so well. We hope we didn't inconvenience your customers too much! Then we all met at Little Venice in Melfort for supper, and still got home in decent time. What a great day!
Retrun to Ensign
This page is a story posted on Ensign a daily web site offering a variety of material from scenic images, political commentary, information and news. This publication is the work of Faster Than Light Communications . If you would like to comment on this story or you wish to contact the editor of these sites please send us email.
Editor : Timothy W. Shire
Faster Than Light Communication
Box 1776, Tisdale, Saskatchewan, Canada, S0E 1T0
306 873 2004