February 10th, 2008: Here we are in Reno, after a fantastic three nights and two days in San Francisco. It looks like we are on our way home.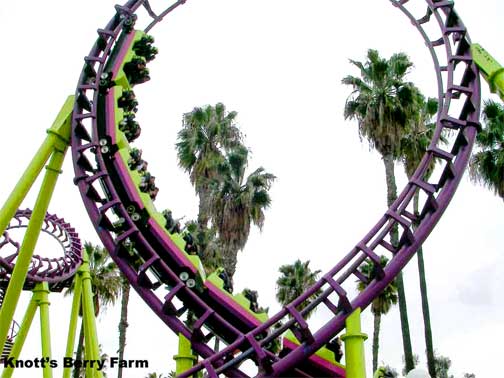 Last Saturday, we spent five hours at Knott's Berry Farm Theme Park, and enjoyed it. We had a couple of train rides, watched a couple of shows, and walked our feet off. It was like a small town fair, except the rides were bigger. Being Saturday, the place was loaded with school kids and as a result there was lots of screaming from the rides, which we wouldn't dare tackle. Most of the rides and events at Knott's are included in the gate price so once kids get through the gate, they can ride all day. Some rides were closed; others had a ticket price, but not many. Food was not included, but we did get an excellent lunch for a reasonable price. Lots of young people walking around with brooms and dustpans, and as a result the place was very clean.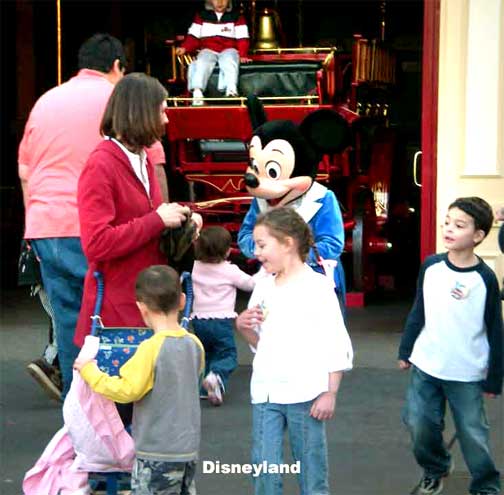 On Monday, we went to Disneyland and, to our surprise, enjoyed it. The only rides we went on were the Disneyland Railroad, a small train but powered by steam, and the Mark Twain (top of page), a stern-wheeler paddle boat also driven by steam. At least, it had a boiler and a steam whistle for special effects – there could have been a diesel engine hidden away below somewhere. We went to a good show, too. No, we didn't shake hands with Mickey Mouse, but we did see him, Goofy, and a lovely, tall haughty-looking woman with a long cigarette holder and an attitude who might have been an evil queen.

Once the gate admission is paid, all the rides and shows are free as far as I could see. Once we got in and had our ride around the railroad, which stopped at the four points of the compass, we were pretty well oriented and the place wasn't as daunting as it seemed at first. Distances aren't all that great, either, and one can use the train, or any of the trams running up and down Main Street to cover most of it.

We petered out about four and came home. Many others stayed until eight; by then it was getting pretty cool.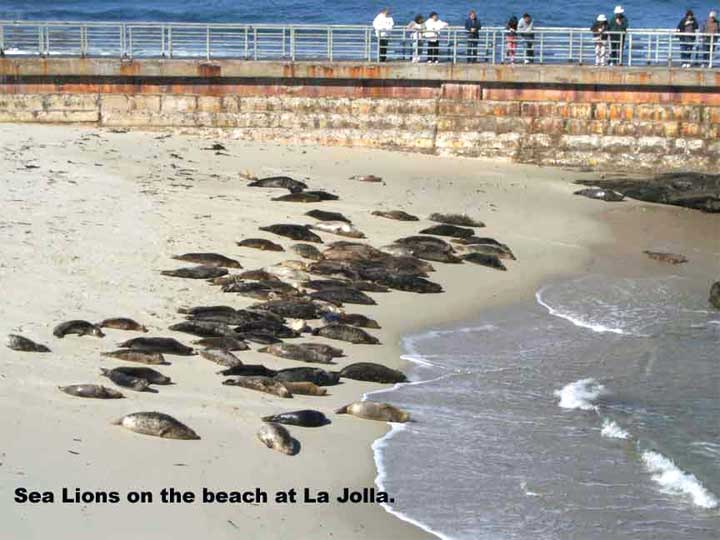 Tuesday, we went to San Diego, about as far south as you can get in California. We took on city guides and had a tour of the city. We were scheduled to spend a couple of hours in Tijuana but our San Diego guides advised strongly against it, because of gang activities which included shootings in the street. Nobody seemed to mind missing Mexico. The places we visited offered lots of Mexican junk, anyway, plus loads of fast food. We got back to our hotel thirteen hours after we left, making it an awfully long day. The high point was a stop at La Jolla, where we saw breakers coming in and sea lions sunning themselves on the beach. We even saw some surfers.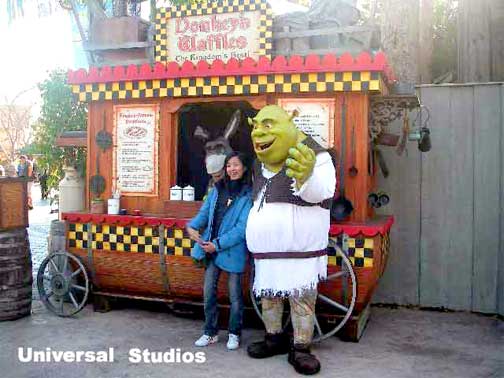 Wednesday, we took in Universal Studios, and pretty well everyone on our bus that we talked to agreed it was the best stop yet. Most of us preferred it to Knott's Berry Farm or Disneyland. I think it might have been a little more adult-oriented, though there was a lot there for the little guys. Highlight was a lengthy tram ride through the shooting sets where we saw mega plane wrecks and experienced floods and earthquakes and were threatened by Jaws. Lots of fun and not too crowded. We could have enjoyed another hour or two there but had to leave at 3:30.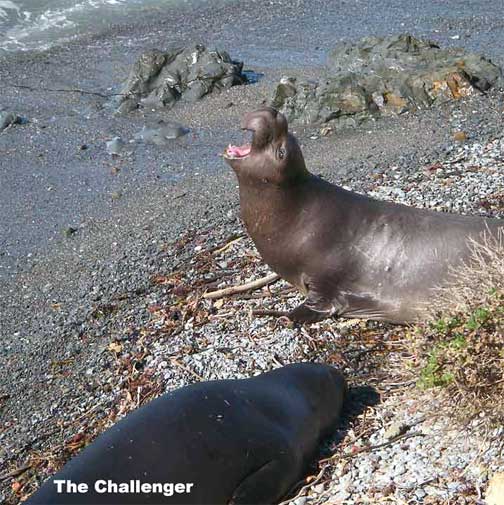 Thursday was another highlight. We followed the Coast Highway north to Monterey. It is a two-lane, switchback-laden road right along the coast, from sea level to a thousand feet or more above the beach. Some of the women at the front of the bus were squealing on the sharp corners! There were thousands and thousands of sea lions, elephant seals and likely ordinary seals close to shore. We stopped at one point at a lookout point; it was just twenty feet or so above the beach, and the beach was littered with elephant seals, sunning themselves. We saw a pup nursing, and two old males challenging each other. There was no fight, though – one of them backed down early in the game, and the winner just flopped down and went back to sleep. They totally ignored all the humans ogling them.

The sea looked very calm, yet rollers formed and broke on the rocks and reefs, putting on quite an impressive display. Why don't those sea lions get dashed against the rocks? I guess they know the currents.

We got into San Francisco too late to do anything except eat and go to bed, but got up early on foggy Friday for a chilly boat ride out to Alcatraz. We had a very interesting tour there – what a horrible place to spend the rest of one's life, but apparently those who worked there and their families loved it.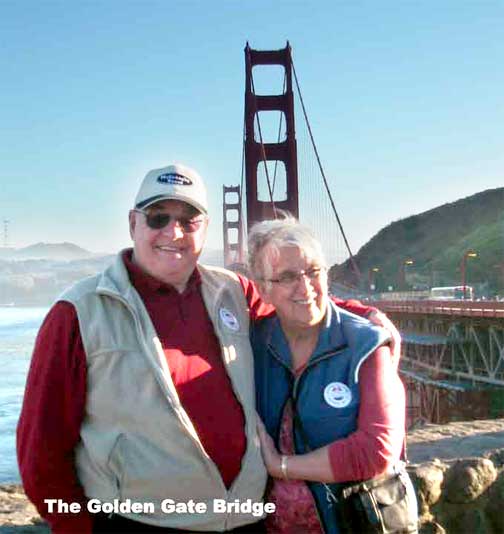 After lunch, we took on a city tour guide and had a wonderful tour. The fog had lifted and the sun came out; it was lovely and warm. San Francisco's interesting parts are very compact so there was no hours and hours of freeway crawling – it was all interesting. A beautiful city with wonderful architecture, both the old and the new, and fascinating places to shop and eat. We even crossed the Golden Gate Bridge and had a photo stop on the far side. Another high point!

Saturday, we made our own way downtown, with the aid of our hosts, taking the hotel's shuttle to the airport, the light rapid transport (BART) to the cable car terminus, the cable car (Hanging on and riding the running board all the way, trying to take pictures without falling off) down to the Fisherman's Wharf area. We shopped and browsed there until my feet fell off, then caught an old steel-wheeled streetcar back to the BART, thence back to our hotel. Wonderful day, thanks to the hosts from both busses: Beth McDonald, Nancy and Doug Porcina, and Carol and Bill Spencer. This was all done on their free day, and we were mighty grateful. They really go above and beyond to ensure we have fun!