\February 24th, 2008: It has been a pretty nice day; barely below freezing; sunny in the morning, though it did cloud over later in the afternoon. The sun has been eating away at the snow every day for the past few. The forecast is for continuing warm for a week so I just won't bother washing the car for awhile.

We watched the lunar eclipse Wednesday night, from the comfort of our spare bedroom window. The angle was wrong to try and take a photo, and I just didn't feel like freezing my buns off while taking it outside, but there'll be lots of pictures in the papers. We saw a very bright star due south; it seemed to be doing a lot of flickering but we couldn't tell if it was a star or that errant satellite. We looked out again about eleven; the moon was bright and full, but the star was gone. On the news, it was reported that the US had shot down their wayward satellite – could that have been the star we saw? Why weren't we watching at the moment it was exploded? I'll bet there was some kind of a flash.

I see an obituary in the paper for Art Hanson, who died January 31st. Art and Alice have been friends pretty well since we moved to the Greenwater district in 1980. Our sympathies to Alice and her family.

Some more old friends have passed on – Emil Rozdeba of Wynyard, and Eddie Yurach, also of Wynyard. Emil and Eleanor were close neighbours of ours there, and Doreen and Eleanor were particularly good friends. Eddie was an electrician and did a lot of work for us, both in the business and our homes. He was a man of many talents, and very artistic. Our condolences to both families.

That sun keeps getting higher and higher, and stronger and stronger. I went for a long walk last Thursday; the temperature was -17° but there was hardly any wind and it felt wonderful. The air even smelled sweet.

Walking can be a bit dicey; that warm day last Saturday caused lots of melting, which immediately turned to ice. There has been a lot of sidewalk clearing done but of course not even those huge machines they use can cut through the ice. I pick my way carefully over the icy spots and wear good shoes, so can still get a good walk in. Major roads are good but the residential streets aren't cleared at all, so ice builds up and gets all rutted, making for some cautious driving. It's surprising how few accidents we hear about.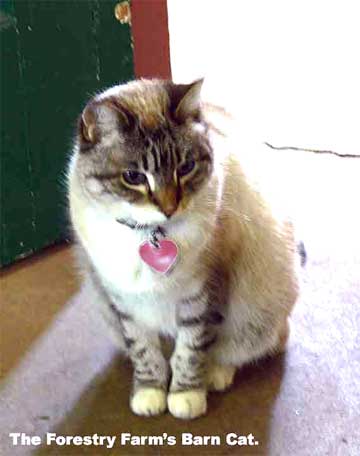 I got a call from Glenn Galloway, president of Parkland Photography Club, on Friday. He was in town, so we got together for coffee. It turned out that he was planning to go to the Forestry Farm to see if he could get some wildlife pictures. I didn't even know it was open during the winter. I ran home and got my camera and joined him there. Pickings were pretty slim as everything is fenced in with a fairly small mesh fence, but I did get a couple of pictures of cats. One was a lynx, (top of page) which very obligingly posed for us on a branch and even opened its eyes a couple of times, and the other was of a common, garden-variety house cat, or barn cat as they termed it. I saw their big cougar, but it hid long before I got close enough for a picture. Glenn has longer legs than I and was able to step over the outer fence to get his camera right up to the mesh in some cases; I suspect he got some good shots of the wolves. If I tried that, I would still be hung up.

The Sierras of Erindale is a large four-storey condominium building about three blocks west of us. (below) It is right along Attridge Drive and kind of dominates the area. I gather it is a very nice place to live, with lots of amenities. When describing to people where we live, we are likely to say "about three blocks east of the Sierras". Others might say, "We live in the Spruce Grove Estates, just west of the Sierras". Thus it serves as a kind of a landmark. I believe "sierra" is Spanish for "mountain" so I guess the Sierras of Erindale is our mountain. Works for me.