March 23rd, 2008: The temperature didn't get very high yesterday, but the sun was out for a good part of it, and there was almost no wind. That made it a lovely day by my standards.

Today started out sunny and warmer, but there was a stiff breeze from the south. I went for a long walk this morning, and it was uncomfortable walking into the wind.

Jenny came to town for the weekend, staying at her Aunt Lucille's. We picked her up yesterday, and after doing a few chores, went to the Prairieland Park for the Draggin's Rod & Custom Car show. It was a good show, and well-attended. I picked my favorite, a silver '32 Ford customized,(bottom of page) a lovely car but also very well displayed. It wasn't just cars – there were lots of trucks, a few tractors, and several motorcycles, all beautifully finished. Last year, Jim Steadman got a lot of attention with his '58 Corner Gas truck, in fact, it was used in the television promotions for this year's show. I didn't see Jim there this year.

Awhile back, I mentioned that we had hardly seen a bird since moving to Saskatoon. Some are starting to show up though – two magpies that didn't seem too afraid of me were hopping down a boulevard where I like to walk. On the same stretch, there are some good-sized spruce trees and there was a lot of twittering going on, though I didn't spot a bird. My first thought was house sparrows, but they are usually quite visible. I suspect now that they are pine siskins which are not often seen except at a feeder.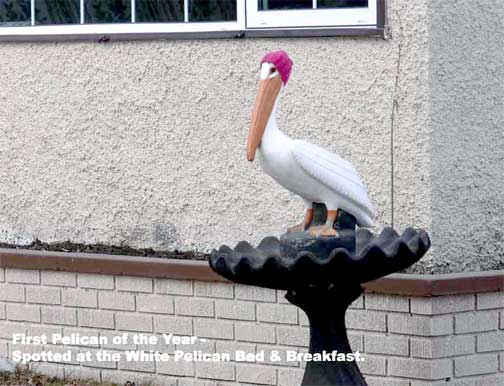 There have been a few geese around for a couple of weeks. We often see one browsing around in the baseball diamond in Kinsmen Park, close to Lucille's place. We have heard of, but not seen, larger flocks apparently heading north and the annual question arises – what do they live on until the snow goes?

There are usually several cars parked by the weir, likely people on the annual pelican watch, each trying to be first to see a pelican. Without even trying, we spotted one close to City Hospital, perched on the edge of a bird bath. It was even wearing a red toque.

For years, we longed to see a lynx in the wild. When we finally did see one it was beside the highway, and by the time we slowed down for a better look, it took off. Bill and Lynda Gudjonson were much luckier – they had one stroll down the path between their house and the lake. Bill grabbed his camera and managed to get a shot (top of page) of it through the glass doors before it ambled on, and he sent it to me. I don't mind saying, I was some jealous!

Yesterday, I came down with a dilly of a cold – mostly a cough with fever. I slept twelve hours last night and five more during the day today, and I'm going to hit the blankets pretty early tonight. I have to be careful not to pass it on to Doreen's sister, Lucille, who is slowly recovering from heart surgery. That is a horror story for next week.