June 1st, 2008: A beautiful day – sunny, not too hot, and not too strong a wind.
After all my moaning about how slow the trees are leafing out, they really took a jump this week. Ornamental fruit trees are blossoming like crazy, too, all the way from white to deep, deep pink. Pretty nice!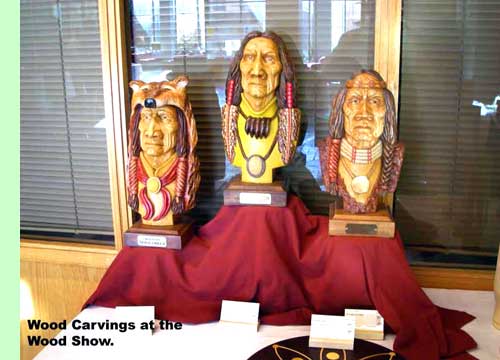 We went to Wood '08, a display of work by the Saskatchewan Woodworkers' Guild. Sorry I didn't mention it last week, because it is well worth a visit, and the show ended last night. There was everything from wood carving to cabinetry, wood turnings, intarsia, inlay work and all of it exquisitely done. There were quite a few artists in attendance, explaining their work and, in some cases, demonstrating. I got permission to take a bunch of pictures and will attach them to this report.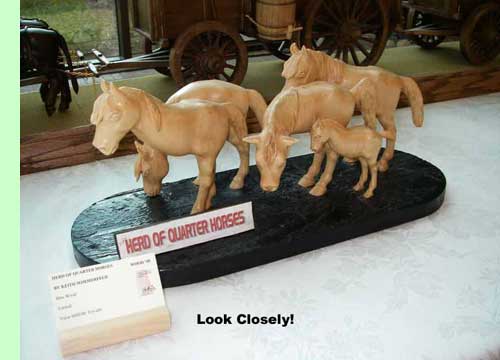 What a wonderful hobby! Some of the work needs a pretty well-equipped workshop, but there is a lot that can be done with a knife, a palm sander, and a coping saw. One man was demonstrating wood carving, and he was sitting on a comfortable bench using nothing but a knife. And then, there was another carving of a seahorse that stood taller than a man and likely as heavy. Thing is, a lot of it can be done by people who aren't strong and spry. Me? I collect tools – I don't dirty them.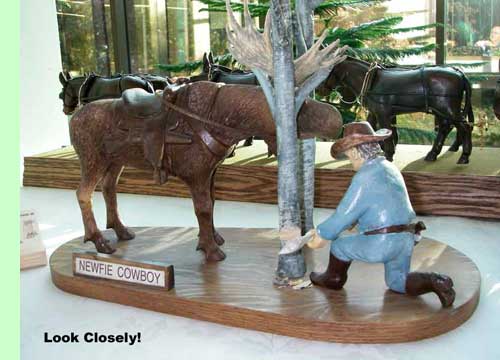 We had some excitement here last week – came home and drove into the garage and were met by a very strong smell of natural gas. We called SaskEnergy and they sent a man out with some sensitive instruments. There are three units in our building; three of them had reported a strong smell; the fourth wasn't home. The SaskEnergy man was convinced it was sewer gas but he couldn't sell us on the idea. Eventually SaskEnergy sent out another man with another instrument and he narrowed it down to the place next door. A man had been installing hardwood flooring; there was a basement gas fireplace and the gas line for it rain just under the main floor. One of his nails must have gone right through the hardwood and sub-floor, and pierced the gas line. Once they turned the gas off to the fireplace, the smell disappeared.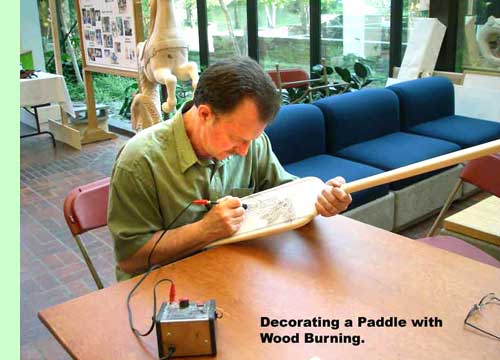 Had some contact with our landlord while all this was going one. He casually asked if we would like to buy this townhouse. Told him we'd druther not. We love this place, but if we are going to buy, it will have to be a place with no stairs; that boils down to a bungalow townhouse or an apartment condo. Our reasoning is that at our age, falls and broken limbs are distinct possibilities, and if we are going to commit to anything permanent it has to be where we can live our lives on one floor. So, we are doing a little looking around again.

Prices are shocking, but at least interest rates are low. At present, it is a buyer's market. One agent told me that last year at this time they had a couple hundred listings; this year they have over a thousand. Instead of bidding thousands of dollars over asking prices, buyers are offering a little less, with many sales at five to seven thousand less than the asking price.

First thing we are going to do is buttonhole our landlord and find out how serious he is about selling this place. We like it here.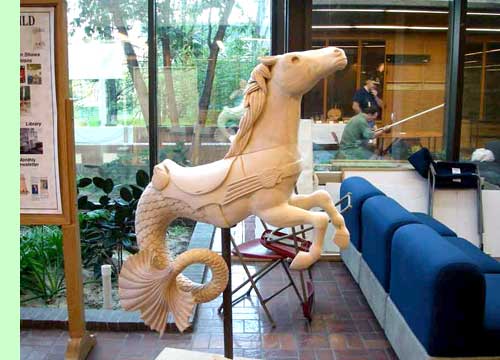 Poor Lucille is in hospital again. She had chest pains that didn't relate to her incision, so took herself to Emergency at the University Hospital. They kept her in, gave her a CAT scan, and concluded she had a blood clot in her lung, unrelated to her recent surgery. She should be out in a day or two, but is faced with a course of treatment that will last many months.

Tomorrow we leave on a motorhome tour that could last most of June. We will drive down to Weyburn where there is a lovely campground and quite a bit to see. There we will be joined by my sister, Cathy, and her dog, Freckles, with Cathy's motorhome. We plan to wend our way down to Rapid City where we will spend several days touring the many attractions. Then meander east and north and make our way back up to Saskatchewan.

Doreen has been studying the tour books, looking for places to stop and things to see. She is our route planner. Cathy and I do the driving; Doreen plots the route and does the cooking. It seems to work well, and I don't have to think.

I am taking my computer along. Many campgrounds offer high-speed Internet so I will try to get a report off every week. Think you can stand another travelogue?

I have had several responses to my question about the name of this report. All of them stated firmly that the name should stay the same. Not a single dissenting opinion. So there you have it.