June 15th, 2008: Keystone, SD – a lovely, sunny, calm day, and not too hot.

From Medora, we made our way to Belle Fourche (Bell Foosh). We were commenting on how lush and green everything looked almost since we left Medora. Then we found out the area had had horrendous rains and lots of flooding in the town. We found the only campground, of four, that hadn't flooded. Walking around on a levee, we could see where the water had been a good eight feet higher not long previously. We did some worrying because the radio talked about roads being closed due to flooding in the Black Hills area.

We later learned that none of the main tourist roads were affected.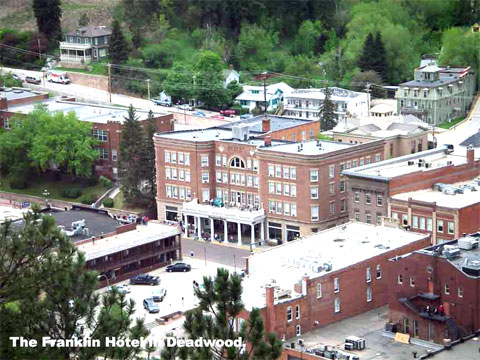 Finally, good TV reception! Doreen was ecstatic for awhile, until she found out there was nothing worth watching anyway.

Next stop was Deadwood, where we let our GPS lead us to the same campground we had stayed at last year. We spent a couple of nights in Deadwood, using the trolley system to get around. It runs every half hour and picks up at our campground office.

Doreen managed to get in a little gambling, and we did the tourist things, like visiting the Adams House, and the Adams Museum. We planned to go to the Franklin Hotel for lunch; it is a grand old hotel where we had stayed on one of our bus tours, and it had a lovely big dining room. When we got there, we found the dining room converted to slot machines. Major disappointment! I guess slots make more money than meals.
.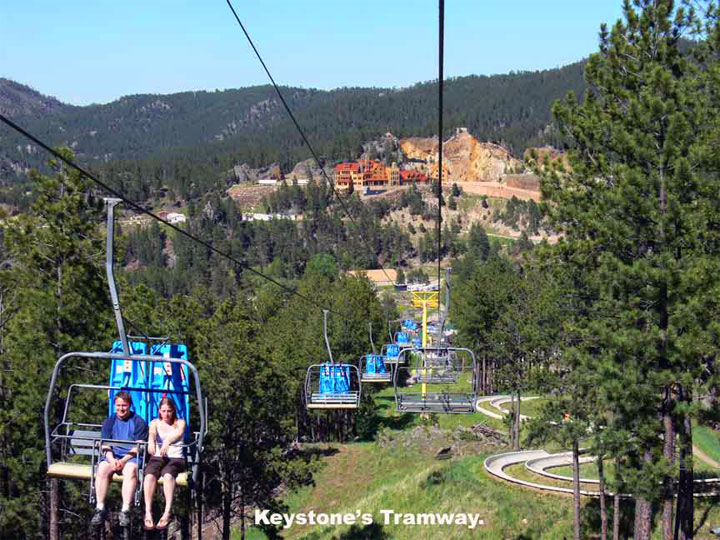 .
We also did a bus tour which spent a lot of time at a cemetery where Wild Bill Hickock, Calamity Jane, and other notables of the era are buried. Bus tours give a good overview of a town, something you can't get by driving around.

We still hadn't had our engine belts replaced and were quite nervous. Cathy knew some people in Rapid City who have a repair shop – she spent three days with them last year while they replaced her radiator. I phoned them, and they said they could help us, so we started out.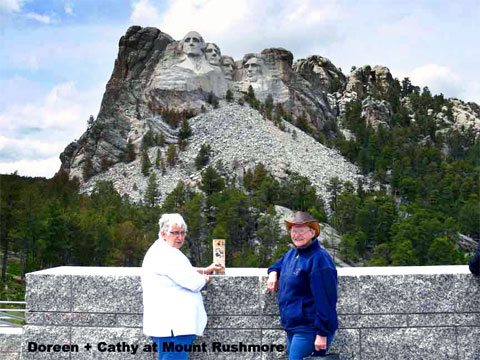 We stopped at a chocolate shop for coffee and a sweet, but when Cathy backed up to turn around there was a loud "bang" and her right wheel dropped. Broken control arm. Can't drive at all. Phoned Rapid City again and told them we would be a bit late, and that we had another problem for them to solve. AAA sent out an excellent tow truck and a driver who knew what he was doing, and before long we had the cripple at the garage in Rapid City. They did fix my belt problem, and got started on Cathy's motor home.

We stayed in Rapid City that night, and checked at the garage next day. Didn't sound good, as they hadn't been able to locate a used part; a new one would cost a fortune and take a day or two longer, so we left Cathy's motor home there and went on to Keystone in ours, expecting to have to bunk together until Monday at least. Well, we phoned Friday in case they needed anything from us, and were told it was fixed and ready to go; not only that but they found a part at a salvage yard and the cost was about a third of what Cathy had expected! We dashed in and got it, and Cathy and Freckles had their own beds again.

If you are ever travelling in the Rapid City and Black Hills area and have vehicle problems, call Fred and Lanny Erdman at Doug's Sinclair Station at 2223 Jackson Boulevard in Rapid City. They will bend over backwards to help you, are dead honest, and extremely reasonable. Their phone number is 605 342-1876, e-mail flerdman@yahoo.com. They are also capable of towing your vehicle and are AAA approved.
.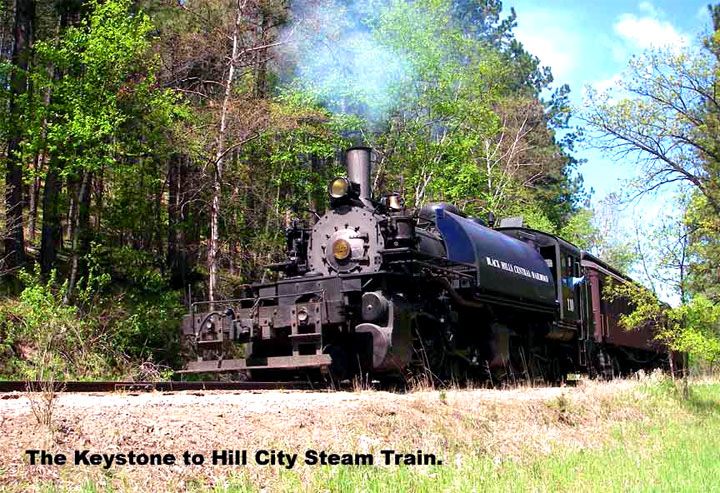 .
From Rapid City we went to Keystone, and booked in at Kemp's Kamps, just a little over a mile from town. The 1880 Steam Railway runs by less than a hundred yards away; the whistle sounds lovely and the train runs very quietly. We rode it over to Hill City and back, and loved it. It chuffs like mad on the steep grades; coal smoke and occasionally cinders get in your eyes and every once in awhile they blow down the boiler with a mighty "whoosh" that must play hell with birds nesting in the grass beside the tracks.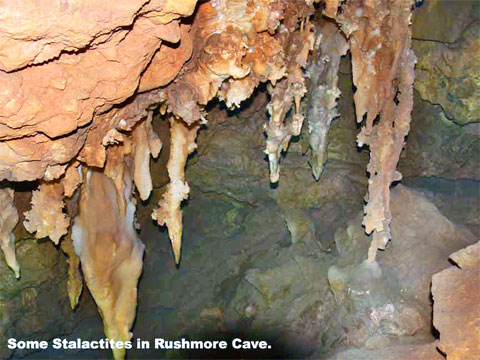 We have been up to Mount Rushmore, of course; last night we went up to view the lighting ceremony where they turn spotlights on the presidents' faces, bright as day. We toured Rushmore Cave and enjoyed it – I had never been in a cave before. We rode the tram up to a viewpoint of Mount Rushmore and almost came down on a slide, but lost my nerve. Cathy and I each sport snappy cowboy hats and Doreen has a trendy new sun hat. Life is good. Keystone is a wonderful place to spend a few days – right in the centre of the action.