August 24th, 2008: I'm writing this from Sandy's and Blaine's place near Carstairs, Alberta. We came out last Tuesday, with Doreen's sister, Lucille.

There was a lot of combine activity between Saskatoon and Kindersley; looked like peas for the most part but could be some winter wheat. Several fields of canola were being swathed. It looked like swathing will be general in a short time.

Crops out here look very heavy, but there has been some severe wind and rain damage leaving barley crops lying helter-skelter. I'm glad I'm not the combiner who has to pick it up.

Major departure from the balmy summer weather we have been having! It started raining Wednesday evening and kept it up all day Thursday, adding up to two inches of it. The temperature never got above about eight degrees all day – it was chilly! My new woolen cowboy hat handled it just fine, but the lining of my waterproof jacket got surprisingly moist and cold. I borrowed a nice, fleece-lined denim jacket of Blaine's to go to the Farmers' Market at Crossfield Thursday night. A farmer there said the rain was welcome.

Then Friday it dawned sunny and warmed up to about 20°, with a rosy outlook for the weekend.
Lucille's son, Ron, his wife, Patty and daughter, Sara were out for a visit from Prince George. Ron brought some of his woodwork, mainly wood turnings, that he offers for sale in shops in Didsbury, Calgary and Banff. Beautiful work! He had a vase that was turned down extremely thin, then had a design cut into the side with a dentist's drill, a lovely, lacy design. It must have taken a lot of hours. Then I forgot to take a picture of it.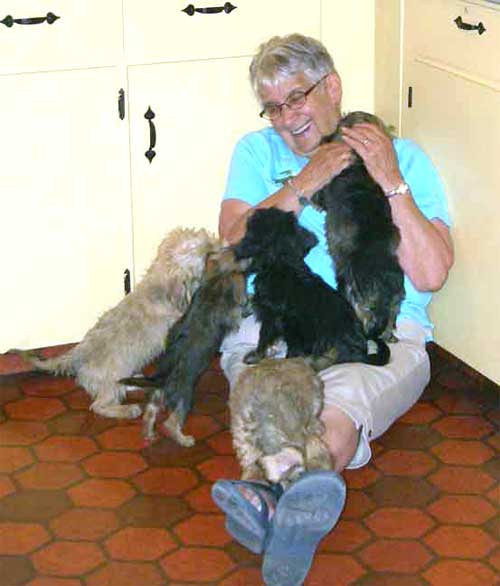 I think I have mentioned in the past that Sandy and Blaine raise little dogs, pretty little things that are Bichon, Havanese, Yorkshire – that type of house dog. They are very much in demand because they are real people dogs, almost non-shedders, and can live their lives away quite happily in an apartment or condo. I mentioned, too, that they have a miniature dachshund called Cricket. Cricket was mated to MoJo, a Yorkie/Havanese cross, and as a result she had six little puppies, called Dorkies. (Get it? Yorkie and Dachshund?) They are currently in the house, supposedly learning to be nice little house dogs. They are the cutest little things you could imagine, ranging in size from tiny to small, short-haired to long-haired, some with whip tails like a dachshund and some with the dachshund's pointy nose. Nice, quiet and cheerful little tykes. Demand for puppies falls off during the summer but these guys, twelve weeks old now, will likely be snapped up quickly.

A new dog was introduced to the mix today – a lady they had sold a dog to a few weeks ago brought it around for baby-sitting while they go on a little holiday. It is about the same size and age as the Dorkies and things got a little noisy for awhile. Then the new dog, Kloe, asserted herself and is now chasing the others around. It sure is interesting, watching them establish their pecking order.

There is a dammed-up creek right beside Sandy's and Blaine's place and it is a busy place, with tons of ducks and geese and the odd muskrat swimming around. We witnessed a real scrap between two Canadas. One bullied the other into the water, chased it around awhile, then back onto land and over the hill out of sight. There is a screech owl in a big black poplar on the other side of the dam that does a lot of calling at night. We haven't been able to spot it, though. Today, a great blue heron landed by the far shore and proceeded to preen itself. I managed to get a picture of it, (top of page) then once it felt it was presentable enough, it flew away.