October 5th, 2008: I'm writing this from Cincinnati. OH. We got in about 7:30 just as it was getting dark but could see some marvelous architecture. Too bad we will be leaving at first light in the morning.
Aside from a couple of showers, it's been shirtsleeve weather all day long. I understand it's been pretty nice back home, too.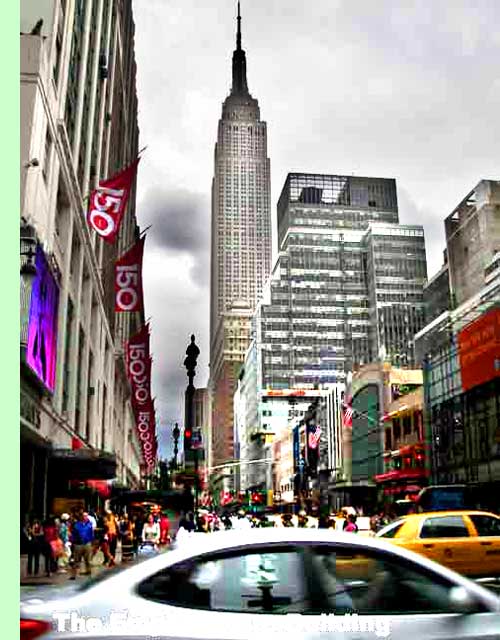 We got to New York on Sunday and went to the Metropolitan Museum of Art first thing. Some of us went to the Marriott on Fifth Ave. to see if we could get tickets for a show that night, but it was so confusing, we were so tired, and it meant hanging around for an hour until ticket sales opened, that we just went back to the museum. We spent a couple of hours there but I'm afraid I just wasn't in the mood to appreciate it.

We had a tour of Manhattan Island with a step-on guide on Monday. We got a good look at Central Park from all four sides, travelled Broadway Avenue from one end to the other, but the cap was a visit to Ground Zero. There was a fence around it, but we found an observation platform and were able to see inside. I counted a dozen cranes of various sizes at work, plus many backhoes and other smaller equipment. It was an emotional visit, though – we couldn't help thinking about the two huge buildings that collapsed on that site, killing thousands of people.

Later in the day, we had a visit to the Empire State Building. We stood in a line-up for almost an hour waiting to go through security – empty our pockets into a tray for the X-ray machine; take off our belts, etc. - then to the elevators. I don't know how long it took to go up to the 80th floor, but it couldn't have been more than a minute or two. The only sensation of movement was the popping in our ears. Then we caught another elevator to go up to the 86th floor, the observation deck. There was no glass or Plexiglas around that deck, just a low wall and a coarse mesh – we could stick the camera right through to take pictures, which we did until both cameras ran out of batteries. If Ground Zero was a low point of our tour, the Empire State Building was a high point, both literally and emotionally. Since I was a small boy, the Empire State Building has always symbolized New York to me, and now I can say I've seen New York.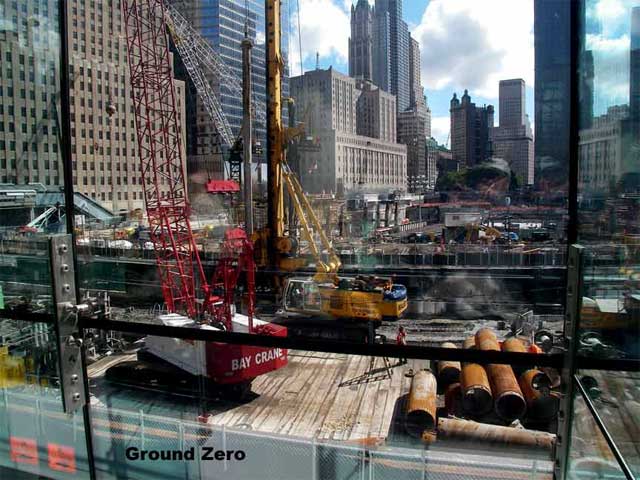 Tuesday, we went to Battery Park, at the tip of Manhattan Island, and took a ferry to Liberty Island to see the Statue of Liberty.
We spent some time there, then went to Ellis island. I'm afraid it didn't mean much to us because neither of us have any ancestors or relatives who came to North America through Ellis Island. Another ferry back to Battery Park. We spent a few hours at Greenwich Village, but it wasn't at all interesting, nothing at all like the Greenwich Village of stage and literature.

We went to Lincoln Center and took in the stage show "South Pacific". It was great, even though most of us were completely played out. We had been up at six, and it was eleven before we got back to our hotel, most of the time spent on our feet or in the bus.

I can't get over the New York traffic. In many places the streets are jammed; drivers have little respect for traffic laws, pedestrians even less, and cyclists none at all. Throw in the odd caleche, pedicab and sightseeing bus and it's a miracle traffic moves at all. Yet it does, and relatively smoothly. The odd fire truck, police car, or ambulance comes along with siren screaming and somehow a path opens up for it. I think the key is that drivers do respect each other because co-operation is the only way it can work.

Randy has never been here before, but it didn't take long before he had the traffic figured out and he could bob and weave that big bus with the best of them, right through the downtown area of Manhattan where traffic is at its worst.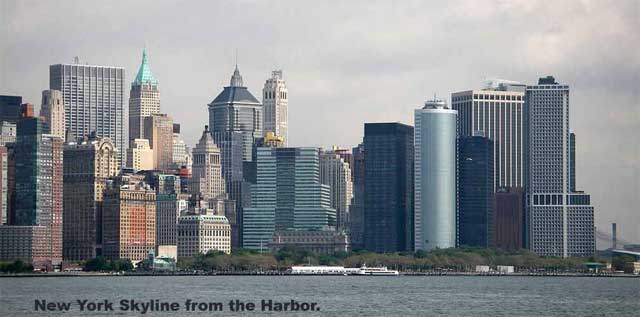 We saw no hookers, hustlers or panhandlers. We did see the odd person sleeping on the sidewalk, but we can see that in Saskatoon. There's not much police presence, though there will be a traffic officer at some intersections trying to get things moving faster. New York is not dirty. People are out sweeping their bit of sidewalk and the trash goes into a bag, not into the gutter. Many of the buildings have a grimy look due to years of soot buildup, but others are sparkly clean. There is a lot of traffic noise but few horns. There is no use getting in a hurry; up and down Broadway, Randy figured ten miles per hour would be a good average. The traffic lights don't seem to be synchronized so a lot of time is spent at red lights. When you get to your destination, you will likely have to stand in line anyway.

Gas prices in the US vary from $3.279 (Fort Lee, New York) to $4.099 (New York City) and all the way in between. In Washington, they were a little under $3.60. All prices are for regular unleaded which I assume to have an octane rating of 87. For the most part coming across from Minot, they would average about $3.60.

From New York we went to Washington and south. Will tell you about that next week.