T-shirt weather on Wednesday, and winter coat weather on Thursday. I walked home from Reggie's, and it was terrible – a very strong west-north-west wind made me think my ears were going to freeze. The next few days, the wind was much lighter and the sun came out – quite an improvement even though the temperature was pretty low. Today was quite pleasant.

We haven't had any snow for awhile so decided to really stick our necks out and get our winter tires replaced with the summer ones. We got that done Tuesday and surprisingly we haven't had a blizzard since. We also broke down and got our wheels aligned. We have had this car for almost five years and have never had an alignment.

While we were in the getting-ready-for-summer mode, we got our windshield replaced, too. We could still see out of it fairly well, at least in the daytime as long as the sun wasn't hitting it, but night driving was a pain and there was a huge stone bruise on the passenger side. We got that about three years ago on dry pavement; it sounded like a shotgun blast and showered the inside of the car with glass. It didn't leak, though; we kept expecting it to spread all over the windshield but it never moved.
With all that done, it's just like driving a brand-new car.

I remember buying a new car from Ole Thoen. It needed some warranty work done, so he gave me my old car for a loaner. Of course, it was all dinged up for re-sale, ran like a dream and had a few less rattles. Made me wonder why I ever traded it in, when all it needed was a little TLC.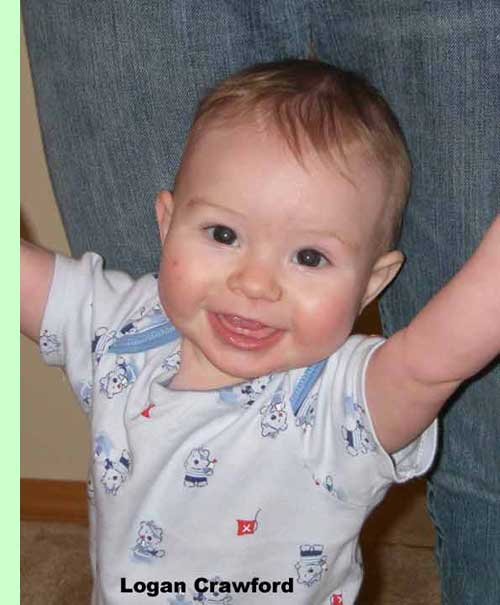 On Saturday, we went to the Pioneer Threshermen's Club Flea Market at the Western Development Museum. We had a visit with Jean and Jim Berg, friends from our Arizona bus tour; in fact, we had lunch with Jim. We met James R. Davis, freelance photographer, and had a long conversation with him. He has a lot of images on his website, www.saskphotos.com, worth a look.

Aaron, Nicole and Logan were here Friday and Saturday. Nicole was attending a rock concert Friday night, and Aaron wanted to take in the noisy vehicle show at Prairieland Park. He wasn't impressed – it cost him twelve dollars to get in and he figured he'd seen it all in five minutes. Nicole said the rock concert was terrific – it must have been as she couldn't hear a thing for half an hour after she got home.
Aaron baby sat while Nicole was at the show, so we were able to enjoy Logan without having to do any of the associated chores.

Sean, Randonn and Atticus were in town, so came over this afternoon for a visit. That was the first time we had seen Atticus since he was a newborn, last November, and what a change. He isn't crawling yet, but has learned how to roll over from his belly to his back and vice versa, and is able to get around a bit that way.

How lucky we are to have our great-grandchildren living fairly close, so we can get to see them once in a while.

Next week, we have to get the motor home ready for the road. That means buying a license, getting it serviced, washing it (loads of dust from being parked by the highway all winter) and getting it de-winterized. We checked it out this week and can't see any damage from the winter – no cracked linoleum or mouse tracks, and it's still pretty clean inside. We are doing all this earlier than normal; we are visiting Sandy in early May and by the time we get home will take off for our first motor home outing of the year, to Craik Regional Park.