February 28th, 2010:
Another in a long run of very pleasant winter days. It's mostly cloudy today, with little wind, and nice temperatures. If we think back a few years, we would say it's above Zero Fahrenheit and that has always been considered pretty nice winter weather. Here it is the end of February; we have had two cold spells and one blizzard. Of course, March can throw anything at us and likely will, but we still have to consider it one of our pleasanter winters.

I got the photo (top of the page) in an e-mail from Darlene McCullough of Tisdale. The picture was taken by photographer Jenny Fritshaw, of Parkland Photography Club. Darlene says:
"I thought you would enjoy seeing this photo that Jenny took of a coyote in a spruce tree. (a squirrel) stashed some crabapples in the tree and (the coyote) came back now to retrieve them. This is the second time that Jenny has seen him in the tree. The tree is outside her front window so she has a ring side seat to watch this."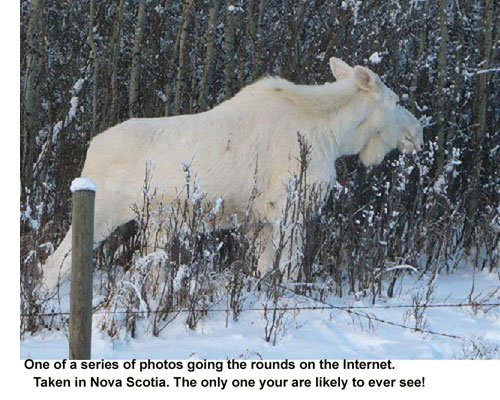 I phoned Jenny to get her permission to use the photo; she said friends estimated the coyote was twelve to fifteen feet from the ground. Is that an apple in its mouth?

And while we're at it, also enclosed is a photo of a white moose. It is part of a series of photos going the rounds on the Internet for the second or third time, reportedly taken in Nova Scotia. The only reason I am including it is, if you're not on the net, it's the only snow moose you are likely to see.

I got sick and tired of the hype leading up to the Olympics, particularly the crap about running the torch, that meaningless hangover from Hitler's time. Every time we turned on the TV we were bombarded with shots of people running through the streets of Hanley, say. Pointless, but possibly a successful marketing gimmick.

Once the games actually started, though, we found we were drawn in and cheering loudly for the Canadians. Figure skating, curling and hockey were the games we liked to watch, and just a little speed skating and downhill stuff. We almost wept when the Canadian Women's curling team lost the Gold on the last rock, and we collapsed, exhausted, when the clock ran out and saved the Canadian Men's hockey team from oblivion. They started out with three goals in the first period, held it in the second, and almost lost it in the third, when their opponents finally came to life. What a nail biter!

They played off with the Americans this afternoon for Gold, and what a game it was! Canada had a 1-point lead most of the game, but the US tied it up with seconds left in the 3rd period. Then Crosby scored for Canada in sudden-death overtime. What an uproar! One more Gold for Canada.

Funny – virtually all players on both teams were drawn from the NHL; chances are some were playing against their own team mates. I wonder if those on Canada's team had to be Canadian citizens?

Then there was the Men's curling, and Kevin Martin pulled it off as we knew he would.

For two people who have little interest in sports, we really got involved Was that a result of all the hype? If so, it was effective. We even applauded the apparent success of the games, though it will be awhile before we learn if they were financially successful. All the nay sayers early on were proved to be blowing in the wind. As Stephen Harper said, Canadians are just as patriotic as Americans – they just aren't as obvious about it. We sure felt it!

Well, it's all over now but the final ceremonies. Think I'll give that a miss.

Pretty soon, the Paralympic Winter Games start, and we will be watching Colette Bourgonje with great interest. There has been almost no hype unless that for the Olympics can be considered applying to the Paralympics too, but maybe they will generate their own momentum. I hope so.