October 3rd, 2010:
One of the nicest days we have had since last year! It got up to 22°, and sunny all day. The three months of September, October and November can be our lousiest months or they can be the nicest, and we just have to wait and see what we get. No use counting on the weather forecasts for much.

Our visit from Herb and Karen Till was great; as usual, much too short. Herb was introduced to coffee row at the Co-op and also at Market Mall. He found them very interesting, especially at Market Mall where Bryan Bjarnason was talking about his war experiences. Tills have a winter home in Florida, and we have a standing invitation to visit them there. Unfortunately, I don't take to long hours of driving any more, and I hate flying, but we will still have to give it serious consideration.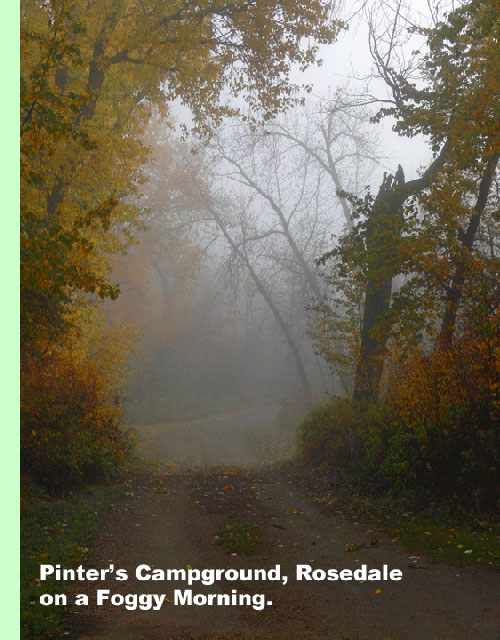 Our last camp-out of the season was a blast. We went to Drumheller, staying at a campground in Rosedale, just about four miles east. It was beautiful – well treed and the leaves were at their peak of colour. When we left there, they were falling like rain. Sandy and Blaine were already there, and Cathy and Freckles showed up soon after us.

Cathy's motor home is the shortest, so we used it for a car. We spent quite a bit of time in downtown Drumheller, where the girls shopped; I crossed trails with three very accomplished photographers, which led to great conversations. I also found the Cafe Italiano, a good place to spend time while the girls emptied the Thrift Store.
We visited three museums – one right in Drumheller, the famous Tyrrell Museum of Palaeontology and one in an old school in East Coulee.

We visited the Hoodoos; Sandy and I climbed all over them and took a raft of pictures, while Doreen and Cathy stayed at the bottom and visited with other tourists. We walked the suspended footbridge, originally built so that miners had access to the mines on the other side of the river. Sandy has a terrible fear of heights, but keeps pushing herself and made it all the way across both ways!

We visited the old Atlas Coal Mine site where the tipple is still in place, and under repair. We even had a beer at the Last Chance Saloon in Wayne. That's on the Eleven Bridge Road – eleven bridges in six kilometers!

We did every touristy thing we could think of (that didn't require too much effort) and still had lots of time for visiting. Our motor home ran and performed like a dream and we were very comfortable. One thing we didn't get to do was have a campfire. For the most parts, the evenings were warm enough, but the wind seemed to come up every evening.

People from around the Greenwater area will know Don Horncastle – he was Park Superintendent in the late seventies and early eighties. He transferred to Buffalo Pound Provincial Park, then retired back at Greenwater. After June died, he moved to Tisdale, and lived there until his death, September 20th. I hadn't seen him for years, but understand his health was pretty fragile for the last few years.

WOW!! How many of you caught Battle of the Blades tonight on TV? We watched our good friend and neighbour, Kelly Chase, do a very creditable job in his debut as a figure skater! There were a few brief shots of the sidelines, and there was his mother, Joyce Weber, his wife, Raelynn, and his three sons, Will, Benny and Luke. It was a joy to watch, and as far as the judges scores were concerned, he was right up near the top. For those who don't know Kelly, he grew up at Porcupine Plain, spent years as defenceman with the St. Louis Blues, and built a cottage right across the road from ours when he retired. They made their permanent home in St. Louis, but we used to see a lot of them in the summer. Good neighbours! Kelly is skating for the Saskatoon Children's Hospital. Make sure you vote for him.