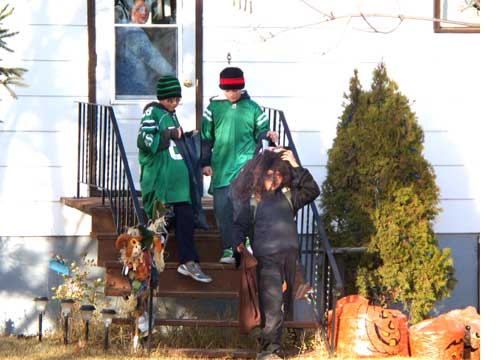 These pictures were all taken just after school got out on Friday afternoon and the children of Tisdale decided to take advantage of the outstanding weather, sunlight and all and make their rounds before dark.
This group of guys covered the entire town. Here they are just east of the BeeHive Hotel and around six they walked by but did not stop in at our house. By then they were probably pretty well loaded up with treats.
I was surprised at how few kids came to our door.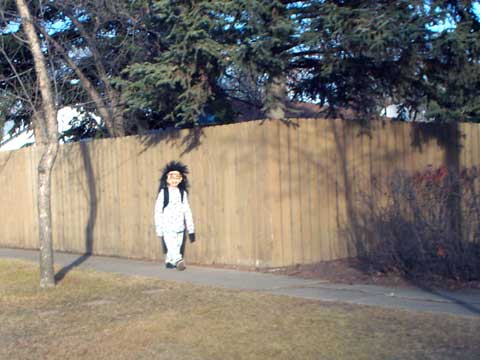 What even surprised me more was the way the traffic built up in the early evening, as parent drove their kids around from one part of town to another, using vehicles to go trick or treating seems just a bit out of synch with the idea, but then again, its a modern world where many parents just seem to need to be involved, minute by minute in the lives of their children.
Perfect weather to get out and drive around Tisdale's bad streets, or for those kids who did go out on foot, the wind and weather was as good as it gets
Return to Ensign
This page is a story posted on Ensign, a daily web site offering a variety of material from scenic images, political commentary, information and news. This publication is the work of Faster Than Light Communications . If you would like to comment on this story or you wish to contact the editor of these sites please send us email.
Editor : Timothy W. Shire
Faster Than Light Communication
Box 1776, Tisdale, Saskatchewan, Canada, S0E 1T0
306 873 2004