FTLComm - Tisdale - November 1, 1999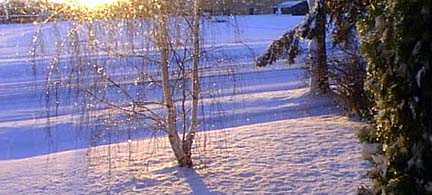 For readers of yesterday's Ensign last night's storm came as no surprise as yesterday's "tip" warned of snow fall later in the day.

A light rain began mid afternoon in Tisdale and we departed town enroute for Prince Albert the rain turned to wet snow near Beatty. Near Weldon the accumulation on the highwas sufficient to cause plaining of the front wheels.
On the return trip leaving Prince Albert at 6:30 the high conditions had become much more serious with one car off the road just West of Muskoday awaiting a tow truck, one between Muskoday and Birch Hills was wedged into some bullrushes and was being winched out and a third near Kinistino had a service truck working it out of the ditch. Like many others I left the road briefly once recovered control on the grass and eased back onto the surface. Ice was not the problem but rather slush that lifted the vehicle off the road and Newtons third law of motion takes over.

Here in Tisdale it proved to be a wild night with heavy snow and blowing snow but because the temperatures remained quite warm it took the form of ice. At 10:20 a large branch left a nearby tree and landed on our roof and electrical power was intermittent from then on until about 4:00 AM when the wind began to slow.

Copper, when burned creates an erry green flame and with power outage one after another the sky over our part of Tisdale was one massive green flash after another. Each time electricity came back on a few minutes or in some cases seconds later. I had decide that my hard drives would not handle those bumps and shut the computer system down at 10:45 as I was receiving a fax. The shut down was not voluntary.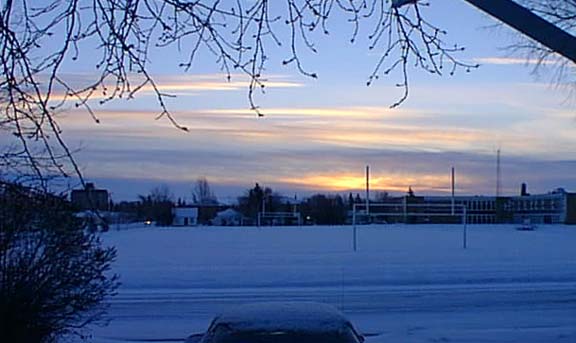 Though this morning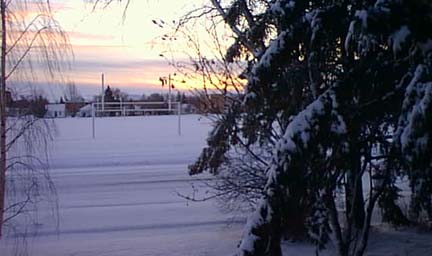 has the look and feel of winter is a long way from that situation as the material on the ground is not snow at all but a combination of ice crystals and a crusty frozen hard surface. At 3:00 AM one motorist made use of the streets in our neighbourhood to try out his spin capabilities with a white full size pickup truck. The picture above was taken just before sunrise and the stratus layer to the East all but disappeared shortly after this.

Trees have a very limited tolerance to the weight of ice on their branches and the evergreens seem to accumulate the most material and as you can see are flexed downward.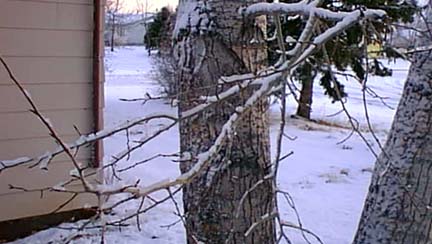 The smaller surface area of
aspen trees does not collect as much weight but even so they were pretty well loaded up this morning.

This storm only lasted a few hours so that it is easy to understand how destructive the two day storm in Ontario and Quebec was a couple of years ago. It is surprising that the federal government acknowledge that damage was a serious as reported, perhaps it had something to do with location.

The bright morning sun gave a special sparkle to the ice covered trees this morning

as can be seen in these
pictures taken at 8:40. This was looking East but as you can see in the set of images below looking into the shadow area to the West the Evergreens looks squashed and abused.

Though there appears to a fair accumulation of ice on the ground it is not expected to last more then today as the

ground beneath it is not
frozen and the ice will melt as the temperature rises above the freezing mark.

However there will be some spots in the shade which will have the look of winter for a day or two.

Below our next door neighbour heads off to school after testing the water.

For drivers who have spent more then half of their lives coping with these kinds of driving situations it was merely back to normal.