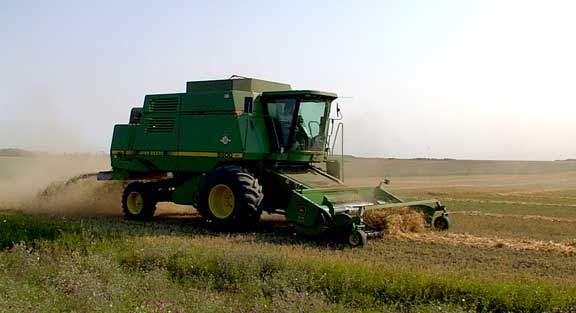 Harvest 2001
FTLComm - Tisdale - Monday, August 20, 2001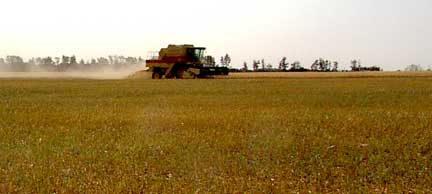 Near perfect harvest conditions as this part of Saskatchewan is bathed in sunshine with warm temperatures, clear skies and barely a hint of wind.

Both of these two combines were working South West of Tisdale this morning less than five miles away and both were marching through barley.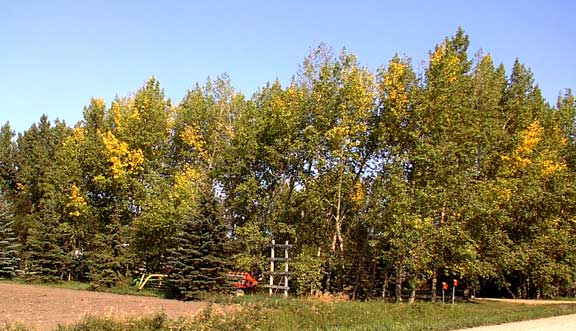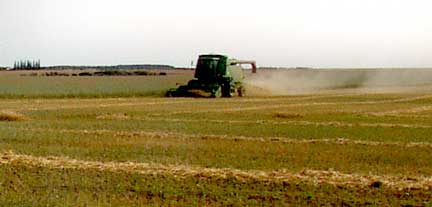 The chill of last week had a profound affect on some trees as you can see above but it is important to understand that this is only August 20 and more than 30% of the harvest is already completed.

These two combines seen here were moving very quickly because there is very little straw but farmers are surprised to discover close to average yields. You have to keep in mind that the last three years yields in this area have been very high, the best crops ever so this year's crop is actually close to the longer term average, with respect to barley. One farmer told me that they were getting between 48 and 50 bushels this year which is about half of the yields they experienced last year.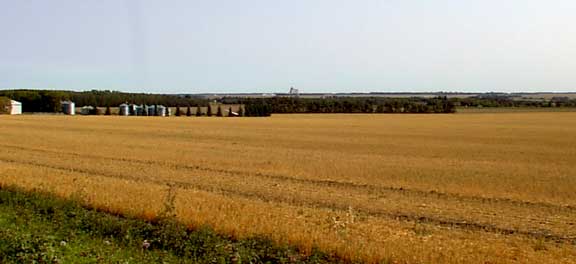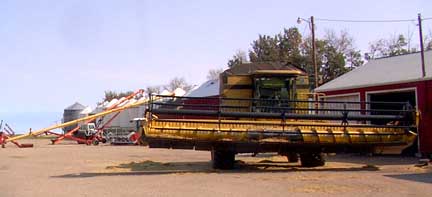 Above you can see a finished field as it stretches out and we look North East toward the Harvest Valley terminal from Southwest of town.

Most pulse crops have been harvested. I was in the Phillips seed yard this morning as they readied their combines to move into pea crops. The results for peas are varied matching the time planted. Some crops have nothing in them whatever, while others are producing around 28.

Phillips Seeds are attempting to do most of this year's crops without swathing, given the early date and excellent weather this should work out and be a saving in cost.

The Wheat crops look better than other crops but many are not quite ready for harvesting. Those fields that were planted later are much better simply because they got a very timely rain just after planting and most feel that they will see average and even above average yields.

The Canola is advanced this year and will be harvested almost at the same time as other crops, no early results are yet available.

You will notice that many farmers have had ground spray equipment out in their wheat fields, they have been applying desiccants to kill off weed growth as they have a week or so before the wheat will be harvested and by spraying now they will produce a cleaner crop and reduce the dockage.

Most farmers are predicting a quick harvest, as mentioned the light straw is making the whole process move right along. One barley crop took right around six hours for Phillip Seeds to clean up.