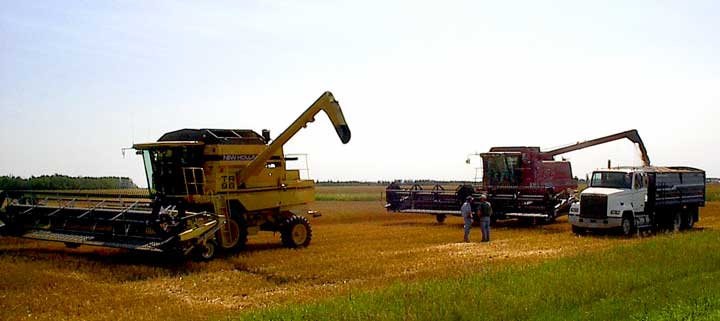 Harvest 2003
FTLComm - Tisdale - Wednesday, August 13, 2003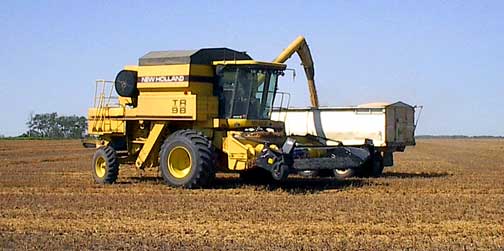 We saw the harvest well underway in North Dakota and Minnesota two weeks ago and it was no surprise to discover the process well under way in Manitoba last week and a few combines on the move along the Yellowhead in Saskatchewan.

Out at Weekes as well as here in Tisdale peas were the first to be ready and as of today most of the peas in this area have been harvested. Phillip's Seeds just West of Tisdale were polishing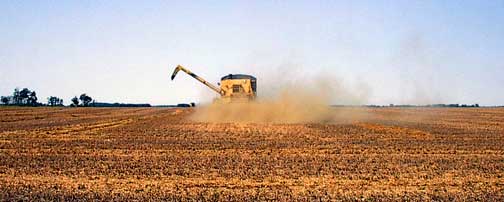 off this crop this morning.

I drove East two miles then two miles South, four miles West and four miles North and everywhere it seemed there were combines in the field. At one intersection there was a combine in each quarter with on of them having two working. Though peas are first this year the cereal crops are ready and several farmers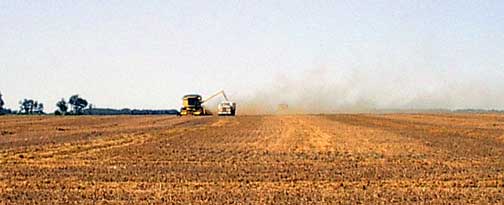 are straight combining barley and wheat. The conditions are absolutely perfect as it is hot and dry allowing the harvesting process to go twenty-four hours a day. It is unlikely that this heat spell with damage the crops as all but the Canola have matured.

Only a few Canola crops are still standing in this area as most have been swathed and will be ready to combine late next week.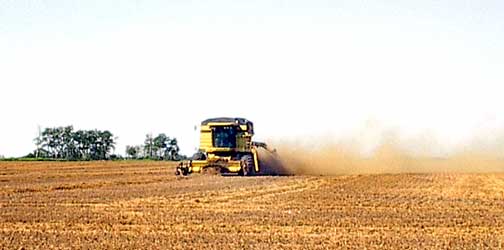 I have no indication at this time as to the yields but the growing conditions in this area have been excellent and there is no reason not to expect top grades and above average harvest.

Though this is an early harvest to last year when combines were still rumbling through fields in December, this is pretty much the same situation as occurred in 1998 when we reported the beginning of harvest on August 7. It is reasonable to assume that the severe drought of 2001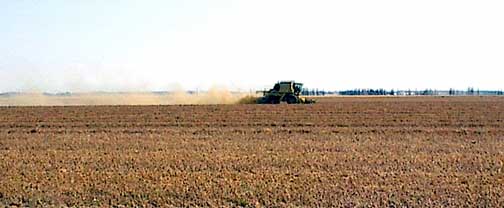 and 2002 were the worst of the cycle and we are on our way out of the chronic high temperatures, wind and low precipitation of these past two years. This by no means indicates that good times are on their way it just is possible things will steadily improve.

Very high temperatures of the sort we are experiencing this week are not especially unusual for early August, the odd thing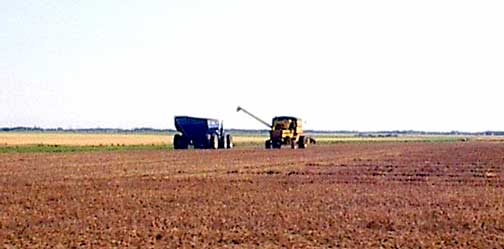 This year is that the situation is so wide spread effecting North American and Northern Europe at the same time.

But, as in all years the primary concern is to get the crop off the field safely before it is damaged by adverse weather.

Yesterday the United States Department of Agriculture noted that crop yields for this year are substantially down especially in corn and they also noted that world reserves of wheat are the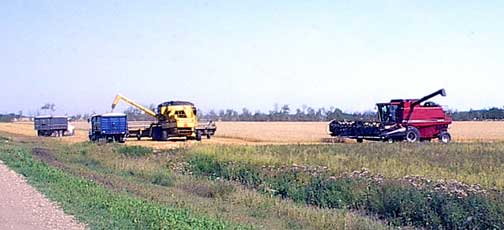 lowest ever reported with as little as two weeks reserve of wheat on hand. This should have triggered a rapid rise in wheat prices but they only showed modest gains today while corn zoomed upward for the second day.

Poor crops in Oklahoma, Kansas and Texas are matched in Europe where the heat wave is taking a serious toll on this year's crops.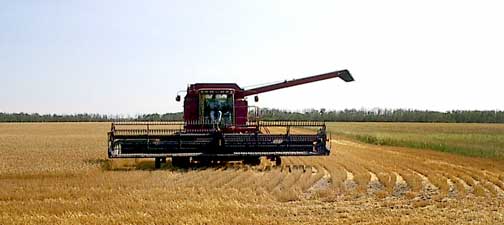 The Canadian Wheat Board was predicting twenty-nine million tonnes of wheat in Canada this year but many believe the actual crop will be more like twenty-million. Canola is not expected to show much more than a modest improvement in prices and Saskatchewan farmers planted a lot of peas this year and they are expected to bring lower prices.

The problems in the Canadian cattle industry are not going to be resolved soon and feed barley, oats and hay have all shown continued lower prices with no relief in sight.

The failure of Agriculture Canada and the Canadian Food agency from cracking down on American beef imports is going to make the Canadian beef industry even more confused. Since the Americans have not made a single move to establish a tracking system of cattle and Canada has our producers are now at a disadvantage and American health conditions with their beef should be viewed with suspicion. The wimp mentality of Canadian officials and those in the cattle industry will encourage the United States to continue their almost total ban on Canadian beef products even though there is no scientific evidence to support their action and it must be considered just a form of protectionism. We noticed that in United States supermarkets the price of beef was about twice that of the same products in Canadian stores.

With regard to Japan, Canada has done considerable trade with this country and since there is no reason for their ban on Canadian beef products we have to assume their are just using the BSE problem as an excuse and Canada should immediately implement long term trade sanctions on Japanese imports of all kinds.

Canadian agriculture has taken an enormous hit and it would be downright foolish to consider the lifting of the ban on some cuts of processed meat to be a victory. We require some punitive action that will both send a message and let the Canadian farmer know that its government is supporting the industry.

It is so important to understand that in an industry as integrated as Canadian agriculture the beef problem is just as damaging to the grain industry and though we are seeing improved production this year the price of feed grains is at an all time low when the value of money is considered.
---
Return to Ensign - Return to Saskatchewan News
This page is a story posted on Ensign and/or Saskatchewan News, both of which are daily web sites offering a variety of material from scenic images, political commentary, information and news. These publications are the work of Faster Than Light Communications . If you would like to comment on this story or you wish to contact the editor of these sites please send us email.
Editor : Timothy W. Shire
Faster Than Light Communication
Box 1776, Tisdale, Saskatchewan, Canada, S0E 1T0
306 873 2004