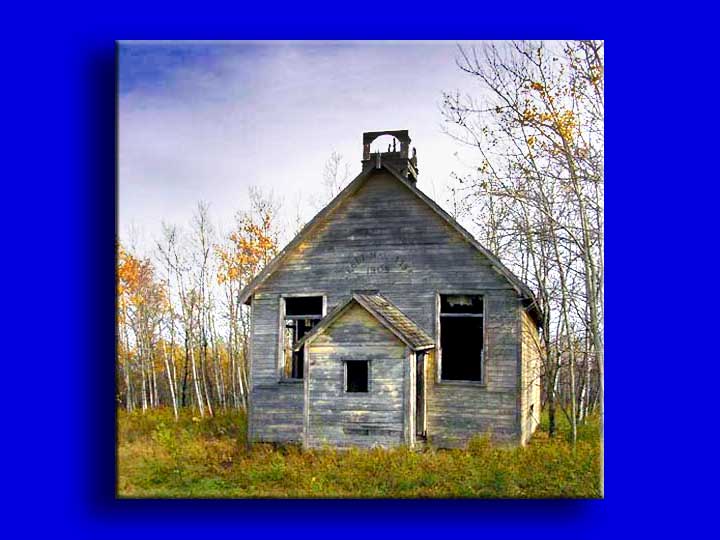 Old school ( Derby S.D. ) in area of Weldon Saskatchewan or about 6 miles N/W of the 'waterhen marsh'. Inscription on front of this old building reads 1905 . I heard somewhere that this school was also used on Sunday's for church services and Sunday School.
Northcentral Saskatchewan - Wednesday, December 12, 2007 by: Gordon MacKinnon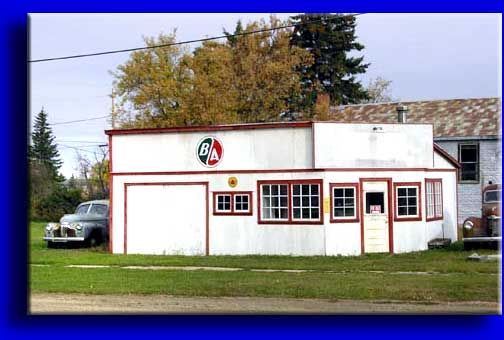 Old B.A. ( British American ) filling station in village of Speers Sk. The village of speers is abt 30 miles East of North Battleford on Highway # 40. I have no history of this item.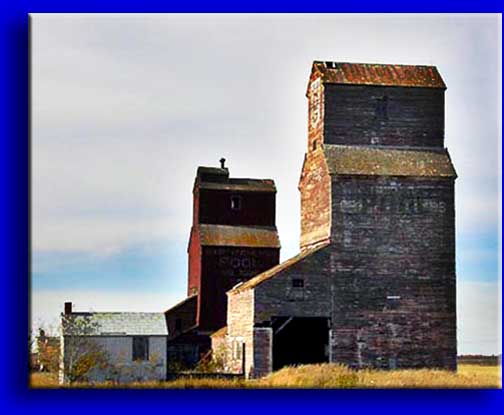 Two old grain elevators about five miles East of Wakaw Sk on Highway 41. I can barely read the lettering on one (Saskatchewan Wheat pool). This was a hamlet (name unknown) and everything including a house has been vacant for many years.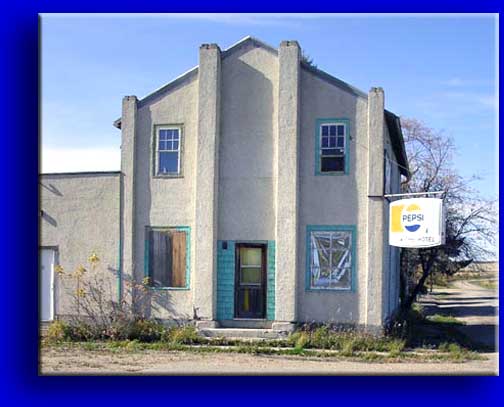 Old hotel in Yellow Creek Saskatchewan on Highway 41. Business appears to have been closed for some time.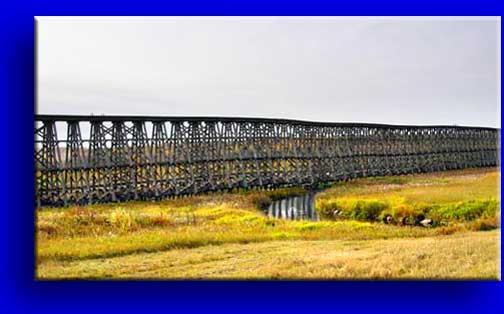 Old wooden railway trestle by Highway # 41 and near Meskinaw Saskatchewan Built, owned by CNR and has not in use ( for many years ). I believe that even the rail line has been abandoned as well.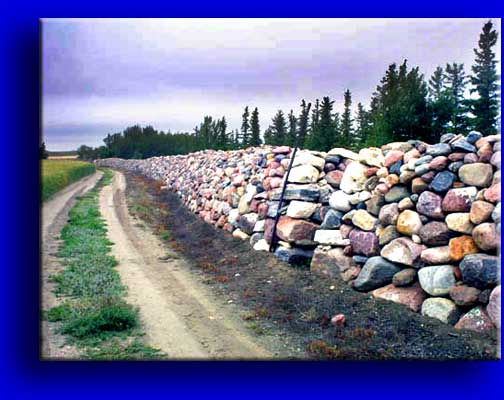 Stone wall (nearly 1/2 mile long) is one mile west of Smiley, Saskatchewan and was built starting in 1962 by Albert Johnson. I estimated that in some places - this wall was nearly 12 feet high and 20 feet thick. This wall has no mortor was was buily by Mr. Johnson ( now deceased ) as a hobby. The Johnson farm occupied by Mr. Johnson's son is on same road and before one gets to the stone wall. A

'visitors welcome'

sign is in front of the farm. The tall trees, landscape, the man made creek, the fishpond etc. are also well worth seeing. Why travel to Greece, Rome or Stonehenge when you can see something just as good right here in Saskatchewan ?
---
Return to Ensign
This page is a story posted on Ensign, a daily web site offering a variety of material from scenic images, political commentary, information and news. This publication is the work of Faster Than Light Communications . If you would like to comment on this story or you wish to contact the editor of these sites please send us email.
Editor : Timothy W. Shire
Faster Than Light Communication
Box 1776, Tisdale, Saskatchewan, Canada, S0E 1T0
306 873 2004