I enjoyed reading Ray Strachan's memoirs and photos of life in Crooked River so long ago.

I was co-owner of The Tisdale Recorder for 20-plus years beginning in 1953. During that time, among all the other jobs falling to a small town publisher, I did all the photography for the newspaper.

In those days it was all black and white photography, using a 2 1/4 by 3 1/4 inch Century Graphic camera. I ordered sheet film and hand loaded the magazines. Attached to the side of the press-type camera was one of the early huge electronic flash units powered by a 9 3/4 lb. battery carried in a case on a shoulder strap.

I did all the darkroom work in the old Recorder building in some pretty primitive conditions.

I've often wondered what happened to those 20-plus years of prints and negatives which are really a part of the history of the town and district. I covered fires, floods, visiting dignitaries, train wrecks, special days and parades, vehicle accidents, Fall fowl suppers in the district, events in Zenon Park, Arborfield, Bjorkdale, and so on.

To keep abreast of the photo coverage it meant being on call 24 hours a day.

I didn't keep very many sample news photos, but when I saw Ray's article I went looking through my boxes and found a couple of shots of the fire that pretty much destroyed the little town.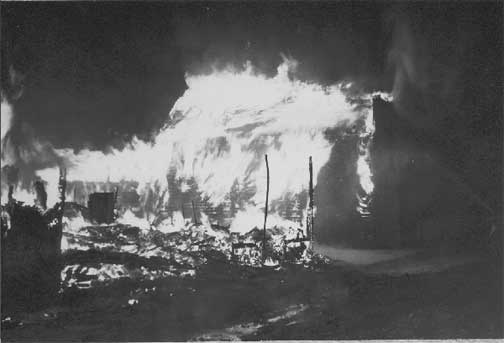 That Winter night fire broke out in the northern-most building and, with a light breeze from the north, swept south and consumed the second. The Tisdale Fire Department was called but with the few hundred gallons of water the truck carried, it was a lost cause. When the truck tank ran dry firemen and locals tried chopping a hole in the river ice but found it was frozen solid. They later discovered some water in the basement, or cellar of a nearby building and dropped the suction hose into that.

The night, for me and my wife, started quietly. We were on our way to a friends' home to play cards when I stopped on Tisdale main street to pick up a package of cigarettes. (Yes, I smoked in those days). When I came out of the cafe I saw the local fire chief's truck thundering up Main Street headed for the firehall. I stopped at the office, grabbed the camera, and gave chase to the firetruck. When we arrived at Crooked River the fire was already out of control.

If I remember correctly, they saved the Post Office.

The attached photos are examples of so many lucky breaks we received by listening and watching life around town.

I really enjoy your website. I haven't seen a copy of The Recorder for many years but I don't imagine I would recognize many people there anyway. Tisdale is a good town and from the appearance of your website, is moving forward at a great rate..
Return to Ensign
This page is a story posted on Ensign, a daily web site offering a variety of material from scenic images, political commentary, information and news. This publication is the work of Faster Than Light Communications . If you would like to comment on this story or you wish to contact the editor of these sites please send us email.
Editor : Timothy W. Shire
Faster Than Light Communication
Box 1776, Tisdale, Saskatchewan, Canada, S0E 1T0
306 873 2004