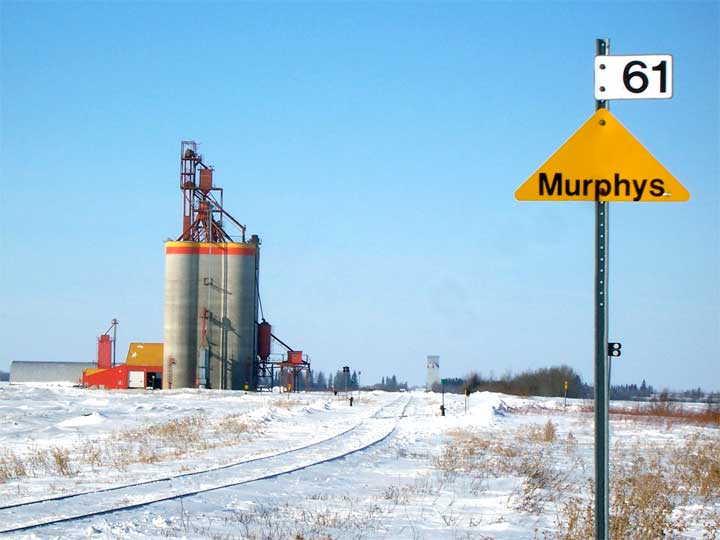 Dora Sharko, more memories
FTLComm - Tisdale - Thursday, February 21, 2008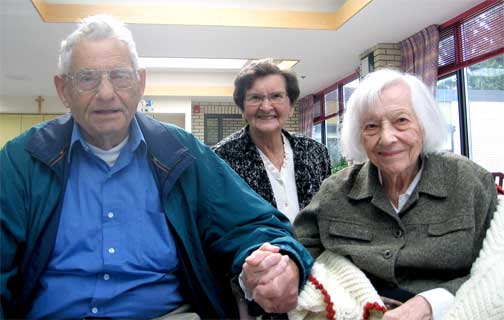 Mr. and Mrs. Steve Haidey of Melfort with Dora Sharko (right)
Regular readers of this web site will recall that a string of stories stemming from some pictures of Crooked River included tales of the rail siding called Murphy's Siding and as you can see from the picture above, taken this morning.
We need to re-connect with this piece of living history. To help you sort out the characters, read over the November 29th, 2007 story about Dora Sharko who was a store keeper in Crooked River and had lived at Murphy's Siding.
This remarkable picture of Dora was sent to us by her grand daughter Christel Galbraith below is what she had to tell us:
I have enjoyed your article on Crooked River and learned more about my Aunt Dora. I have a recent picture of aunt Dora at the age of 99. She looks pretty good to me. With her is my mom and dad, aunt Dora's last remaining brother, Steve Haidey. My mom and dad still reside on the original family farm south of Melfort, where aunt Dora grew up.

Christel Galbraith
Saskatoon
If there is a lesson in these marvelous stories about Crooked River and Murphy's Siding it is to realise the importance of where we are and of the people who make the places what they indeed become to those who are touched by they and their surroundings. Rapidly, our province is becoming a place filled with ghost towns and their stories need to be told and re-told so that we can understand better our setting and surroundings.
Joy Claypool is the daughter of Violet Sharko and the late Lloyd Sharko and as mentioned wrote the obituary of her grandmother Dora Sharko. In her letter to Ray Strachan she thanked him for telling the stories he remembered of her mother and family and she pointed out:
Wyatt, Joy, Austin and Dallas Claypool of Calgary. Joy's mother Violet lives nearby.

I wanted her friends and family to know what she meant to me, but for those who didn't know her, to read about a lady who mattered and made a different to those around her. We usually only read about people who were famous in the community - business leaders, active members of the arts community, sports figures etc. I wanted to celebrate the life of someone seemingly ordinary - but who was very extraordinary in so many ways.
---
Return to Ensign
This page is a story posted on Ensign, a daily web site offering a variety of material from scenic images, political commentary, information and news. This publication is the work of Faster Than Light Communications . If you would like to comment on this story or you wish to contact the editor of these sites please send us email.
Editor : Timothy W. Shire
Faster Than Light Communication
Box 1776, Tisdale, Saskatchewan, Canada, S0E 1T0
306 873 2004