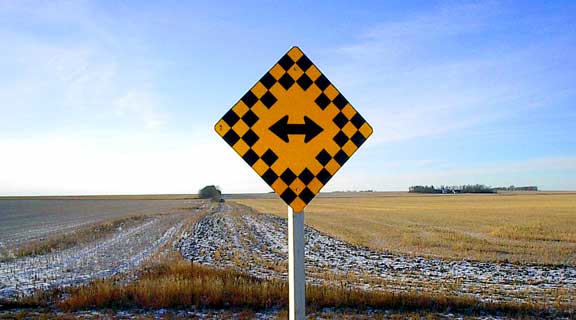 Golburn
FTLComm - Tisdale - Tuesday, November 11, 2003
Saskatchewan has undergone a remarkable series of transformations. From what we can tell, it was once covered with ice and then vast lakes, the forefathers of the First Nations people appeared here at least 12,000 years ago, but once they began their settlement, they experienced an undocumented struggle for possession of a not so empty land. Forests were cleared with fire and the never ending struggle to find food and a means to live off this vast territory had begun. This struggle continues to this very day, as present day settlers and First Nations people each attempt to adapt to the changing times and conditions.

By 1935 from Tisdale South to the 49th parallel there were more than 2,000,000 people living on this land and in its towns and villages. Today, there are less than half that and half of them are living in the two cities of Regina and Saskatoon with the worst rates of property and social crime rates in the country.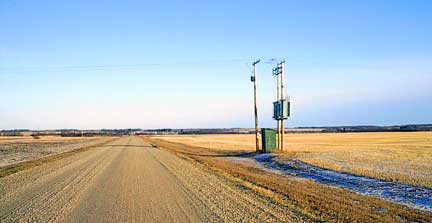 At one time every road allowance, one mile apart East and West, and two miles apart, North and South, was an actual road. As all of the Southern part of the prairies had a homestead on every quarter section of land. Every seven miles, on every railway branch line, there was a hamlet, or village, with its school, post office, elevator and grocery store. Now, with most of those rail lines abandoned, or removed, those hamlets and villages are just place names.

This road is the Golburn Road that heads East from highway #35 to the site of the Golburn Valley School and now the community centre that hosts a country fair and the hometown for hundreds of people who at one time lived along this road and around the tiny hamlet of Golburn.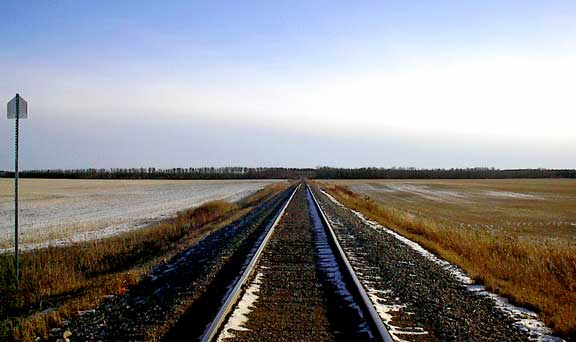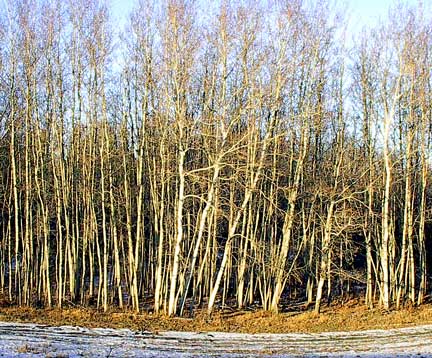 This rail line, less than a mile East of the highway, is still operationational, but the line that served Golburn is only a memory.

Though the surrounding countryside is flat, there is a whimsical little valley, that joins with the Doghide that winds its way through the area draining the spring run off North to the Carrot River and eventually to the Saskatchewan River system and ultimately to the Hudson Bay.

Aspen grooves grow along the water way as by far, most of the water is below the surface in a considerably useable aquifer that provides Tisdale with its source of water. But, all along the Doghide and its tributaries there are farms, most with livestock, as water is as important as fodder, if you intend to raise animals.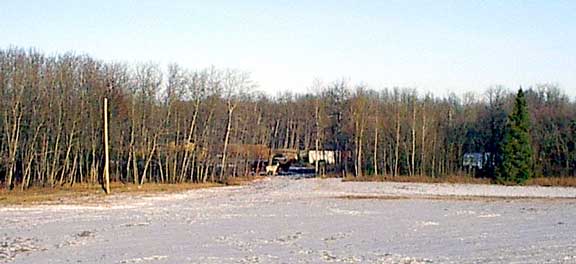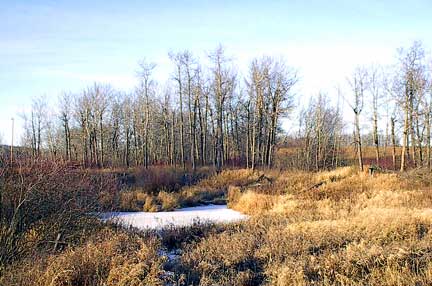 Often in the fall, rain primes this drainage system in preparation for spring. This fall was very dry but here just West of Golburn there is water in the creek. It is important to understand that only a fraction of the water that is carried by the system is on the surface.

The road makes a sharp turn to divert around the school yard of Golburn Valley School and the sign below tells the story of this little community that still perpetuates itself each summer with its annual fair. The grounds and buildings are a testamont to the dedication of the people in the society who work to maintain their roots.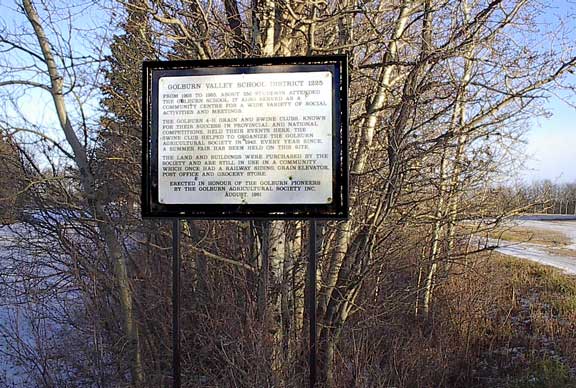 Click on the image above to see just the sign.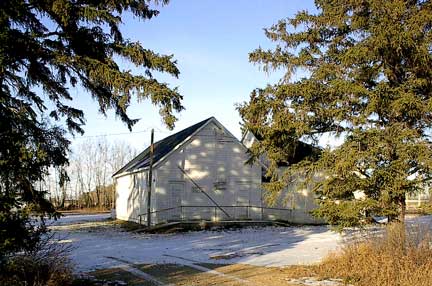 As I looked over the site of the school yard I found it hard to imagine what it must have been like to have gone to school in this place. I have attended a one room school for one year and most of my schooling was in multi-grade classrooms as well as having taught two years in such a school, but it is this setting that seems so remarkable. The school yard is surrounded by these towering spruce trees on the South side, so that all year round, the yard is in the shade, while to the South, a gentle slope down to the a little valley and creek.

The QuickTime Virtural Reality panorama below was created on that slope.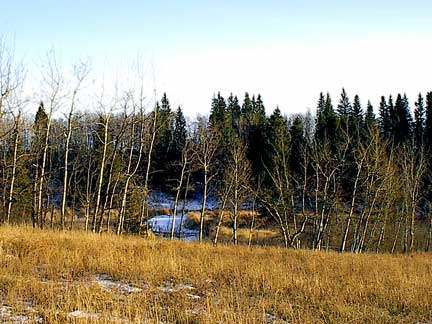 The sign reports that 350 students went to this school and one has to consider what a remarkable experience each one of them must have had. These pictures taken today November 11, 2003 would not be that different from other November 11ths in other years, so that even in early winter, this is a beautiful setting.

One of the things we know about people is that where they are, often determines so much about what they are, and will become. Clearly, this is a special place and those to work so hard to preserve it, know that, and this motivates them to make sure that this generation and those to come, will appreciate the outstanding environment that nurtured all those who called this place their home.
---
Return to Ensign - Return to Saskatchewan News
This page is a story posted on Ensign and/or Saskatchewan News, both of which are daily web sites offering a variety of material from scenic images, political commentary, information and news. These publications are the work of Faster Than Light Communications . If you would like to comment on this story or you wish to contact the editor of these sites please send us email.
Editor : Timothy W. Shire
Faster Than Light Communication
Box 1776, Tisdale, Saskatchewan, Canada, S0E 1T0
306 873 2004