---Land of Flight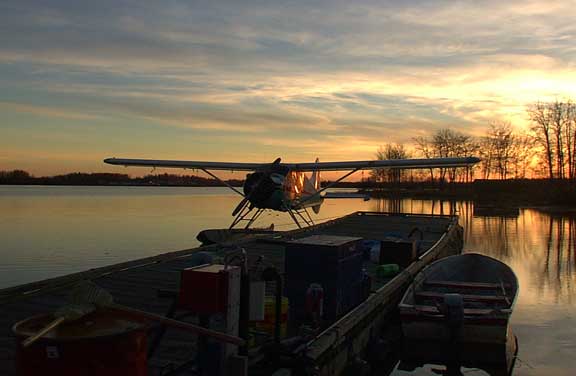 FTLComm - La Ronge - October 21, 2000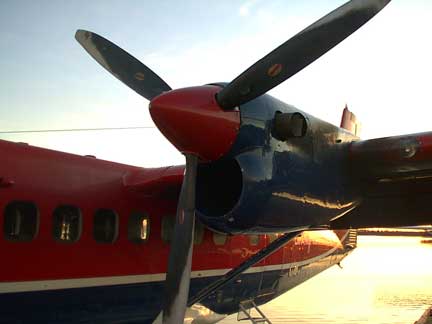 As soon as I wrote that headline I realised it was a mistake. Surely we all associate a place or defined area as "land" but in this case it really only partly applies. From Lac La Ronge North there is very little land. Having flown over it you suddenly realise that more than half of the province of Saskatchewan is Canada's largest fresh water lake.

The outcrops of the Precambrian shield is a place of poor drainage and monster muskeg and swamps. The accumulation of precipitation each year has no where to go but form lake after lake after lake. This explains why there are few surface roads for over half the province's land mass most travel is by water and over the water in float planes.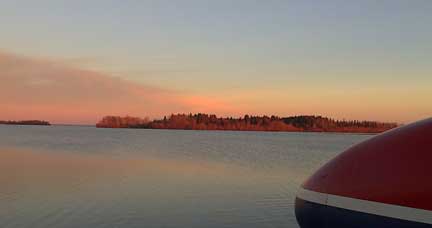 The hub of Northern Saskatchewan transportation is La Ronge with two large charter operations serving Saskatchewan's Northern communities and the people would live and work in this place of rock and water.

The durable and sometimes finicky PT6 in the picture above is the power that moves almost everything. The Dehaviland Otter with its single engine Pratt and Whitney radial was a tough act to follow and at the La Ronge airport is a single otter with a PT6 on its nose.
Pratt and Whitney Canada, of Montreal developed this outstanding turbine engine that has the compressor on the back of the engine and its hot section at its front with no direct connecting shaft between the two. This means that it is ideally suited to fitting a gear system and propeller to and it can be overhauled in sections making its maintenance many times cheaper than the Allison turbines with which it competes.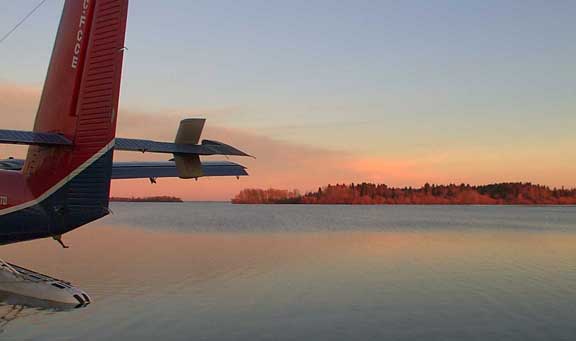 The Twin Otter itself is a simple adaptation of the original single Otter developed in the late forties and made extensive use of during the Korean conflict. The Twin version was introduced with its fixed gear or float configuration in 1971 and was

almost an immediate hit with
bush pilots and those who depend on bush pilots. On wheels I have ridden in a Twin Otter with seventeen other people plus a crew of two but on floats it usually takes off with no more than thirteen aboard. Extremely rugged and able to land and take off in extreme conditions the only vulnerable part is the super powerful PT6. A friend of mine beginning his career as a flight engineer toasted a PT6 here in
La Ronge when he fired one up for service work, taxied it from one wharf to another and promptly shut it down without going through the slow shutdown cooling procedure. A costly saving of time.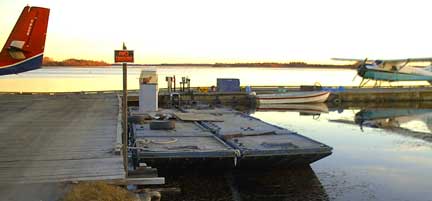 The pictures look East across the vast expanse of Lac La Ronge, truly monstrous lake. This part of world war two bridge parts have been assembled into an excellent barge for moving equipment around the lake servicing the cabins and businesses of the area.

The Federal Government used to operate the airport which also controls the float base offering weather briefings and radio support for the dangerous business
of Northern aviation. But in its 1990s bid to cut spending the airports of Canada, the support of civil aviation through air radio and the operation of airports was ended. Weather and traffic control was privatised and the airports turned over to local government. The offloading of the vital tools to Northern development from Federal to local government was a horrible mistake and most analysts predict that flight services in Saskatchewan will be confined to Regina, Saskatoon, Prince Albert, Yorkton and Swift Current with all other briefing, weather and flight control closed down. This failure of the Federal government will drastically curtail development and make air movement throughout the province many times more dangerous. But keep in mind, when you see your taxes going down, we are saving money!