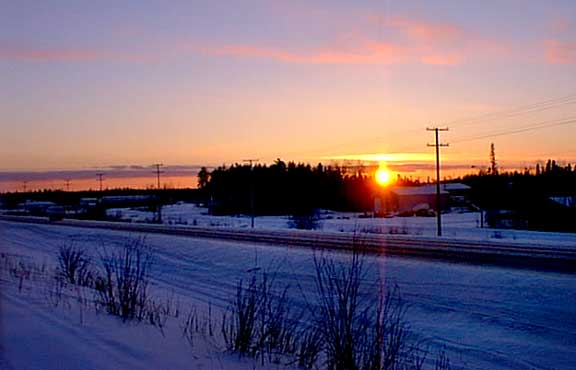 Sharing A Common Heritage
FTLComm - La Ronge - Sunday, February 10, 2002 - Images by Judy Shire , music by Lester Flatt and Earl Scruggs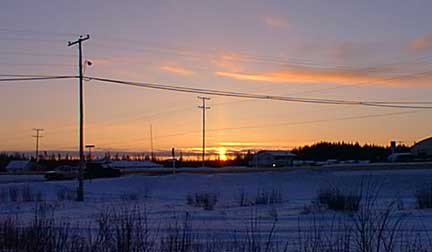 With the music of Lester Flatt and Earl Scruggs in the background these pictures taken last Wednesday as sunset occurred in Saskatchewan's Northern Community of La Ronge it is a good time to consider how much we have in common with one another. So much of the time we seem to emphasis how much each of us is different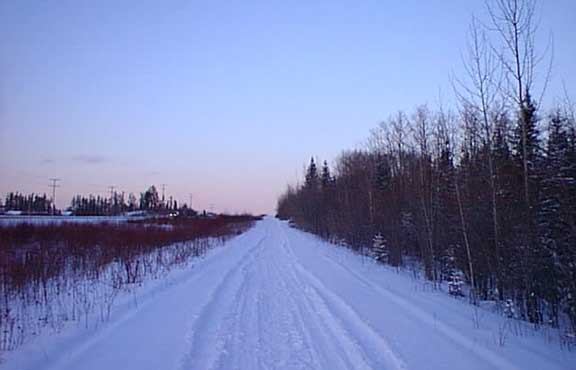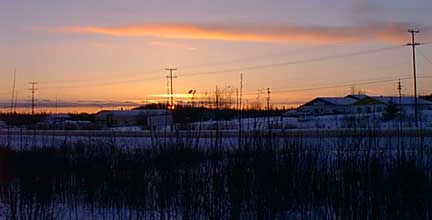 from our neighbours but we in North America, no matter what our ethnical background, have far much more in common with one another than we have that is different.

The people of Northern Saskatchewan, and this is the case for people almost everywhere in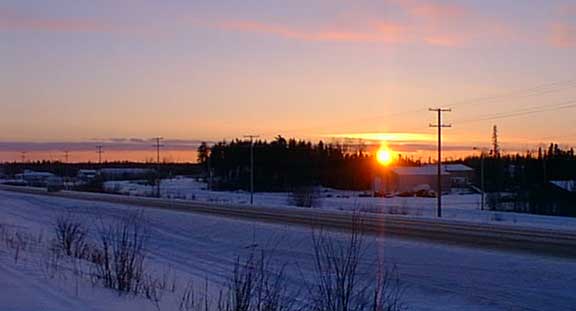 Northern Canada, are incorrigible pickin' and fiddlin' fans. Be it Whitehorse or Cumberland House, most people favour music that they can play and since all of Northern Canada was explored by two groups of people, French and Scots who both love fiddle music, it should not be surprising to see how much these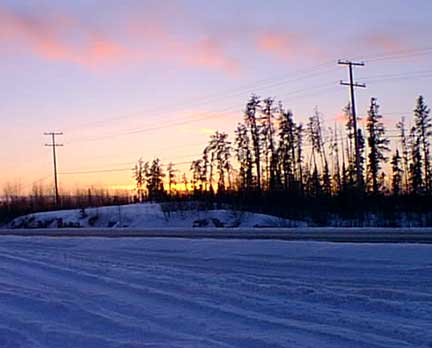 people share with the people of Cape Breton, Newfoundland, the Ottawa Valley and Black Diamond Alberta.

So why are we listening to Scrugs and Flatt who are from Tennessee. The facts of the matter are that guitar, fiddle and banjo music, though somehow gaining the name "western" or "country" music is really essentially folk music of the predominant folks to settled in North America with a strong music tradition. Those folks were Scots. Bluegrass music of Tennessee only differs in its distinct syncopation to the same rhyming scheme and musical structure that we find in the Highlands and every where highlanders went.

The common Celtic background of the Scots and rural French who settled in Accadia, Quebec and Louisiana is so close that only an expert can spot the cultural differences in the fiddle techniques and the tunes. Canada's voyageurs and the Hudson Bay post traders merged that cultural heritage and it is the distinct and shared culture of Canada's Metis people.

Earl Scruggs is still playing, but only the angels get to hear Lester play live. Together they were the best in their time, but the fabulous resurgence of fiddle music in the Maritimes and the way everyone in the whole continent embraces the lilting tunes of Scotland and Ireland, guarantees it will be our kind of music for generations.


Timothy W. Shire