February Morning In LaRonge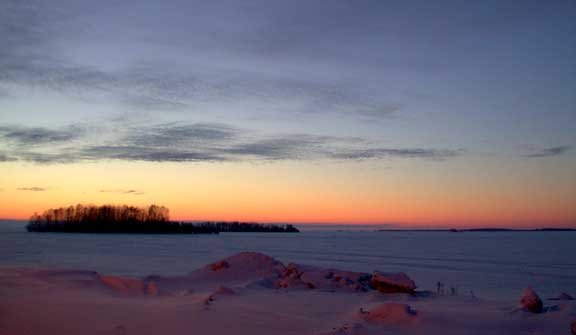 FTLComm - LaRonge - February 4, 2001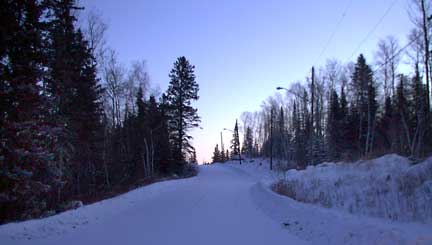 Saskatchewan is often maligned for its mythical monotonous scenery but that is simply not the case. the variations in scenery around the province truly remarkable and few places match the outstanding beauty of the lakeside community of LaRonge.

Lac LaRonge is a truly massive body of water with the government community of LaRonge and AirRonge on its Western shore. The picture above was taken Friday morning beside the Harbour Inn as you look out across the vast expanse of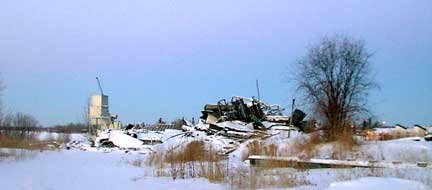 the frozen lake with its out-
crop islands.

The bush tenaciously clings to the Precambrian Shield outcrops that form the ground around the lake producing stands of fir, Jack Pine and birch forest.

This lake once provided for a thriving fresh water fish industry which stumbled into hard times and now is just a few freelance fisherman who harvest some outstanding catches and sell the products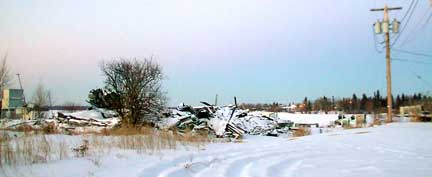 door to door in Southern
Saskatchewan communities.

The wreckage in these two pictures is of the fish processing plant that had been a main feature of the LaRonge water front as long as anyone remembers. Situated on a small peninsula along with the RCMP post it appears that local government has decided it was time to tear down the derelict building and it has been reduced to a pile of rubble.
The Friday morning sky and the crisp forest skyline give this place its distinctive atmosphere, these pictures were taken about 8:30 in the morning.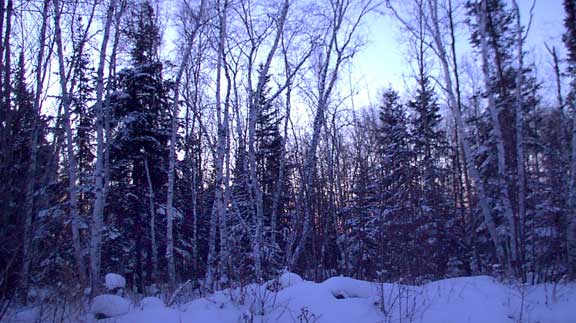 The mix of forest is in itself a sight of dramatic and continuously unfolding beauty as the light changes so does the scene with its dark shadows and complex texture. The picture below was taken around 4:30 in the afternoon about five miles South of LaRonge where two houses have been placed on an acreage and this is their driveway.