The Robertson Trading Company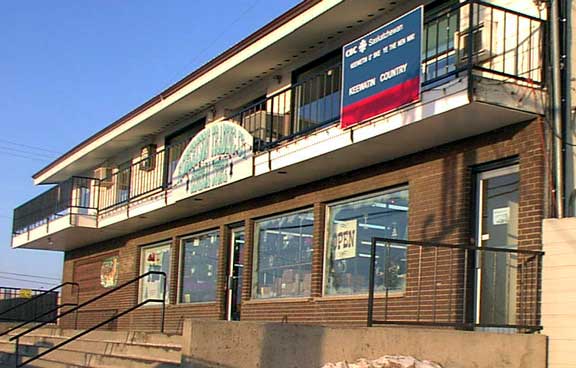 FTLComm - La Ronge - December 3, 2000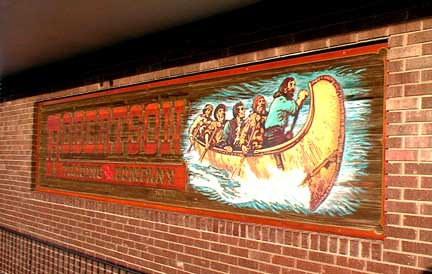 There is no equivalent I have seen to this unusual store. I have visited fur trading posts over thirty years ago in the North and seen the great stores in Whitehorse but La Ronge's Robertson Trading Company stands out alone in its amazing mix of goods and the very nature of the business.

The story has most of the regular products you would see in a general merchant store from food to hardware but at the Robertson Trading Company store you can buy a birch taboggantwelve feet long worth $799 or a bag of frozen meat for $50. Or how about a gasoline fired camp oven or a machetty.
The goods you would need to go and work in the bush, hunt, trap or explore all can be purchased in this store.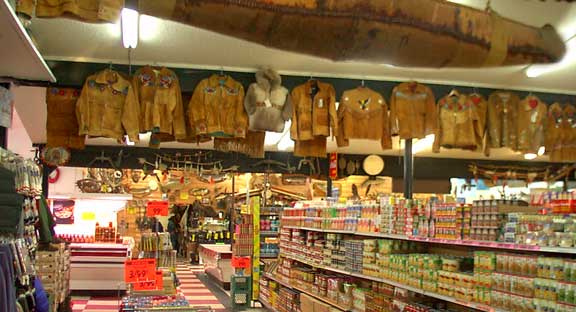 But there is more, when I looked at all there was to see and experience I decided you had better come and look this place over for yourself. My pictures would only show a hint of what is on display, the stuffed ermine, wolverine, a whole gallery of trophy heads, trophy fish and carved moose antlers, buckskin clothing, beeded moccasins, a birchbark canoe and furs. A whole wall of the most sumptous furs by the traders wicket. The store has accumulated art work, photographs, carvings, paintings and items that only can be found in this store. Much more than I could show you on this page and I decided, you got to come and take a look at this place for yourself.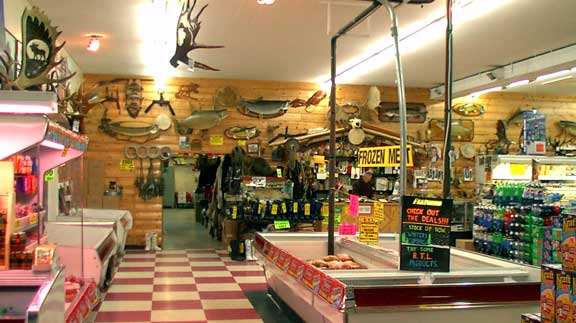 As a trading company the Robertson Trading company developed a bond with its customers often acting as the bank that provided them with the coming seasons supplies based on the return of furs in the spring. It is an old fashioned operation that really needs to be experienced. There is an atmosphere and a realisation of a much different and important culture that is linked to this store and yet at the same time there are a line of children's toys and ghetto blasters, soft drinks and all the other things that we associate with the world of today. In this store they are mixed combined together in a mysterious and eligant manner.