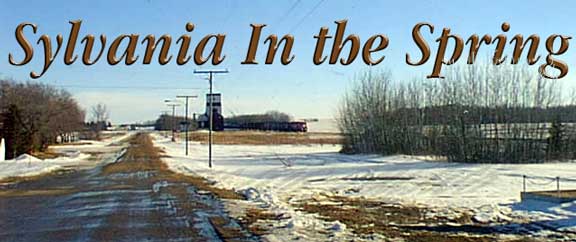 FTLComm - Sylvania - March 4, 2000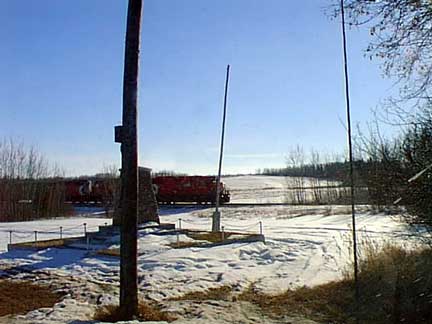 As the afternoon wore on and the sun was pouring down there was no doubt about the need to abandon the work I was doing and point the van down highway 35 and see what it was like out of the shadows. Water is running in the ditches and filling up the low spots in the fields, a farmer was loading a truck load of grain from a grainary and a skidoo was lazily mushing through the shadows of a farm yard while in another grampa was taking a toddler for a wagon ride on the drying driveway.

Turning into the sun drenched hamlet of Sylvania a CP grain block was heading North toward Tisdale. Today CP made the National news as it is seeking an American partner with which it can merge to acquire more running rights in the US and service its US customers who are already using CP to access the port
of Vancouver to haul into the Chicago market through Canada. Union Pacific is the line CP is courting as CN is now the largest rail line system in North America and CP leadership feel the urge to keep up with the Montreal based, and once public railway company.

In the little settlement of Sylvania there were about eight cars and trucks huddled around the hotel, across the street from this burned out remains of what at one time had been a general store. It would appear that a winter or late fall fire must have destroyed the building.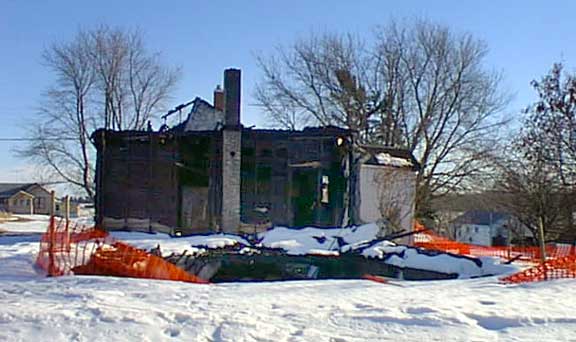 Down by the pool there is a growing pool of spring melt water. This little grain handling facility is miraculously still functioning. Explain that one with a million dollar elevator in Bjorkdale shut down and the line over to the newly rebuilt elevator in Weekes also in the extinction category.

This little elevator is only fifteen minutes from Harvest Valley Pool inland terminal and three other giants viaing for the bushels produced in the area.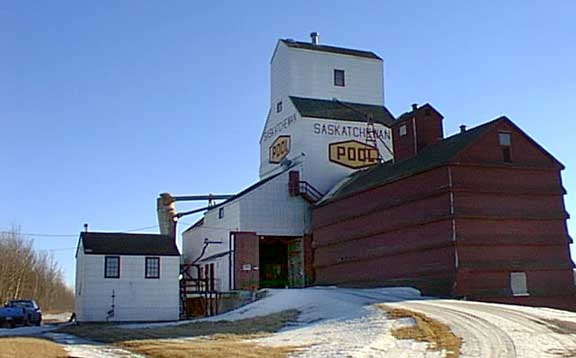 As I headed back toward Tisdale less then a mile North this absolutely prestine bright red early fifties Chevy was heading South. A fitting day for a drive in a little red pickup.