Wynyard
FTLComm - Wynyard - Thursday, September 4, 2003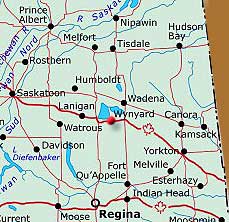 In the many years of this web site we have from time to time featured communities in a series of stories listed as "home towns." After all, one of the first things someone asks you is "where are you from?" It is a good question because location can determine a lot of things about the way a person looks at life and deals with the normal trials of living. Saskatchewan is blessed with a complex variety of towns and villages and each one has its own unique history and claim to fame.

In the mid 60s my good friend Larry Glover went to Wynyard as a weather man. He has never left the place it is where he married, raised his family and being the kind of guy he is, has lived happily ever after. But there is a good reason Larry never left his adopted town, not only did he choose it but indeed Wynyard chose him. Wynyard is a community of involvement a place where people share with each other and today with other small towns having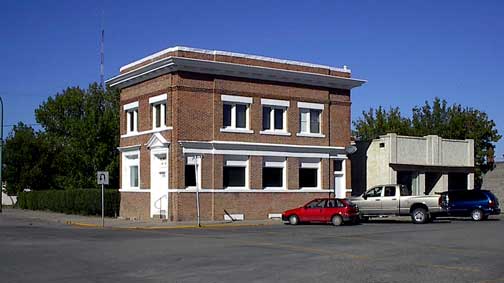 a tough time making a go of it Wynyard is still standing steadily on its feet.

Wynyard is big for Saskatchewan's small towns with at least 2,000 people and all of the services any community needs. It is not dependent upon grain based agriculture as it has a huge poultry meat packing plant and the service industries that support this operation

These pictures show the town yesterday afternoon between 3:30 and 4:00 as we look up and down main street.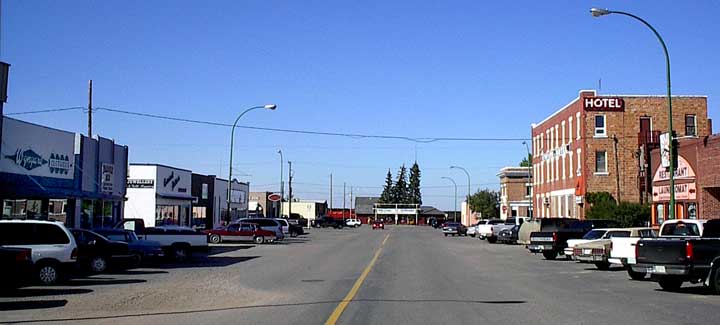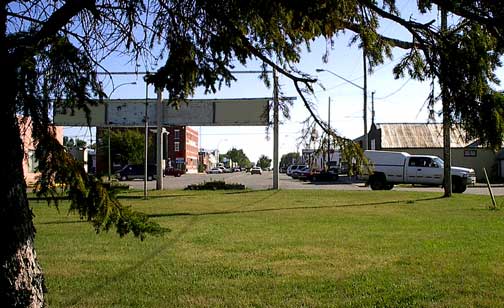 The huge main street works well for the town as they have angle parking. In this image we peak through the trees from the head of Main street the former location of the railway station.

For a Wednesday afternoon there were lots of people about on the town's main street and I went into three business locations and all had customers. A Bavarian cream from a bakery and soft ice cream cone from the "Bargain Bin". The prices for ice cream were 50¢ for a baby cone, regular $1.75 and $2.25 a large one. I just asked for a small cone and the young woman handed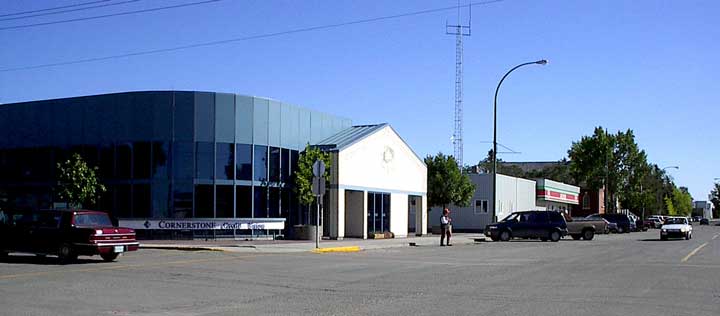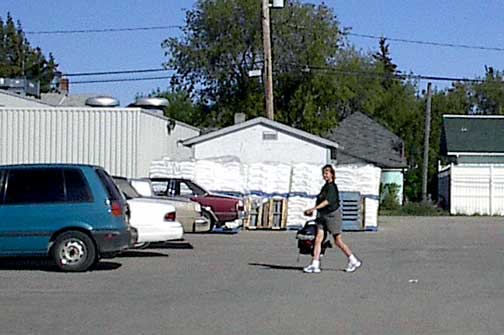 me exactly that for $1.00. It was the right size and delicious.

There are two food stores on main street, the Co-op which this lady is entering and another across the street.

Yorkton with its malls, super stores and massive market area has almost destroyed shopping in towns in that part of the province but as you can see from main street Wynyard there are still lots of shops and enough shoppers to keep commerce in motion.

Out on highway 16 there are restaurants, a Subway, and fuel stops but the gas is 85.9¢.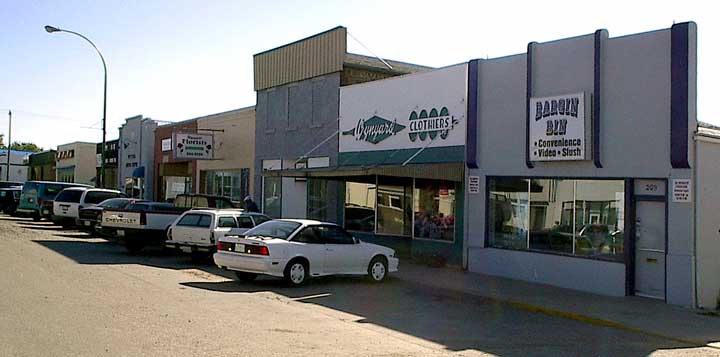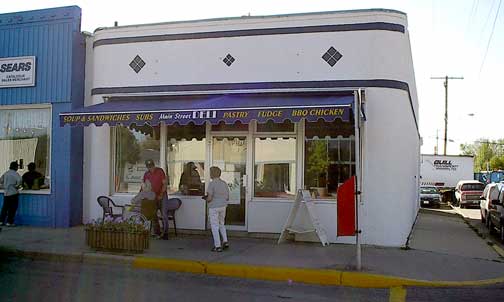 This Deli caught my eye for two reasons. First of all it has the same problem that so many Tisdale businesses have and that is that it is not wheel chair accessible and second a deli in Wynyard. The first problem is solved with a sidewalk table, unlike Tisdale the sidewalk is good enough for this convenience.

This is what the deli looks like inside with people having coffee and behind the display case is a forbidden display of chocolate, fudge and . . . I had to stage a speed retreat before money involuntarily jumped from my pocket.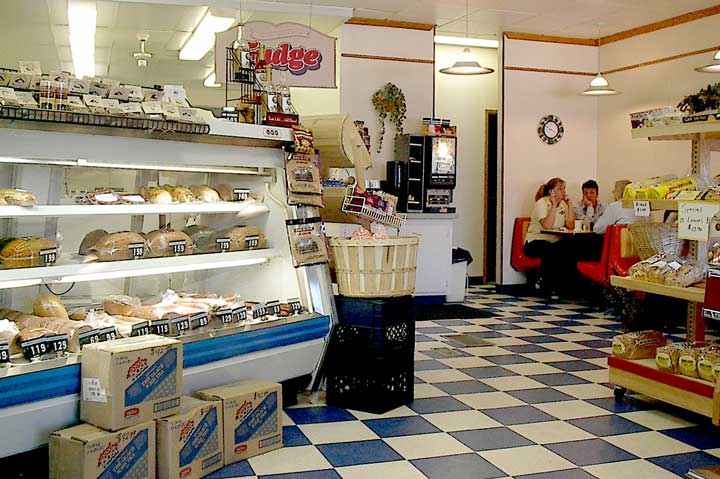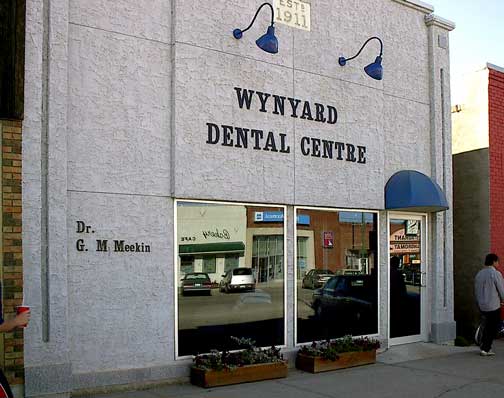 Many of the store fronts in Wynyard have been rejuvenated like this one and given a classy front.

In the picture at the bottom of the page if you look just to the left of the boulevard you can see the street side entrance to Lilydale, the massive packing and processing plant.

Out on the highway (sorry no picture) is a beautiful empty structure for sale. There had been a bottled watering plant in this new building that succumbed to the problems of modern business and now sits for sale and vacant. Great location and great community in which to locate.

Check out the references below for info on Wynyard.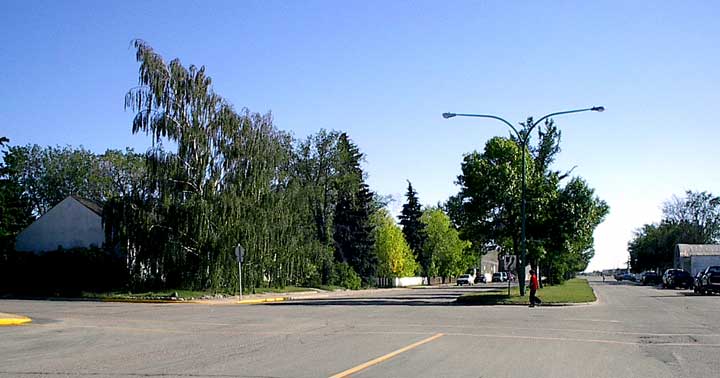 References:
The Town of Wynyard web site
http://www.town.wynyard.sk.ca/
Wynyard Public Library, has an outstanding community web site
http://www3.sk.sympatico.ca/wynpl/
The Wynyard Advance, the local weekly newspaper has a good web site although it is not updated as often as one might expect, perhaps its summer.
http://www.wynyardadvance.com/
Wynyard Composite High School web site. A good school web site especially the calendar of events.
http://www.wchs.srsd.sk.ca/
Wynyard business listing by Rick Becquet
http://www.becquet.com/director/wynyard.htm
---
Return to Ensign - Return to Saskatchewan News
This page is a story posted on Ensign and/or Saskatchewan News, both of which are daily web sites offering a variety of material from scenic images, political commentary, information and news. These publications are the work of Faster Than Light Communications . If you would like to comment on this story or you wish to contact the editor of these sites please send us email.
Editor : Timothy W. Shire
Faster Than Light Communication
Box 1776, Tisdale, Saskatchewan, Canada, S0E 1T0
306 873 2004