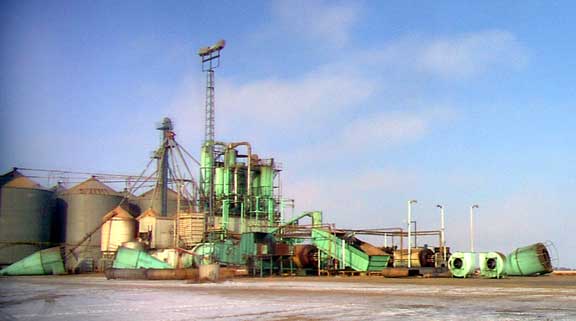 Dehy turnaround
FTLComm -Tisdale - Saturday, November 2, 2002
In the oil patch there is a specific time each year when a gas plant is shut down and an annual maintenance routine undertaken. Tisdale Alfalfa Dehydration plant is undergoing that year end overhaul as systems are gone over, repairs made, modifications undertaken and in general the whole plant restored for the coming production year.

The swathers have been parked now for a couple of weeks but the harvesters (below) were still working their way through snow covered fields up until just a week ago.

There is still a lot of production left out there in the fields but it will have to wait until spring to be brought in for processing.

All in all it looks like this industry had a much better year than anticpated. The remarkably cold and delayed spring meant that the first cut was almost a month late in being cut and processed and it was poor quality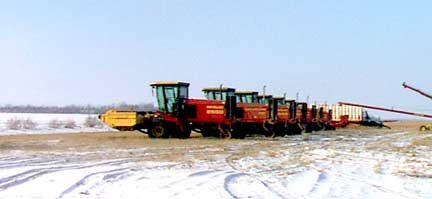 and low in volume. But before the second cut was ready farmers faced with low to impossible conditions began turning over other crops and the dehydration plant swept up these green feed crops recovering a loss for the farmers and turning out a good product for consumers. Then came the second cut and it was outstanding. The quality was superior and the amount of alfalfa excellent. Some of that second crop remains snow covered in the fields.

The very high cost of feed this year meant that baled alfalfa was simply out of reach for dehydration and farmers have held on to their baled production to get the price they want. This has meant that the dehydration plant will not likely be processing any bales which are usually converted into the domestic or North American cube product, whereas the pellets tend to be sold in Asia.

This year Tisdale Alfalfa Dehydration Ltd. despite the severe drought and farming conditions may have met or even exceeded its production goals as they turned what was essentially a wasted product (the poor crops) into a useable animal feed product.

From all reports the situation was almost exactly the same with the Arborfield dehydration plant as they were able to clean up the green feed situation providing themselves and farmers with income when the grain crop was all but destroyed.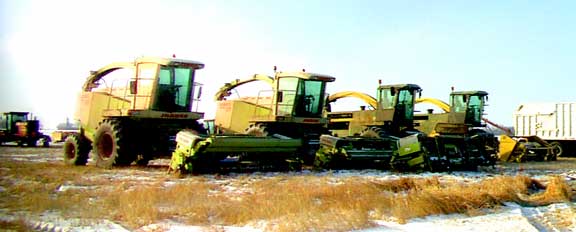 ---
Return to Ensign - Return to Saskatchewan News
This page is a story posted on Ensign and/or Saskatchewan News, both of which are daily web sites offering a variety of material from scenic images, political commentary, information and news. These publications are the work of Faster Than Light Communications . If you would like to comment on this story or you wish to contact the editor of these sites please send us email.
Editor : Timothy W. Shire
Faster Than Light Communication
Box 1776, Tisdale, Saskatchewan, Canada, S0E 1T0
306 873 2004