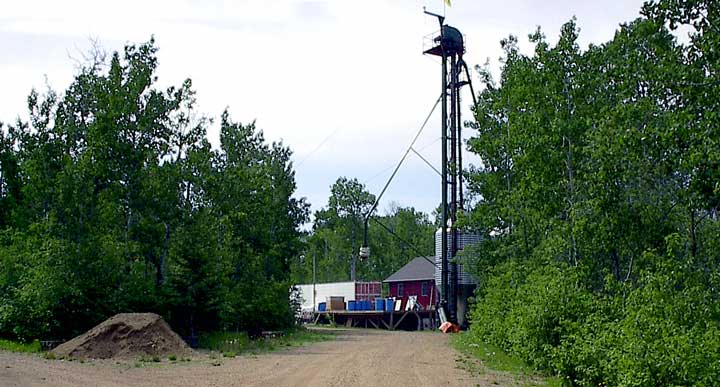 Golburn Valley Oilmill
FTLComm - Tisdale - Wednesday, June 4, 2003
Located six miles South and a mile West of highway #35 this family business is tucked into an almost idyllic setting, surrounded by trees and on a slight knoll.

Frank Hulsebosch showed me around his operation this morning as his machinery quietly churned out finished product. Right now he is processing flax making flax flour for human consumption.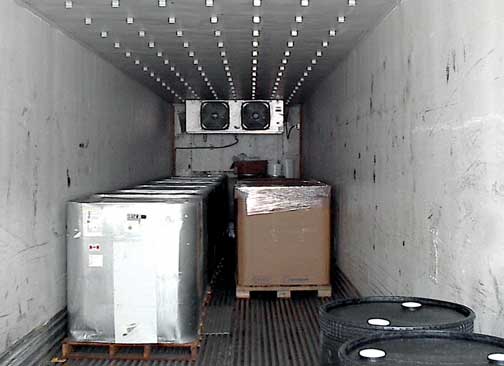 This is a modest operation designed to produce meal and oil from oil seed crops. As a processor the company accepts contracts for product and carries out the required operation for their customers.

This picture (right) shows the cold storage unit which has finished oil awaiting shipment.

Some of the crushing mills are shown below. The working heads are purchased commercially but the actual apparatus was manufactured at the plant and by McEwens in Tisdale. These crushers extract the oil and separate the meal from the oil. The discharge portion of the crushing mills has been removed in this picture.
A very quiet unit was working during my visit to the plant and was turning flax seed into flax flour.

The storage below contains raw materials that will be processed at the plant.

The irony of the situation is that with the severe drought last year no local flax of the type needed was available locally and the raw materials had to be imported by the Golburn Valley Oilmill's customer, from China and Argentina.

Depending on the needs of customers this mill can produce a wide range of products both produced locally or imported.

Since the production of this mill is for food, the standard of cleanliness and care of handling were apparent throughout the operation.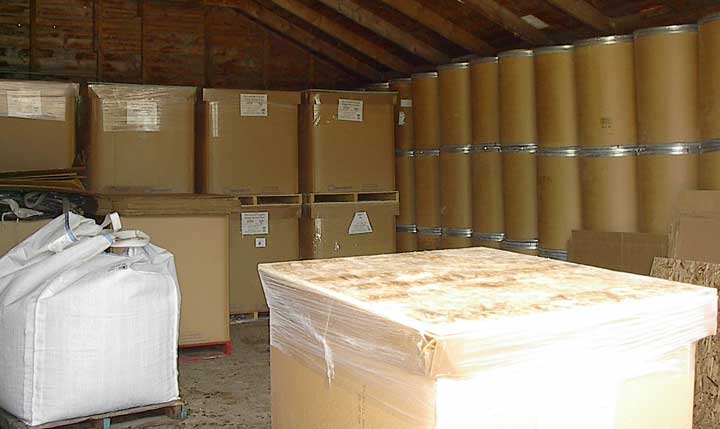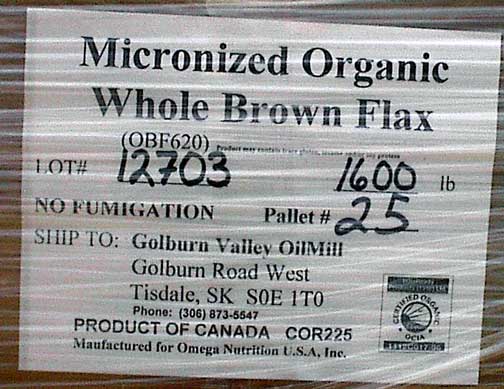 The efficiency and flexibility that a small mill can offer a manufacturer make a business like Golburn Valley OilMill extremely attractive. The limited size means that the customer can expect immediate attention to a production run and be able to deal directly with the owner/operator thus insuring the building of trust and reliability which is hard to get from larger operations.

Frank Hulsebosch pointed out that size of operation is important to him as he wants to keep things in a manageable and modest form so that it will provide a stable and viable income while not becoming a monster business that dictates, by its size, the lives of those involved with the business.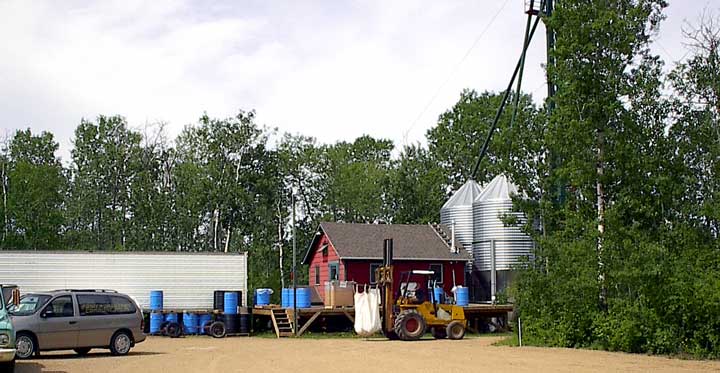 ---
Return to Ensign - Return to Saskatchewan News
This page is a story posted on Ensign and/or Saskatchewan News, both of which are daily web sites offering a variety of material from scenic images, political commentary, information and news. These publications are the work of Faster Than Light Communications . If you would like to comment on this story or you wish to contact the editor of these sites please send us email.
Editor : Timothy W. Shire
Faster Than Light Communication
Box 1776, Tisdale, Saskatchewan, Canada, S0E 1T0
306 873 2004