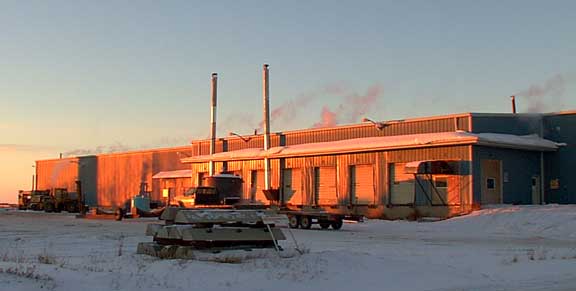 The Winter Day
FTLComm - Tisdale - Friday, January 18, 2002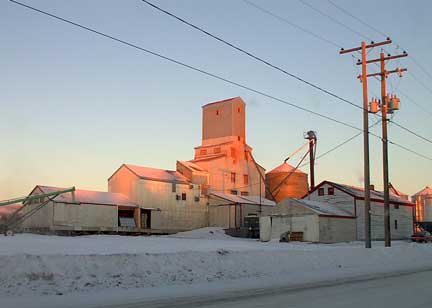 Around five Thursday afternoon I was able to get out of the office for a bit and take a look at a winter day. Sounds funny but it is true, this has been a really mild winter and yesterday when I stepped outside the chilly -25 air caught my breath. "Heah I remember this."

The warm gases coming from Northern Steel's plant (above) shows the low angle of the late afternoon sun and the low temperatures. Just as this picture of the seed plant painted with the orange glow of the low setting sun.

The weather man tells us that today's -15 (now around -10)
is the trend for the weekend and some suggestion that parts of the province will see some much needed snow. My brother and I will be on a road trip to Wawota tomorrow so we will have a chance to get a picture or two of that part of the province and should have those for you on Sunday.

The image above shows the Harvest Valley terminal more than a mile away on the East side of town and below the sun is setting a mile West of town with an immature spruce shelter belt in the foreground.

The mild temperatures of the winter so far are like money in your pocket both for heating expense and for fuel expenses as operating your car or truck in low temperatures is very costly. Now with less than three months until seeding time winter can still dish it out, with storms and low temperatures but its back is broken and each new day has more and more sunlight.