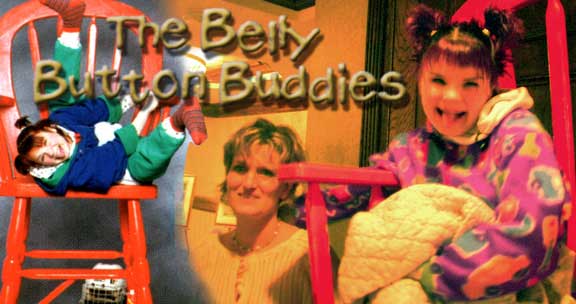 FTLComm - Saskatoon - Monday, May 6, 2002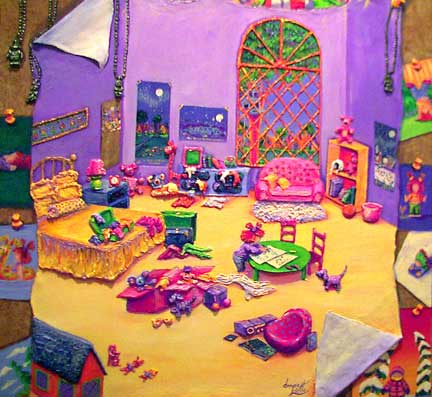 The Saskatchewan School Librarians conference this past weekend was able to sample a true gem from Saskatchewan's amazing pool of creative talent.

Artist Denyse Klette and performer and poet Nicole Haddock have collaborated to create a marketing combination, the Belly Button Buddies.

Denyse Klettes who has a solid reputation as a mural and expression painter has put together a collection of paintings, prints and children's book illustrations focused on the wonderful world of growing childhood awareness.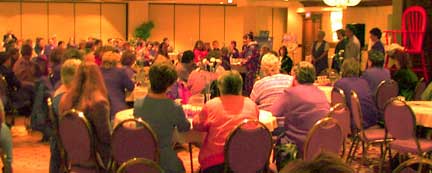 Nicole Haddock who has already been recognised as a highly talented dancer and stage performer has combined her whimsical child humour in poems for books illustrated by Denyes Klettes and then added live performance to bring her character, a kindergarten sweetheart to life for an audience

Nicole's performance character jumps the audience into their distant childhood and once again reawakens the wonder of discovery of everything in life without the inhibitions that mature have brought to each of us. With in the character she is able to take us back in our own time to the life of pre-embarassment and the open acceptance of what is the essence of childhood.

Klette's paintings and Haddock's poems are just as spellbinding as the live performance and to market these products they have a super web site where you can see and purchase their durable work. Book and CD combinations, posters and trading cards (below) all with that precious theme of preliterate life.