Mailbag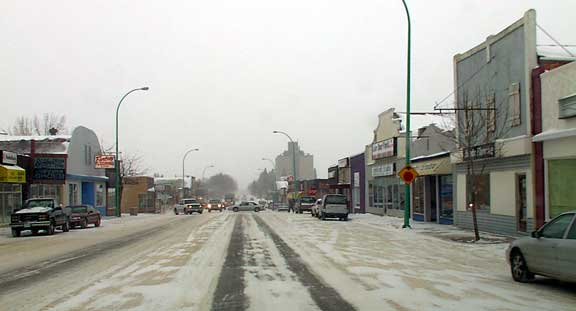 FTLComm - Tisdale - February 15, 2001
In the 1950s Moose Jaw's radio station CHAB had this great announcer who had a very special live radio show, people would sit on folding chairs in the studio and he would talk to them and do commercials, sometimes he had live entertainment and every time we visited Moose Jaw it was the highlight of the trip to go in and be part of the studio audience cramped into a radio station room with its white tiled walls and twenty or so chairs. The show was called "The Mailbag" and the man who was friend to everyone was Cye Knight.

I mentioned that just so you will know the thoughts behind the title of today's ramble. Sometimes it just happens that a lot of good stuff comes to me in E-mail and today was just such a day and though these letters will appear in the "Letters" section of Ensign, I thought it would be good to have them all together here on this page.

First here is a letter from Elwin Hermanson, leader of the Saskatchewan Party and leader of her majesty's loyal opposition commenting on Mario's concern about establishing an independent inquiry into the Provincial justice system when we consider the Martensville issue, the "Scandal of the Century" and the Saskatoon police death squads.
February 9, 2001

Mr. Mario deSantis
E-mail mdesantis@sk.sympatico.ca

Dear Mr. deSantis:

Thank you for your recent kind words regarding the Saskatchewan Party's
overall review of the justice system in this province.

We believe such a sweeping review is needed to both identify the flaws
inherent in the current system and to allow us to address those flaws.
A justice system that is seen by the public as both effective and fair
is essential in our system of democracy. Anything less is unacceptable.

I thank you once again for addressing your thoughts to me.

Yours sincerely,

Elwin Hermanson
Leader of the Official Opposition
Twice in the last two weeks we have had stories or pictures related to the problems of grain prices and the depression in Saskatchewan farm economy. Yesterday we had the little commentary on how small town Saskatchewan is coping and on Tuesday night there was an emergency debate in the House of commons on farm income crisis. This remarkable e-mail comes to us from Regina farmer Stu Innes.
Hi Timothy,
I see that you have featured grain and elevators lately so I thought I would send you a note.

I also see that the CWB has made a big wheat sale to China. The Leader Post reported that 500, 000 tonnes was sold for $125 million dollars. I make that to be $250 dollars per tonne.

Below find that the top dollar expected in the Pool return outlook (PRO) for spring wheat is $222 per tonne. For Durum the top dollar is $273 per tonne. China must be buying all the best wheat we have in equal portions of Spring wheat and Durum.
and guess how much of the $5 and $6 dollars per bushel the farmer sees?

On the surface it almost looks bright for the farmer, but regrettably many farmers had dismal production with flooding and draught both, here in the province and have had very little grain to sell for several years.

Those farmers with grain have to wonder why $5 - $6 dollar grain no longer provides a decent income as it might have in the past before premium transportation costs were forced on the farmer. In reality it seems that it is not the farmer who needs the subsidy to produce grain at a reasonable cost, it is the railroads that need a subsidy to transport that grain at a reasonable cost as they seem to be taking near to 25% of the value.

I would be willing to bet they don't get away with charging $10,000 dollars (25%) to transport a $40,000 dollar vehicle. (But I don't know that for a fact. I suspect that the high price of vehicles and machinery does have a lot to do with high transportation costs though) FYI

Stu Innes

http://www.cwb.ca/payments/pro/2001/jan2501.htm
Find the second set of numbers (for December) are the last two lines of each section.
Grade oi Red Spring wheat

Jan 00-01

Dec 00-01

protein

$/Tonne

$/Bushel

$/Tonne

$/Bushel

No. 1 CWRS

14.5

222.00

6.04

222.00

6.04

No. 1 CWRS

13.5

210.00

5.72

210.00

5.72

No. 1 CWRS

12.5

200.00

5.44

199.00

5.42

No. 1 CWRS

11.5

192.00

5.23

191.00

5.20

No. 2 CWRS

13.5

205.00

5.58

205.00

5.58

No. 2 CWRS

12.0

192.00

5.23

192.00

5.23

No. 3 CWRS

176.00

4.79

173.00

4.71

Durum

No. 1 CWAD

14.5

269.00

7.32

273.00

7.43

No. 1 CWAD

13.0

245.00

6.67

245.00

6.67

No. 1 CWAD

12.5

236.00

6.42

235.00

6.40

No. 1 CWAD

11.5

219.00

5.96

215.00

5.85

No. 2 CWAD

11.5

209.00

5.69

205.00

5.58

No. 3 CWAD

198.00

5.39

190.00

5.17
Kevin McIntyre from Carrot River is down in California right now and comments on Inkjet printers.
You're article on inkjet printers was very good, I to have a 740 and am not overly impressed by it. Previously I had an HP 540 that was rock solid, press the power button and the green light came on. Click 'print and it did, much clearer than the Epson does BTW. By the time you turn the Epson on and click print and wait for it to initialize the 540 would have printed ten pages, but only in black and white. Such is progress.
Ensign always welcomes e-mail from readers and where ever possible will share it with readers. All e-mail we have received on stories have been signed and we can not publish anonymous material unless we deliberately withhold the writers name because of possible repercussions. We have received several messages that were commenting on material from other publications, particularly Eastern Canadian news papers, without the original reference and awareness of the issue these have not been passed on.