The buses were rolling this morning and as you can see in the pictures below the parking lots which have stood empty since the end of June are once again full. Most of Saskatchewan schools opened today while the Northern half of the province (Northern Lights School Division)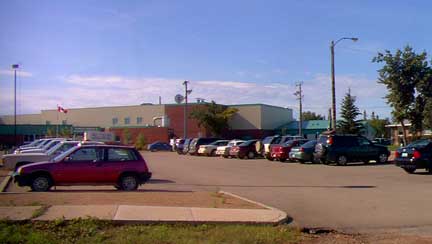 opened on the fifteenth.

These first few days of the new year are the most exciting for both student and teacher alike as each teacher gets to know the students they will work with this year and the students get their feel of themselves as older, bigger and everything is once again fresh.

As parent working through each day, your kids grow, but the rate is almost unnoticeable, but for the teacher, those two months from the end of one year to the beginning of the next ,are enough to make each kid seem to have sprouted inches, as the process of maturity marches onward.

The challenges for the new school year varies from place to place as so many communities in Saskatchewan are now well past the crunch time as they see their student population growing smaller each year. Last week the news from Herbert School Division was distressing as the parents there see their almost new school, with only one hundred students and that number will shortly fall to sixty.

It is ironic that Canada and rural United States are considered as part of the "developed world" when in fact we are actually going backward in time, as the process of depopulation is moving the great central plains of North American away from development and rapidly toward wilderness.
Chaplan is an example worth looking at as the community serves a huge rural countryside that once was home to a lot of people, but the farms continue to increase in size and the number of families grow smaller each year. Yet Chaplain is on number one highway with a mining operation and some small local industry. Students ride to school in Chaplain like most Saskatchewan rural students for about half an hour each morning and night. One hour of each child's day is spent commuting and Herbert School Division is seriously considering closing Chaplan. The nearest communities to Chaplan are a full half hour in distance so it is conceivable that at some point these children will be looking at two hours of commuting to and from school a day.

Clearly, few parents would want such a waste of their child's precocious youth to be squandered in such a manner and they will be seeking alternative solutions.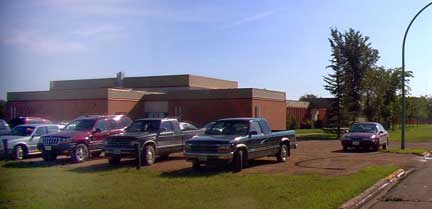 Though depopulation is a major issue throughout the rural portion of the province, in the urban and large centres, over crowding is a threat to school life.

Today it was announced that the negotiations between teachers and the province are making little headway and with fewer and fewer people entering the teaching profession and more and more retiring, it might be sensible to consider the problem and deal with supply and demand as it is in other economic realms.

One other issue that faces school's across the province is the growing pressure from outside the province to adopt external evaluation. Alberta and its low browed premier are determined to quantify everything in terms of the bottom line and they have ignored all the best advice by educational psychologists and continue to rob about one tenth of the school year from students as they plunder the time with superficial totally invalid testing programmes. There is every evidence that Saskatchewan is moving in this direction and no one seems to be listening to the research and hard evidence that show this kind of testing as not just a waste of money, but squanders the most important element of life, time.

Much of the world including Japan and most common market countries have been gradually expanding the amount of time students are involved in education. The reasons are abundantly clear as the work load for most learners is growing dramatically, there is a need for more time to be devoted to development and wasting time to do silly testing is a serious and backward step in education.

But the saving grace in all education is involvement. Good teachers, good parents and good communities support their students and their schools. They get behind the kids and make this short experience in their lives something that will help them through their whole lives as they learn to learn. The process is the key element in school and teachers from kindergarten to grade twelve who teach processes, adaptability and transference, turn out awesome students.

May 2002 - 2003 be a good one.