FTLComm - Tisdale - February 9, 2000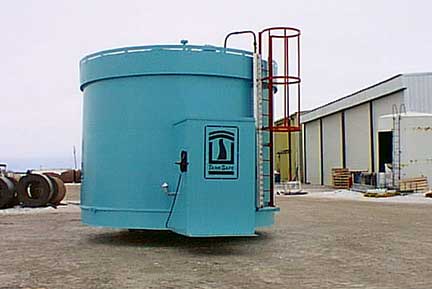 There is no question that the increase of the price of crude oil is bringing considerable economic activity to the oil fields. The tank that appears to be floating on the right, (actually on a front end loader) is the first of a series being produced at Northern Steel Industries as part of a contract to build these specialised oil field service tanks. These tanks are not designed by Northern Steel and being built under contract and license.

The tank itself is some what ungainly because it is a large vessel. The bottom of it is an insulated under floor structure then it is a tank within a tank with the void between the two filled with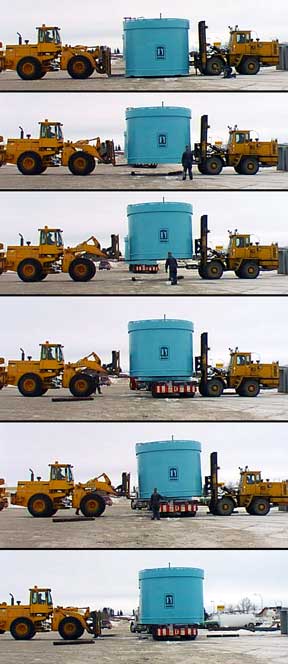 with insulating foam. The little attached porch contains the
various plumbing accessories that go with the tank.

Northern Steel has a similar designed product of its own which is smaller and slightly more modern in its concept but was only designed recently.

The first two tanks of this run were shipped on Tuesday and we were able to shoot a sequence of pictures of the loading process. To the equipment operators at Northern Steel this is just a simple task but clearly the skill and experience these operators demonstrate is remarkable as they lift and move objects like this one, which is a full six feet wider then a legal highway load, with seeming ease. Driving around the yard with this tank loaded up the operator can see nothing in front of him and must rely on his spotter to avoid crashing into things or damaging the newly built tank.

In the sequence of pictures on the right you can see the tank has been positioned then with a loader on each side they elevate it upward in a coordinated manner allowing the truck to back under the tank. With it hovering over the truck they then moved the tank half its width to the right to centre it over the trailer. All of this is accomplished with only the spotters direction for neither operator can see anything but must rely upon deliberate and smooth movement of his machine to lift and then move ahead or backward as needed.

For these fellows this is nothing remarkable but clearly making that machine act like you hands and feet and be as careful and precise as this requires a high level of skill and confidence.

The two tanks were place aboard a truck from Nipawin, operated by a driver who makes his home in Carstairs Alberta. The load which is convention, for shipments from Tisdale does not require pilot vehicles in Saskatchewan but a pair of trucks will be waiting at the Alberta border to shepherd this load to its destination in Sylvan Lake.

The driver was counting on low winds because a load like this one creates considerable turbulence between the two tanks and wind shears from prevailing winds and traffic can affect stability remarkably. He explained that for him the greatest challenge of the trip will be getting through Saskatoon.

Over the next two weeks this process of loading and shipping will be repeated time after time as this series of tanks come off the production line and are delivered for use in the oil field. Each one carefully manufactured, its fittings assembled, tested and painted. The pace of production at the Tisdale plant continues to expand as the extraordinary quality of Northern Steel Industries products are recognised and major companies and government agencies turn to this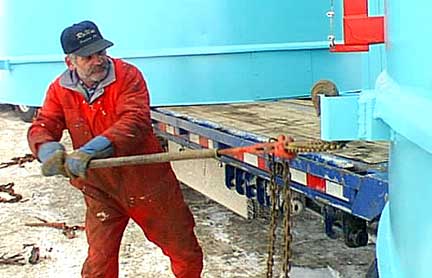 company for the valuable
tanks produced here each day.

While production and design continue relentlessly Northern Steel's sales force are on the road getting the message out and lining up new projects. Darcy Simoneau is in Edmonton, Calgary and Saskatoon over the next week presenting the Northern Steel story to conferences and prospective customers.

In the mean time if you see one of these blue meanies coming down the road give him plenty of room as he is six feet wider then a regular truck.