With low traffic and few people on main street Northern Steel is walking eight tanks from their plant at the North of town down to the CN siding downtown. Hauling large tanks like these through Alberta and the Canadian Rockies is not an easy task nor is it economical as this requires pilot vehicles all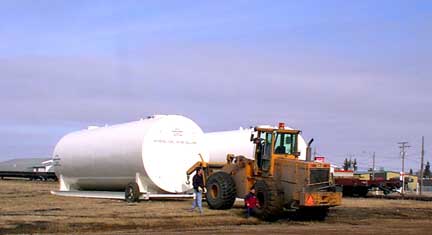 the way to the Washington port of Seattle.

So these eight Alaskan bound tanks will make their journey to the seaport via CN rail to Seattle where they will be loaded onto a barge for shipment up the inland passage and on North to an Alaskan port.

Northern Steel's very high quality environmentally safe double walled tanks are considered the best product on the market and Northern Steel continues to be the supplier of choice for a large number of companies requiring fuel storage.