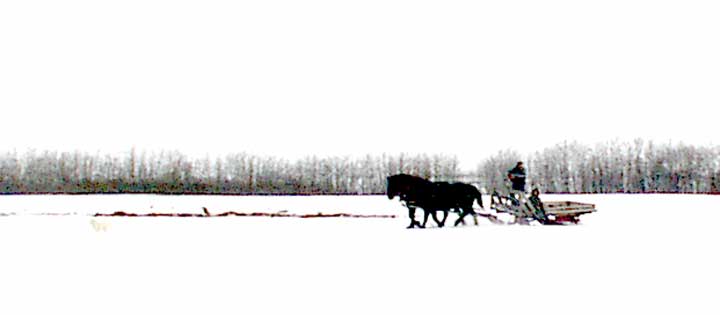 Getty-yup . . . Gee
FTLComm - Tisdale - Saturday, February 15, 2003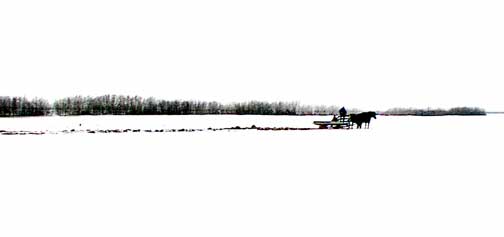 When the sky and fields seem like one and the winds bites even your eyelashes. The scrunch of the snow beneath the horses hooves and the creak of the bunks beneath the wrack, the click and soft snap of the harness and the smell of wool from your scarf wrapped tightly around your face.

The last bit of manure mixed with straw is tossed onto the field as the wrack lurches forward as the sound of "Getty-yup" sets the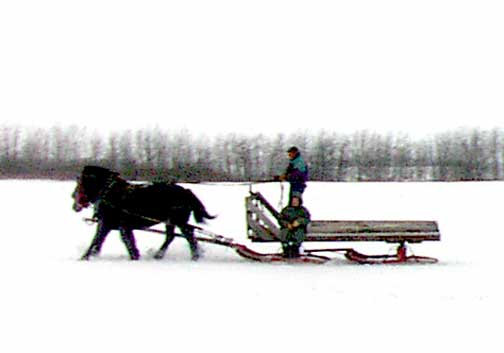 team in motion. Time to head back in and "Gee!" and a light tug on the reigns on the right side brink the team gently around to the right and the pace picks up as we head back for the barn.

This is how it was done, the gentle simple business of doing chores with a team. Every farm when farms were but a couple of quarters had at least one work team and a light team but most had more with young animals getting ready for work on old ones past their prime. Farming meant being a horseman and every day of the year they needed to be fed, watered and even a short discussion held with them just to assure them and the farmer that the contract was in place.

These pictures were taken of the Dagg family's Percheron team on the North side of Tisdale this morning.
---
Return to Ensign - Return to Saskatchewan News
This page is a story posted on Ensign and/or Saskatchewan News, both of which are daily web sites offering a variety of material from scenic images, political commentary, information and news. These publications are the work of Faster Than Light Communications . If you would like to comment on this story or you wish to contact the editor of these sites please send us email.
Editor : Timothy W. Shire
Faster Than Light Communication
Box 1776, Tisdale, Saskatchewan, Canada, S0E 1T0
306 873 2004