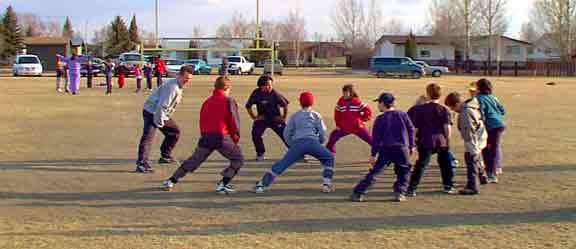 Sports, Sports and More Sports
FTLComm - Tisdale - Friday, May 10, 2002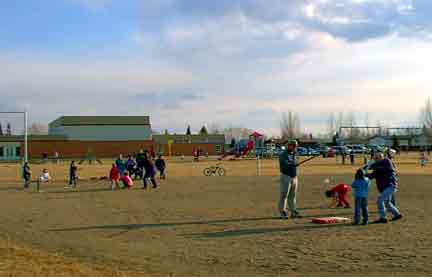 Thursday afternoon around 6:00 every direction one looked on the elementary school playground there were children, parents and coaches all engaged in a really wide range of activities.

Softball, "T" ball, soccer all going on at once. There must have been six soccer teams at work with several coaches for each sport and each team.

Children from grade one to early teens were on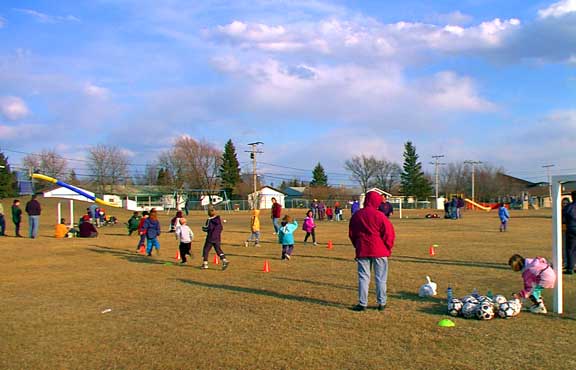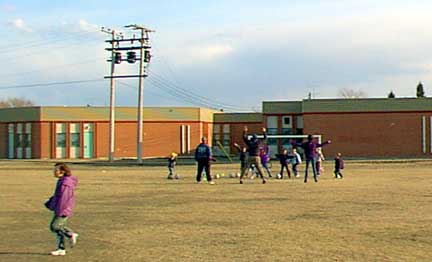 the field and there were grandparents as well as parents all taking in the action.

Because the temperature was below ten the coaches of each sport and each team were really involved in getting each player warmed up and they kept the activity level high to make sure that everyone was getting the best of the activity. There was not question that the coaches were getting just as much out of the activities as the players.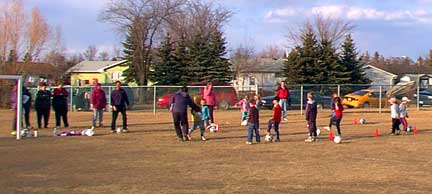 As a long time school principal and a person who had raised three very active boys I was enormously impressed with the coaches. Each one had the "attitude" that was perfect for the players, encouraging, careful to see that each player was getting their share of time and paying close attention to skills.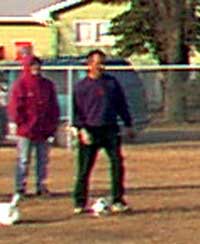 Though the coaches uniformly all seemed to be really well trained some really stood out as skilled models and as I watched this one group of soccer players and one of their coaches I couldn't help thinking that with a model like this to follow it would be hard not to learn the game and develop outstanding skills.

My experience with soccer had been for our teachers to give us the ball and send us out into the field. With that kind of setting it is no wonder that I never developed an appreciation for the game but watching this fellow yesterday afternoon made be really wish I was a kid on his team.

But he was not alone everywhere I looked there were similar dedicated smiling coaches helping the players work on the skills that would let them learn and play the game well.

The QuickTime virtual reality panorama is a full circle view of the Tisdale Elementary school playground at about 6:10 Thursday afternoon. This large image is loaded with detail and you can zoom in or out to check out the scene as well as move left, right, up and down around to see what I saw as I photographed the scene. The scene has twenty-eight images blended together. If you do not see the scene it means that you do not have QuickTime loaded into your computer. Microsoft's Media player can not display a QuickTime VR so this means to see it and other media made with QuickTime you need to download the free player which is easy to install and will enhance your computers ability to see and hear things online.