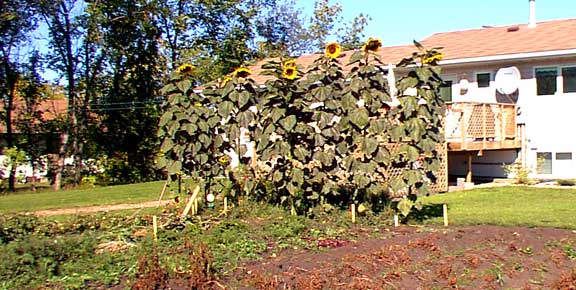 Flower Gardens
FTLComm - Tisdale - Saturday, September 14, 2002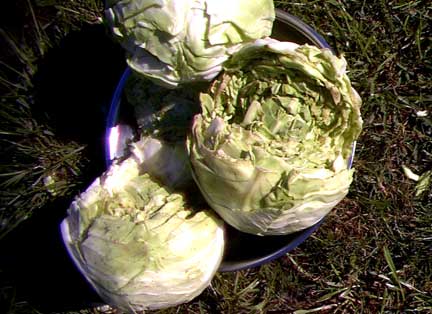 These two yards sit side by side across the street from Art's Autobody. Each lot is bigger than most lots in town and this gives the owners the opportunity to have truly big gardens.

Though I have admired them before and show you pictures of them this morning I had to stop and look around. Those sunflowers are enormous. They told me that neighbours had called earlier in the year wondering what kind of trees they had planted that grew so quickly.

The excessive moisture lately has been tough on the cabbage as these head had cracked open. Their potatoes have finished their life for the year and they have already harvested their corn and a good part of the garden has been cleaned up.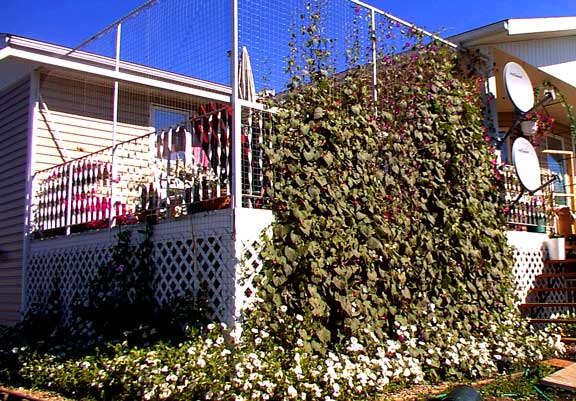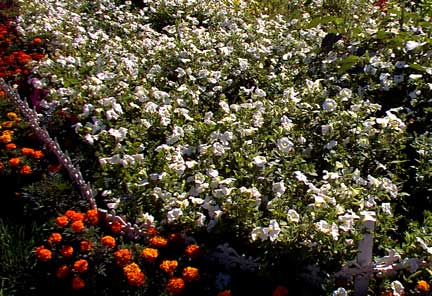 This is the neighbouring yard where they have their own greenhouse which this morning was serving as a great place to sit, have a nice conversation and a cup of coffee. The morning glory growth up to the roof have closed up their flowers by the time I took these pictures at mid day but the petunias stretched out almost endlessly on the garden and various planters around the deck and back yard.

"They were suppose to be different colours" the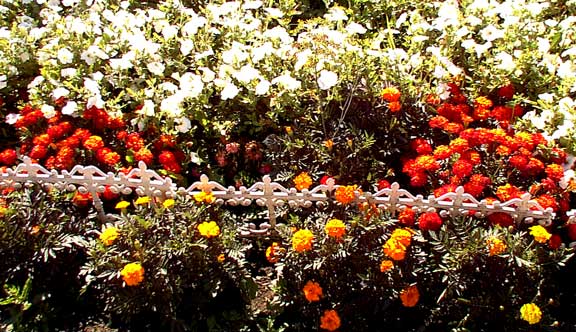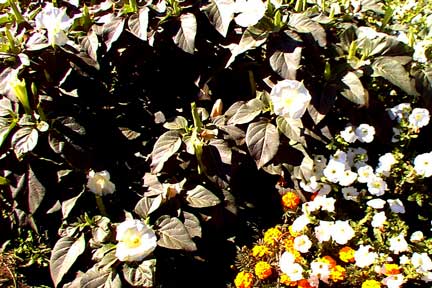 lady explained, "But it looks they were all white."

The border closest to the house of marigolds provided the needed colour while the dark green and large white blossoms of these trumpets provided excellent contrast.

Though there are flowers throughout the whole lot sized garden has a complete supply of vegetables but everywhere you look there are flowers.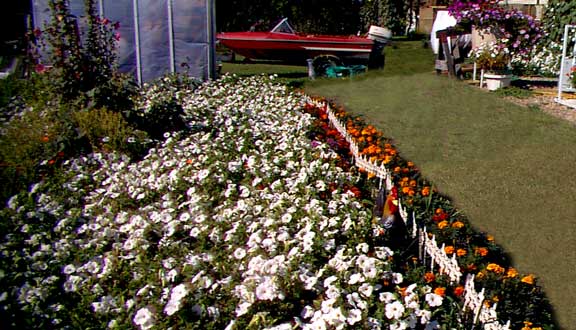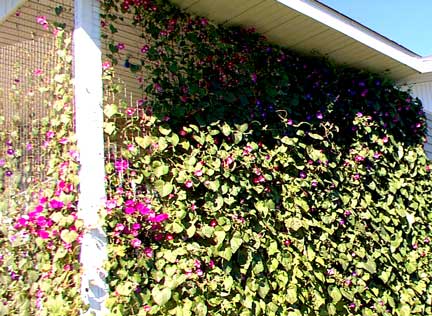 This growth of morning glories is actually over two other sets of vines as these gardeners are developing a set of plants that will compliment one another and provide a constant succession of blossoms through the summer.

The whole deck is enclosed with the plants growing on the wire net set for them to cling to.

As you look up toward the eve you can see the blossoms still fully showing because of the shade from the roof.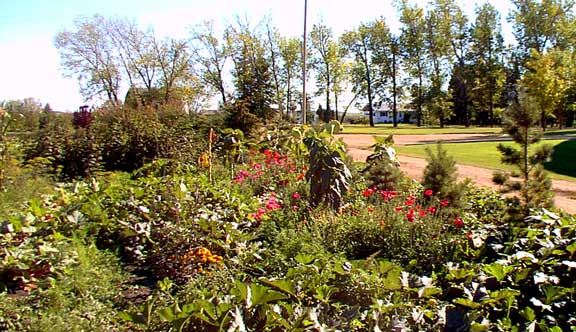 ---
Return to Ensign - Return to Saskatchewan News
This page is a story posted on Ensign and/or Saskatchewan News, both of which are daily web sites offering a variety of material from scenic images, political commentary, information and news. These publications are the work of Faster Than Light Communications . If you would like to comment on this story or you wish to contact the editor of these sites please send us email.
Editor : Timothy W. Shire
Faster Than Light Communication
Box 1776, Tisdale, Saskatchewan, Canada, S0E 1T0
306 873 2004