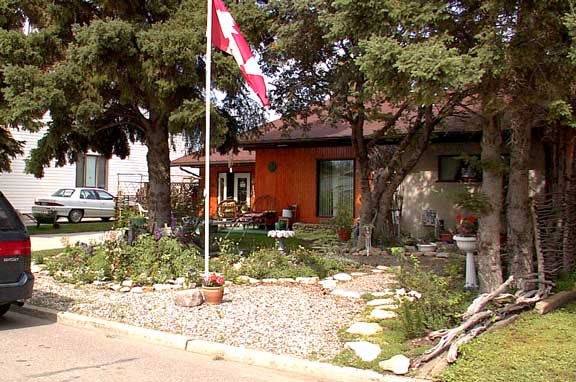 Sticks And Stones
FTLComm - Nipawin - Sunday, August 5, 2001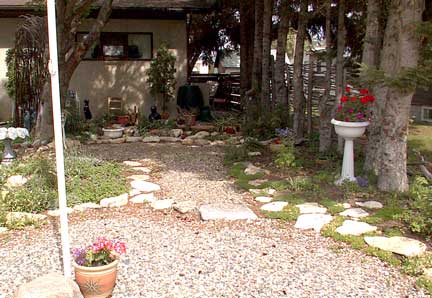 Many times in Ensign we have shown alternatives to the contemporary and monotonous "lawn". This yard is located in Nipawin and take a rather different approach to making a livable environment from the front yard of a typical lot.

The yard has a good deal of natural shade from the huge trees and those same trees make it difficult to cultivate the grass the constitutes a lawn so the owner here has turned their front yard into a charming place with gnomes and planters, low maintenance plants and lots of rocks and a collection of drift wood. The whole right side of this picture is made up of the beach finds turned into a sort of fence.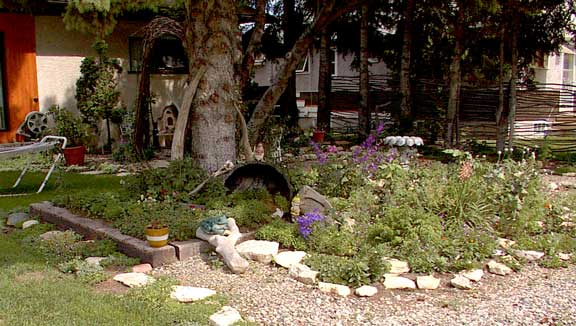 Above is a look at the very centre of the front yard and it is both attractive and uniquely interesting just as the picture below which shows the artful distribution of driftwood, deer horns and some plants and rocks. Clearly this yard illustrates that there is much more that can be done with a yard then grow grass to be watered and cut.