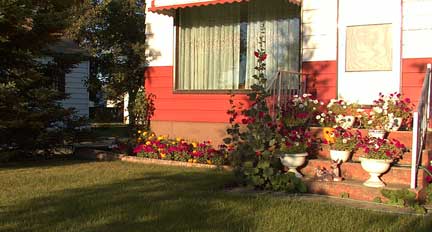 At seven last night we went for a stroll, the cool evening air was a delight and the clear light dove across the town engulfing half of it in deep shadows.

We are only showing you one house and its yard, we could have dozens but this one pretty much sums up the sort of the thing we saw time after time. People really put a lot of time and effort into making their homes attractive and this year the flowers are just great.

Here we see simple petunias and marigolds mixed on the North side of the front step and potted arrangements all over the step. Then when you look at the house as a whole with the bright red geraniums along the South side it is a festival of colour and frames the house perfectly.

Yard after yard mirrored this sort of thing, where people have planted and nurtured flower arrangements galore and all you have to do is walk about and enjoy the displays.

At last Hannigans, makes of the best ice-cream in Tisdale have upped their price from fifty cents to seventy-five, sounds reasonable we have been eating fabulous ice-cream for six years and a little increase is perhaps long overdue. So amid our flower appreciation stroll we were able to enjoy an ice-cream cone, perfect!