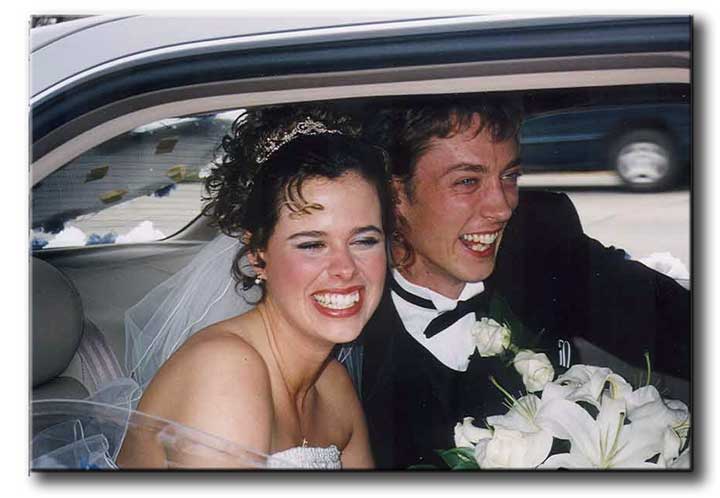 Parkland Photography Club February 2004
Greenwater Provincial Park - Thursday, February 26, 2004 - by: Gerald Crawford
The February meeting of Parkland Photography Club was held on the 24th, with fifteen members present. A warm welcome to Howard Armstrong, our newest member.

Darlene brought us up to speed on what contests could be entered, with deadlines.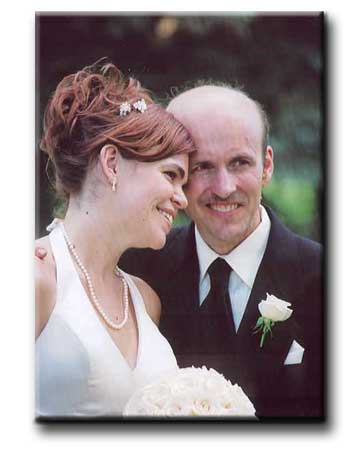 Theme for this meeting was "PARTNERS" and we had thirteen entries ranging from bridal couples, to horses, to dolls. First went to Alan Caithcart (below) for his photo of two charming little poodles all dolled up with bows in their hair. Runners-up were Albert Orban's photo of a wedding couple in their car (above), and Wes Swan's photo of another wedding couple.(right)

The main part of the program was the judging of PRPA's Travelling Salon entries. There were thirty-eight in total; each was examined with a great deal of care and a numeric value assigned by each of three judging panels. For the most part, the judges were in close agreement.

Wes Swan had made a digital slide show of our Club's Theme photos for the past two years, and it was played on a laptop computer. It was an excellent show, set to music.

Stan Hingston, a member of the Rosetown Photo Club, had taken on a project to make a slide show based on a late member's poem. He had asked that members try to find slides that would address each line of the poem. Darlene said he has all but five lines filled, and suggested that members view the project at www.rosetownphotographyclub.com.


Today was the deadline for enlargements to be entered in PRPA's Sports in Action competition. There were two entries; Jenny Fritshaw's was a photo of some kids tubing off Greenwater Beach; Jerry Crawford's was of a chuck wagon team crossing the finish line.

Put off until next meeting was portrait enlargements for entry in a PRPA competition, and Christmas photos, where each member brings his or her four favorite photos and tells why they are favorites.

Thanks to Marg Paidel and Wes Swan for a great lunch!

Next meeting will be March 23rd. The Theme is: A Canadian Native (person, animal or plant).
Gerald B. Crawford
Box 100, Chelan, SK S0E 0N0
(306) 278-2249
Check out my Webpage:
http://www.greenwaterreport.com
---
Return to Ensign - Return to Saskatchewan News
This page is a story posted on Ensign and/or Saskatchewan News, both of which are daily web sites offering a variety of material from scenic images, political commentary, information and news. These publications are the work of Faster Than Light Communications . If you would like to comment on this story or you wish to contact the editor of these sites please send us email.
Editor : Timothy W. Shire
Faster Than Light Communication
Box 1776, Tisdale, Saskatchewan, Canada, S0E 1T0
306 873 2004