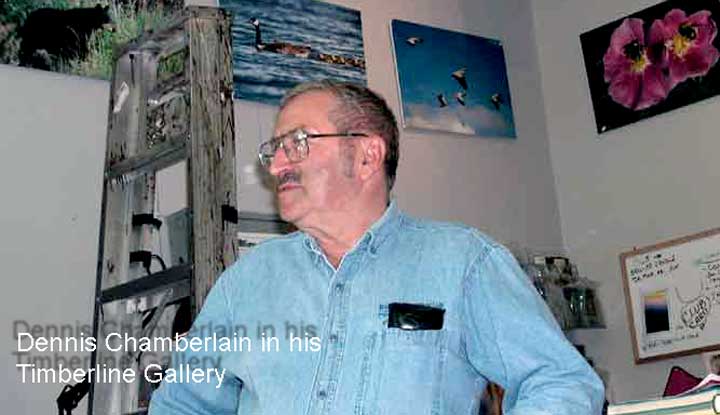 June 27th, 2004: There weren't many of us, but we were enthusiastic! We went to Candle Lake for our June meeting/field trip. It had originally been scheduled for June 11th, but the weather was so miserable that we set it back two weeks. Between grad celebrations and holidays, we lost a lot of participants, but we had fun anyway. Darlene, Mary, Doreen and Jerry met Howard and Anne at the Ship's Lantern in Candle Lake.

After a brunch, we visited Dennis Chamberlain's Photo Gallery, where we viewed his beautiful work and had a very pleasant chat with him. Dennis works mostly with color prints, in sizes from 4" x 6" art cards to framed, canvas-mounted 30" x 40" enlargements. We had seen some of his canvas-mounted photos at Lakeland Gallery several weeks ago, and were very impressed. My favorites of all the work I saw were a profile portrait of a great blue heron (used on the cover of Prairie North) and a very large scenic of a prairie slough, with all the horizontal lines formed by the shore, grasses and weeds.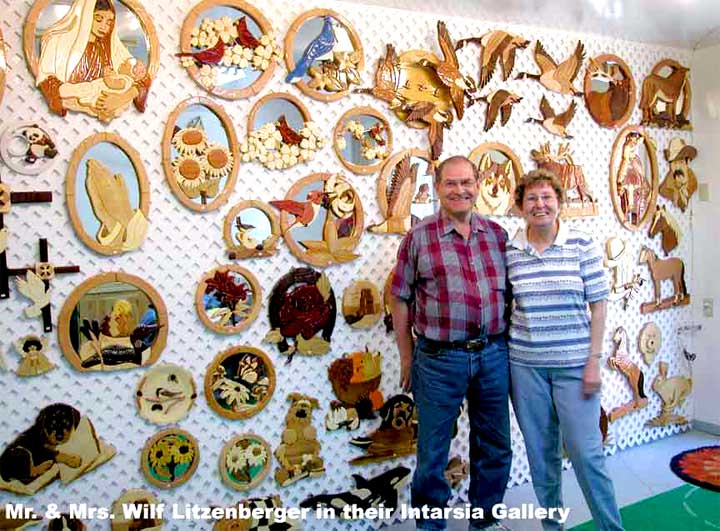 Dennis says he will never make the switch to digital, but then he goes on to talk about scanning, and putting images on CD and so on, so we had to wonder if he isn't half-way there already! He is a very congenial person, and generous with information and advice. A trip to his gallery is worthwhile just for the visit.

On Dennis's advice, we visited a place, the Litzenbergers, where they make Intarsia art. For those not familiar with it, it is pictures made of small pieces of different kinds and colors of wood, shaped and polished and glued together. It has become very popular in the past fifteen or twenty years, but is actually a very old art form. Again, we had a very pleasant visit; the Litzenbergers were friendly, cheerful, and eager to explain how their work is done.

Anne and Howard went on a couple of hiking trails; the rest of us settled for the Heritage Homestead Trail. It is a good trail leading in to a homestead built in the late 1930s. There is a beautiful house built of squared logs, with unique interlocking corners.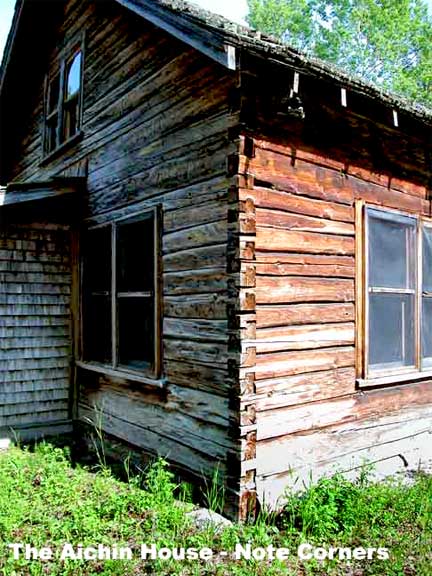 Obviously built by someone who knew what he was doing. Several outbuildings had us guessing as to their purpose; there were no signs to explain them so I assume the park authority is as much at sea as we are.

After our hike, we met at the Grand Castle Restaurant for supper and a bit of a meeting. Darlene read an e-mail she had received from Wes Swan re. The PRPA Annual Outing.



There were only three Theme pictures (Theme was "Flowering Tree") so no competition was held. (click on the thumb nail to see full size)

For our September meeting: Each member to bring three or four pictures taken at our field trip;



Each member to bring three or four of your favorite summer pictures;

Howard is going to bring a showcase from his aerial trip to Cumberland House.

Doreen and Jerry will bring lunch to our September meeting; at that time we will make up a roster for the rest of the year.

Since Prince Albert is not that far away, we will ask Northern Images Photographers for an advance list of their planned outings. Maybe we can take part in some of them.

See you all on September 28th!
Return to Ensign - Return to Saskatchewan News
This page is a story posted on Ensign and/or Saskatchewan News, both of which are daily web sites offering a variety of material from scenic images, political commentary, information and news. These publications are the work of Faster Than Light Communications . If you would like to comment on this story or you wish to contact the editor of these sites please send us email.
Editor : Timothy W. Shire
Faster Than Light Communication
Box 1776, Tisdale, Saskatchewan, Canada, S0E 1T0
306 873 2004