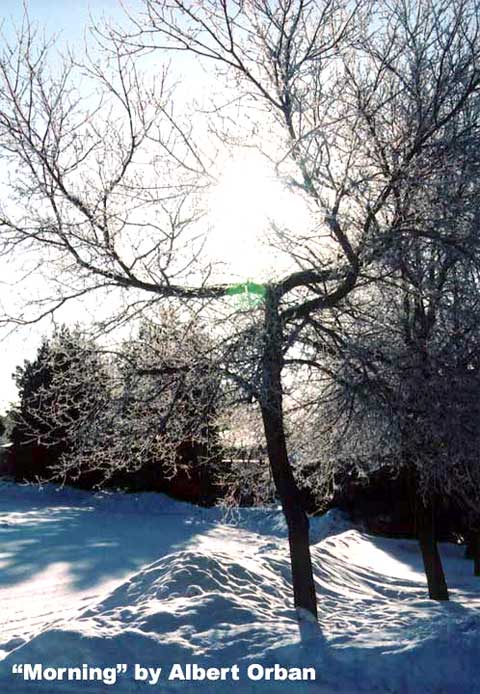 March 28th, 2006: There were ten members and one guest at Parkland Photography Club's March meeting. A warm welcome to Pat Phillips.

Darlene brought us up to date on correspondence. Main item was an initiative on the part of CAPA (Canadian Association of Photographic Arts), a Canada-wide association, to merge with PRPA (Prairie Region of Photographic Arts) which has members in the three prairie provinces. There was a lot of discussion, but no action taken as the matter will be decided by a vote of individual members of PRPA at their annual outing in June.

There were six entries to our monthly theme competition. This month's theme was "Morning" and first went to Glen Galloway for his photo of a little girl in pyjamas eating her breakfast cereal. Runners-up were Albert Orban for his photo of a rising sun behind a stark tree, and Alan Caithcart's of a red morning sky over a group of houses. Having more time at our disposal, we reviewed the six pictures and gave our reasons for scoring them higher or lower.

Our club had entered about twenty slides in PRPA's Everest Slide Competition. These had been judged in Nipawin, and Wes brought the judges' comments and marks, read out as we projected the slides. Jenny, Tibby and Darlene all had slides in the top twenty five; the rest of us didn't fare as well. Most of the slides were left with Darlene for next winter's club slide show.

After lunch, courtesy of Alan Caithcart, though he couldn't be at the meeting, Jerry Crawford put on two digital slide shows - Wildflowers of the Greenwater Park Area, and Photos Taken in 2005.

The meeting ended on a sad note - Wes told us he is leaving to find work in Edmonton and will not be attending any more meetings. He will continue to maintain the club's web page. Wes has been a faithful member for many years; we are all sorry to see him leave and wish him well..

Next meeting is Tuesday, April 25th, 7 PM at the Doghide Gallery in Tisdale. Theme for the meeting is "Complexity".
Return to Ensign - Return to Saskatchewan News
This page is a story posted on Ensign and/or Saskatchewan News, both of which are daily web sites offering a variety of material from scenic images, political commentary, information and news. These publications are the work of Faster Than Light Communications . If you would like to comment on this story or you wish to contact the editor of these sites please send us email.
Editor : Timothy W. Shire
Faster Than Light Communication
Box 1776, Tisdale, Saskatchewan, Canada, S0E 1T0
306 873 2004