December 4th, 2006: Due to inclement weather and a bad forecast, Parkland Photography Club postponed its regular November meeting to Monday, December 4th. All members had been contacted by phone, and ten attended the meeting.
Darlene advised members that because of the increase in membership, the Club had purchased four small folding chairs. It had also ordered a small folding table for use with computers and projectors.
An e-mail had been received from the Star City Credit Union offering to sell our members some equipment formerly from the defunct Fairlight Studio & Gallery. Nobody showed any interest.
Doreen reminded members to bring enlargements: unframed ones for display on the Club's display board at Doghide Gallery, and framed ones to be offered for sale at the Gallery. Both displays should be kept fresh.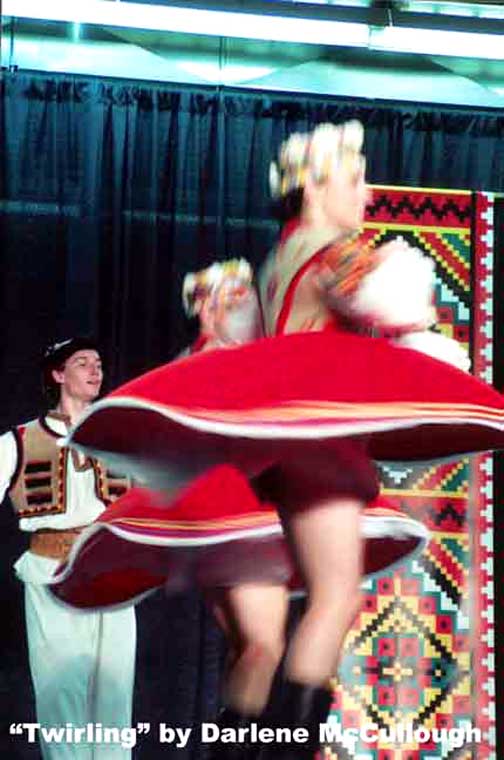 We projected the top 25% of slides entered in the various PRPA slide competitions. We didn't have to judge them, just view them, read the judges' comments, and mail them on to the next Club. Members had lots of comments about them, though, and rarely agreed with the judges.
There were only five entries to the Theme Shoot. The theme was "Speed", and first was a tie between Glen Galloway's photo of rapids on the Carrot River, and Jerry Crawford's photo of two people on a speeding watercraft. Runner-up was Darlene's photo of twirling dancers.
Thanks to Jenny for providing lunch.
We then viewed the club's photo show with some corrections and suggestions for the commentary supplied. Alan Caithcart had made the show by scanning members' submissions, and had made several CDs of the show. Members were able to purchase copies of this for $2 each. Thanks to Alan for the work he did in assembling the show and to the members for submitting so many photos so that we were able to do some cutting, ending up with a great variety of topics covered by the photos. Darlene and Tibbie will take this show to the senior housing complexes in Tisdale in January.
Our next meeting is scheduled for January 30th. Theme for the meeting is "Colours" and we will be viewing some educational videos, courtesy of Debbie Johnson.