October 24th, 2006: There were twelve members (two of which joined tonight!) and one guest at the October meeting of Parkland Photography Club. A warm welcome to new members Lynn Prevost of Rose Valley, and Sharon Walker of Brooksby, and to guest Sophie Machala of Weekes. Welcome, Welcome, Welcome!

Not too much correspondence to read – just a letter from the Canadian Cancer Society thanking our club for taking pictures at Relay for Life last summer. The thanks should go to Darlene, Mary, Tibby and Alan.

Our treasurer's report indicates the club is in a healthy financial position. Every time we get wealthy, Jerry talks us into spending our money on some piece of equipment or other. Now, what do we need?

Darlene has been advised that the winning slides, and the top 25% of entries in the various PRPA slide competitions have been mailed to us. We should have them to view at our November meeting. They don't have to be judged – just viewed.

Five members brought slides to enter in the Gleneath Camera Club's Foto Fun Slide Competition. That means our club will be allowed to judge the competition next spring. (Any less than five entries means that club doesn't get to judge.)

Darlene entered slides in two of the PRPA competitions. Other than those, there were no entries.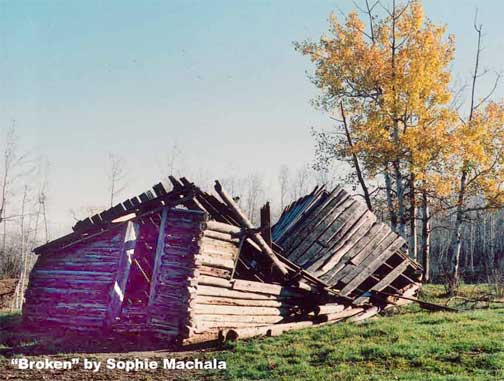 Enlargements are still needed for our display board at the Doghide Gallery. Also, members may bring framed and matted photos for display and sale at the Gallery.
Alan has scanned all the photos he has received from members for the club's slide show, but needs more. Deadline for getting pictures to him is October 31st. He will put them together in a Power Point presentation which will be shown at various seniors' residences this winter.

There was a question from a member on dates imprinted on photos, and whether such pictures were eligible for entry in contests. Advice given was that dates are a definite detriment. Sometimes they can be cropped out before printing, and often they can be removed digitally. Simplest is just not to print them in the first place.

Jerry advised that the club's dissolve unit has been taken to Phase 2 Photo in Saskatoon to see if they can sell it for us.

Theme for October was "Broken" and we had eleven entries. First was won by Albert Orban for his photo of a little boy with two cracked pumpkins. Second went to Sophie Machala for her photo of a broken down barn, and third to Glen Galloway for his photo of another broken down barn.

Following a lunch provided by Albert, we viewed a video of footage shot by Darlene on her trip to Australia, most having to do with animals.
Return to Ensign
This page is a story posted on Ensign and/or Saskatchewan News, both of which are daily web sites offering a variety of material from scenic images, political commentary, information and news. These publications are the work of Faster Than Light Communications . If you would like to comment on this story or you wish to contact the editor of these sites please send us email.
Editor : Timothy W. Shire
Faster Than Light Communication
Box 1776, Tisdale, Saskatchewan, Canada, S0E 1T0
306 873 2004