September 26th, 2006: There were twelve members and one guest out for the September meeting of Parkland Photography Club at the Doghide Gallery. A warm welcome to new member Debbie Johnson from Porcupine Plain, and to guest Sophie Machala from Weekes.

Darlene brought us up to date on correspondence, much of it having to do with various contests offered by Prairie Region for Photographic Arts (PPA). Darlene and Anne had both attended the annual meeting of PRPA in Saskatoon, and the workshop led by Courtney Milne the following day. Darlene gave us a report on the meeting, and Anne on the workshop.

A lunch roster for the balance of the club year was drawn up; as usual, members were very quick to volunteer and the process only took about five minutes.

The possibility of a fall outing was discussed but it was decided that the fall is just too busy. We'll try it again next spring.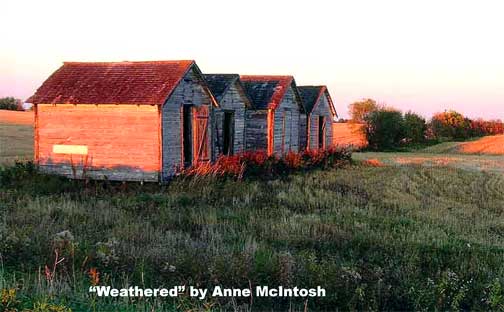 Since our opaque projector is temporarily out of action, Jerry scanned all the theme entries into his computer, and projected them with his digital projector. Aside from a couple of scanning errors, this system seemed to work okay; the projected image was much brighter than that from the opaque projector. The theme for this meeting was "Weathered" and we had eleven entries. Glen Neish won first with his photo of weathered wagon wheels; Anne McIntosh's weathered granaries in the evening sun and Jenny Fritshaw's weathered old barn were runners up.

Last item of the evening was a digital slide show of pictures Doreen and Jerry Crawford took on their various excursions during the past summer.

Darlene reminded members to bring their entries to the various PRPA contests to the next meeting; also their entries to Gleneath Club's Foto Fun contest. That's the one we always like to enter, and we get a chance to judge it afterwards.

Darlene also needs enlargements for the club's display at Doghide Gallery. We have to rotate pictures often to keep the display fresh. Also, we have to start building the club's slide show, to be shown at various seniors' residences in the winter. Instead of using slides, we are going to scan members' slides and photos and use a digital projector for the slide show. Alan is in charge of making the slide show but photos may be given to either Alan or Jerry for scanning.

The October meeting will be on October 24th, seven PM at Doghide Gallery. Theme for the meeting is "Broken". That doesn't sound too tough, now does it?
Return to Ensign
This page is a story posted on Ensign and/or Saskatchewan News, both of which are daily web sites offering a variety of material from scenic images, political commentary, information and news. These publications are the work of Faster Than Light Communications . If you would like to comment on this story or you wish to contact the editor of these sites please send us email.
Editor : Timothy W. Shire
Faster Than Light Communication
Box 1776, Tisdale, Saskatchewan, Canada, S0E 1T0
306 873 2004