April 24th, 2007: Twelve members attended the April meeting of Parkland Photography Club. We suspect that flooding conditions in much of our area might have kept other members busy.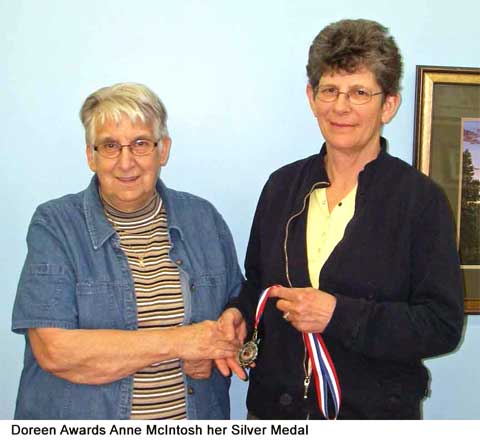 Two of our members planned to attend the Transparency Battle on April 28th at Kindersley, but when Darlene phoned to register she was told that she and Anne were the only ones! There will likely be a telephone campaign to see if it can go ahead as planned. As of writing this, there had been no news.
There has been such a move away from taking slides that some members are wondering if there is any future for the slide-based competitions such as Transparency Battle and Gleneath's Foto Fun. Quality has definitely deteriorated the past few years, indicating that people who have slides are having to dig deeper into their shoe boxes to find entries!
We finalised our Annual Outing plans – we will meet at Four Seasons Greenhouse just west of Tisdale at 2 PM on Sunday, May 27th. We will photograph flowers (and people taking pictures of flowers) and then go on to Plants O'Plenty at Star City and take more photos. We will gather for supper in Star City at 6:30. Spouses and guests are welcome.
We will collect photos from everyone on the outing and make a digital slide show of the results.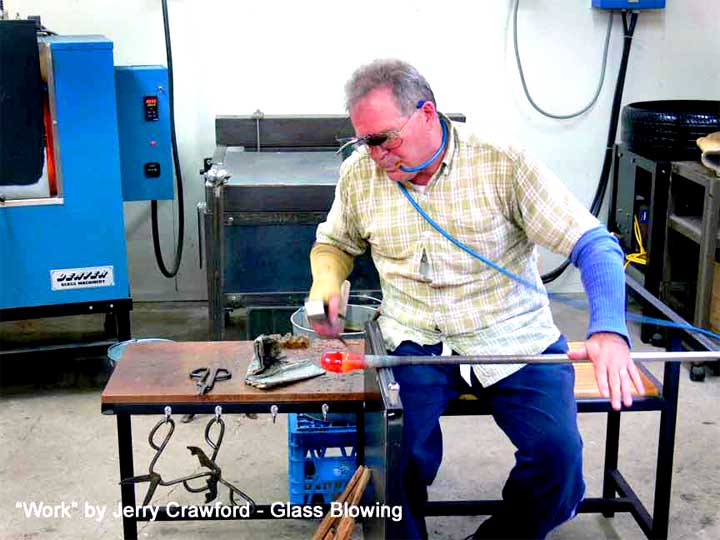 Doreen passed around a sheet with some suggestions for themes for next year; members wrote in their own ideas and indicated which themes they preferred. Doreen will summarise for our May meeting.
Don't forget – May is elections month!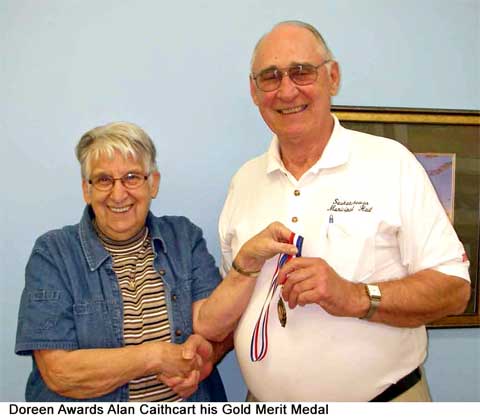 April's theme was "Work" and there were nine entries, all photos which were scanned and projected digitally. First went to Anne McIntosh for her photo of a combine discharging wheat into a truck on the fly. Runners-up were Jerry's photo of a man blowing glass, and Doreen's of a man pouring molten bronze into a mold.
Glen and Alie brought their new camera, a Canon digital SLR, which they showed to members. A beautiful piece of equipment! Alie demonstrated it by taking pictures of awards of medals and printing them out on the spot with her portable printer.
Merit medals were presented: Anne McIntosh received her silver medal, and Alan Caithcart received his gold.
After we revived ourselves with a lovely lunch provided by Mary, we watched a slide show of pictures taken by Adam Neish at a recent blacksmithing seminar that he and Glen had attended. Adam had posted them to his web page and Alan had copied a selection of photos and made a slide show of them. Glen was able to provide explanations of what was happening in each photo.
Next meeting is May 22nd, 7 PM at Doghide Gallery in Tisdale. Theme is "Horses".