May 22nd, 2007: We had thirteen members and three guests out to our May meeting. A warm welcome to Neil Anderson, Jillian and Hannah. The girls recently bought new digital cameras and hope to get some tips on using them from us.
Everyone seems to want to go to Churchill to photograph polar bears, but the long, dreary train ride and high cost deters most. Darlene had data on a one-day flying trip from Saskatoon in November, offering air fare to and from Churchill, a six-hour tundra buggy ride, with all meals included. It sounds expensive – over $1,000 for one day – but may be more attractive than the alternative.
Our slides from the Transparency Battle were viewed, and the judges' comments read. Our club didn't do too well, point-wise.
Details were finalised on our field trip to the greenhouses on Sunday, May 27th – we will meet at Four Seasons Greenhouse at 2:00 PM, photograph to our hearts' content there, then on to Plants O'Plenty at Star City for another photo session. We will wind up at Melfort for supper. Al and Jerry will get photos from all participating members and make a slide show for viewing next fall.
Themes for next year were selected and approved as follows: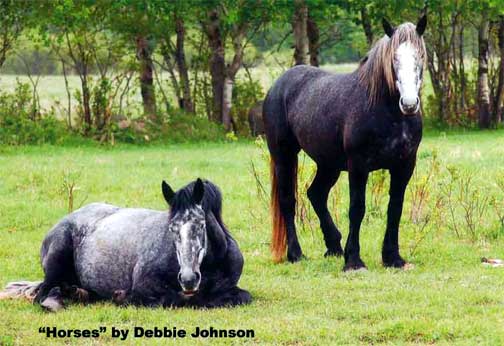 September - Wildflower(s)
October - Reflection(s)
November - Farming
January - Cloud(s)
February - Wild Animal(s)
March - Portrait
April - Lightning
May - Duck(s)
Election of officers was quick and easy with Glenn Galloway as President, Anne McIntosh as Vice-President, Darlene McCullough as Secretary-Treasurer, and Jerry Crawford as Newsletter Editor.
There were ten entries to the theme shoot. Theme was "Horses" and first went to Jerry Crawford for his photo of a chariot race. Runners up were Anne McIntosh's photo of three horses in a meadow, and Debbie Johnson's close-up of two horses.
Doreen read some tips for macro photography in preparation for our outing, and Jerry showed a brief slide show of greenhouse flowers.
Next meeting will be September 25th.