President
Glenn Galloway
752-3711
Vice President
Anne McIntosh
752-4042
Sec./Treasurer
Darlene McCullough
873-2030
Ten members braved the cold and blowing snow to attend the November meeting of the Parkland Photo Club held in the Doghide Gallery on Tuesday November 27th.

Darlene reported that The Doghide Garden Club kindly donated $30 to the club for a presentation of photos from our Greenhouse Tours at their meeting on Wednesday, November 21st.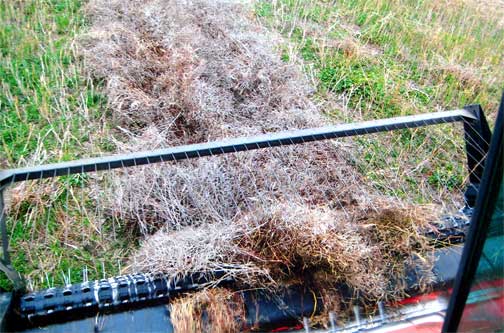 2nd "Harvest Time" by Glen Neish
On Thursday, November 22nd, ten of us met for supper at Mr Ribs for a final good-bye to Jerry and Doreen Crawford who were passing through Tisdale on their way to turn over the keys of their home at Greenwater Lake to the new owners. Jerry and Doreen have been members of the club since 1986 and they both have shared their knowledge with the club members as well as providing much fellowship. Our best wishes go with them as they begin their life as "city slickers". I'm sure we will be dropping in occasionally to check up on them as many of us make trips to Saskatoon and we can keep in touch via e-mail.

Jillian and Hannah Anderson told us about their fund raising project of making greeting cards. It sounded very interesting so they were asked to bring some samples of their work to the January meeting and perhaps other members would be inspired to follow their example. It is wonderful to have these bright young minds to try to keep the rest of us on our toes.

Since it takes some nagging to get the members to hand in their photos for the club photo show to be shown at seniors' residences, Alan Caithcart suggested that we keep the entries from the monthly theme shoot and then we would have a start for the photo show the following year.

November theme shoot was "Farming" and we had eight entries. Winning photos were:
1st "Finishing Up" by Albert Orbin showing a combine at work;
2nd "Harvest Time" by Glen Neish who took a close up of the swath entering the combine;
3rd "Baling" by Alie Neish showing a bale just coming out of the baler.
There was a good variety of farming activities portrayed in the entries.

A short break gave us some time to look at the exhibits in the Doghide Gallery as well as enjoy the tasty treats provided by Albert Orbin. Thanks, Marlene.

We then projected the club photo show for this year with Darlene checking with the members for any errors in the commentary as well as possible additional information to add interest. Again this year, we have lots of variety that we hope will interest the seniors. We plan to take this photo show to the senior residences in January when they probably don't get out as much because of the cold and snow.

This inspired some members to think about making some photo shows that could be presented at future meetings. Anne McIntosh has one from the course she took at Emma Lake this past summer, Anne and Darlene McCullough both went to Churchill in November and they have videos and slides shows of polar bears, Alie and Glen Neish will make a combination show, and the Andersons thought that they could come up with one so it looks like we have a lot of interest in this and we should have some great viewing in the new year.

We don't meet in December so our next meeting will be on Tuesday January 22 at 7:00 p.m. in the Doghide Gallery. Maybe some of those future activities listed here might help some people to decide to come and join us.