President
Glenn Galloway
752-3711
Vice President
Anne McIntosh
752-4042
Sec./Treasurer
Darlene McCullough
873-2030
Thirteen members and one guest attended the Jan. meeting of the Parkland Photo Club held in the Doghide Gallery on Tuesday, January 22nd.

Hannah Anderson showed us some cards that she and her sister Jillian made on the computer and she explained how they did these. It was fantastic work! Some club members will give them some of their photos next meeting and the girls can make some cards for the club to sell. Darlene will e-mail the club logo to them and they will see if they can put this on the back of the cards. We decided to go with a spring theme and have them prepare all-occasion cards.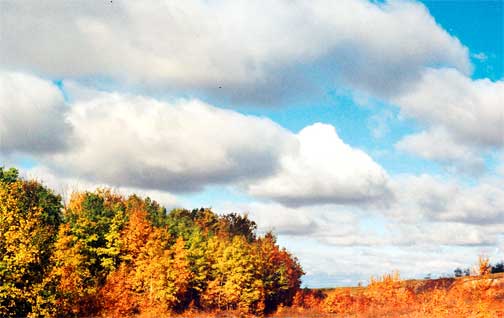 2nd "Fall clouds" by Glen Galloway
Our photo theme for this month was clouds and we had nine entries. First was " A Touch of Heaven" by Albert Orban; Second was "Fall Clouds" by Glen Galloway; and third was "Canada over Vimey" by Neil Anderson where the clouds formed a stylized map of Canada over the memorial.

Once the judging was completed, we discuss each photo and this is where we learn what to look for in a photo as well as hints we can use when taking our own photos.

Our photo show for this year begins its tour to the senior housing projects in Tisdale on January 28 and ends on February 7. We are looking forward to sharing our photos with the seniors again this year and hope that they bring some pleasure to the viewers.

Glen Galloway provided the lunch. Thanks, Gloria!

Anne McIntosh had a DVD of digital photos taken this past summer at a digital photography workshop that she attended at Kenderdine Campus at Emma Lake. There were twelve participants and each participant handed in twelve photos including one that they had converted to black and white using Photoshop. The instructor made these into a slide show. We had 144 images to view! Excellent work!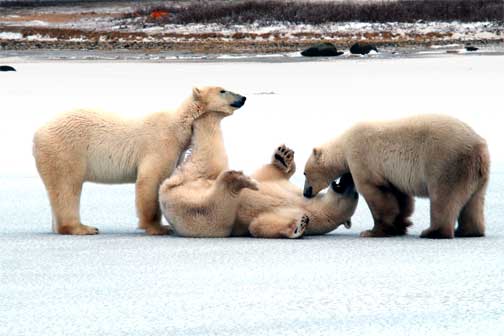 Anne then showed us another DVD - this one of photos that she had taken on a tour to Churchill last November. They spent four days in Churchill so she had photographs of the town, landmarks, landscapes, the museum, dog sled ride, the polar bear jail, an Arctic hare, and the tundra buggy on which they rode to get to the area where the polar bears were. She had outstanding photos of the bears! She also had a photo of the tundra buggy train where one is able to stay overnight on the tundra. Thanks so much, Anne, for sharing your work with us!

Our next meeting will be on Tuesday February 26 from 7:00 to 9:00 p.m. at the Doghide Gallery in Tisdale. Anyone interested in photography is invited to join us at this time.

Return to Ensign
This page is a story posted on Ensign a daily web site offering a variety of material from scenic images, political commentary, information and news. Theis publications is the work of Faster Than Light Communications . If you would like to comment on this story or you wish to contact the editor of these sites please send us email.
Editor : Timothy W. Shire
Faster Than Light Communication
Box 1776, Tisdale, Saskatchewan, Canada, S0E 1T0
306 873 2004