President
Glenn Galloway
752-3711
Vice President
Anne McIntosh
752-4042
Sec./Treasurer
Darlene McCullough
873-2030
Parkland Photo Club met in the Doghide Gallery on Tues, Feb 26 with 8 members and 2 guests present.

Some of the members gave photos to the Anderson girls and they are going to make greetings cards with these photos on the front of them. The cards will be offered for sale in the Doghide Gallery - just in time for Spring!

Albert Orban and Darlene McCullough reported on the photo show presentations at the senior residences. They were impressed with the enthusiastic response of the viewers and with how much they appreciated seeing our photos. This seems to be the most worthwhile project the club has and we plan to continue it in the future. Anne McIntosh will do a presentation of it in a senior residence in Melfort in March.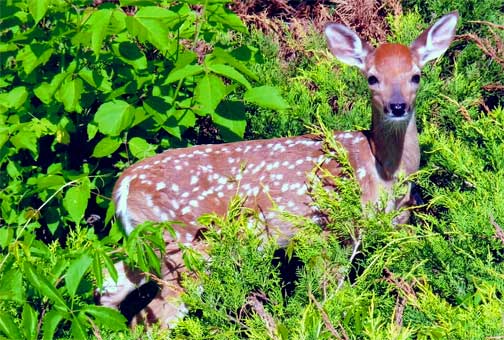 2nd - "Bambi in Camouflage" by Albert Orban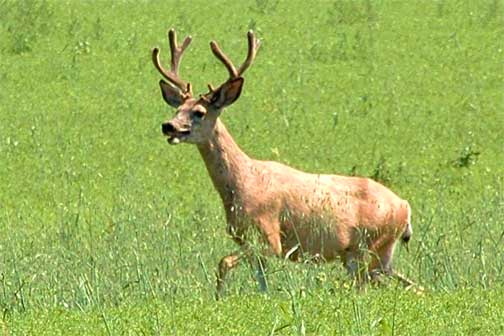 3rd - "Running Mule Deer" by Alan Caithcart
We are very pleased with the coverage our reports are getting in the media: they are posted on the Ensign web site, printed in the Review and the Sun, and also posted on the Parkland Photo Club web site.

This month's theme shoot was wild animal(s) and there were fourteen entries. Members are able to submit entries even if they are not in attendance at the meeting. First place was won by Anne McIntosh with "Sparring Polar Bears", Second place by Albert Orban with "Bambi in Camouflage" and third place by Alan Caithcart with "Running Mule Deer".

Members accumulate club points for photo activities such as entering and winning photo competitions, displaying photos in the Doghide Gallery, etc. President Glen Galloway presented Jenny Fritshaw (below) with an engraved key fob for earning 1000 club points. Congratulations, Jenny!

A DVD of video coverage taken by Darlene McCullough when she visited Churchill last November was then shown and she passed on information about the polar bears that was given by a naturalist who accompanied the tour. This was followed by a slide show of her still images taken on this same tour. Her camera takes video as well as still photos. It has a hard drive and a memory card so she stored the video on the hard drive and the still photos on the memory card. This proved to be very convenient as the camera is quite small and lightweight.

The March meeting of Parkland Photo Club will be held in the Doghide Gallery on Tues March 25 from 7:00 to 9:00 p.m.. If you are interested in photography, come and join us!

Return to Ensign
This page is a story posted on Ensign a daily web site offering a variety of material from scenic images, political commentary, information and news. Theis publications is the work of Faster Than Light Communications . If you would like to comment on this story or you wish to contact the editor of these sites please send us email.
Editor : Timothy W. Shire
Faster Than Light Communication
Box 1776, Tisdale, Saskatchewan, Canada, S0E 1T0
306 873 2004