President
Anne McIntosh
752-4042
Vice President
Neil Anderson
873-2356
Sec./Treasurer
Darlene McCullough
873-2030
Parkland Photo Club met in the Doghide Gallery on Tuesday, May 27 with eleven members present. The meeting was chaired by Vice-President Anne McIntosh.

Darlene McCullough reported on the Transparency Battle which was won by Gleaneath Camera Club.

Since we couldn't find a date suitable to everyone, we decided to cancel our June outing but Anne is going to see if she can get details on the Doghide Garden Club Tour for this year and we may be able to attend this.

Theme shoots for next year were selected:
| | |
| --- | --- |
| September - Flowering Tree(s) or Shrub(s) | February - Macro Photo |
| October - Still Life | March - Favorite Photo |
| November - Stones | April - Hoarfrost |
| January - Old Building(s) | May - Bird(s) |

There were seven entries in our club spring photo competition. Members were to select four photos they had taken this spring and mount them as one unit. It was very interesting to see the variety of items that had been selected and to note that there was only one repeated item. It made for a very colourful display! Each member then judged all entries other than their own and results were tabulated. First was won by Anne McIntosh with her bird photos; second by Alie Neish with her flower photos; and third by Albert Orban with a variety of images. The members were so pleased with these that they decided to do the same competition with summer photos. Four photos are to be selected from the ones taken over the summer and mounted as one unit. These will be judged at the September meeting.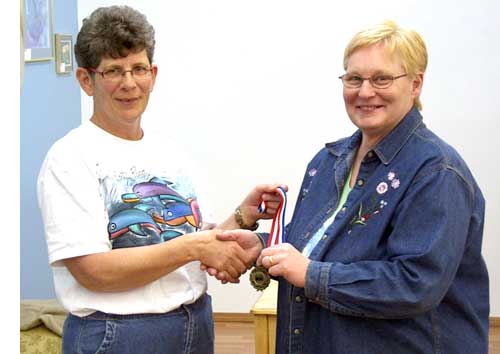 Anne then presented Alie Neish with her gold medal for earning 500 club points. Congratulations, Alie!

Officers for next year were elected with the following results: President - Anne McIntosh; Vice-President - Neil Anderson ; Secretary-Treasurer - Darlene McCullough; and Newsletter Editor - Darlene McCullough.

Our theme shoot for this month was Duck(s) and there were nine entries. First went to Anne McIntosh for her duck family; second to Albert Orban for a duck waiting for her partner, and third to Jillian Anderson for her white duck.
.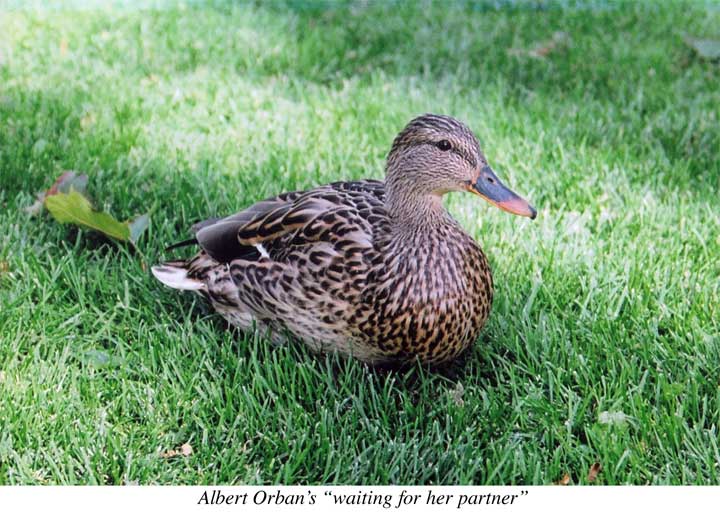 It was decided that membership fees would remain the same as they have been for the last number of years - $25 for an individual and $35 for a couple or family.

This is the last formal meeting of the club for this year so the next meeting will be held at 7:00 p.m. in the Doghide Gallery on Tuesday, September 23. Come and join us!

Until then, have a great summer and keep on shooting (photos, that is)!

Return to Ensign or Saskatchewan News
This page is a story posted on Ensign a daily web site offering a variety of material from scenic images, political commentary, information and news. Theis publications is the work of Faster Than Light Communications . If you would like to comment on this story or you wish to contact the editor of these sites please send us email.
Editor : Timothy W. Shire
Faster Than Light Communication
Box 1776, Tisdale, Saskatchewan, Canada, S0E 1T0
306 873 2004